Ok guys- this isn't your traditional food roundup post. Yes, I am showing some delicious foods that I plan on incorporating into my kitchen this spring, but I am going to be cooking these for a purpose- I am an Orthodox Christian, and during Lent, we adapt a vegan-ish* diet to focus. I'm not really going to touch on the religious aspects of it- cause- booooring (this isn't that type of blog) - but rather why I think the reasons behind the Orthodox Fast would be great for anyone- religious or not. Puls, this list of Meat Free Lenten Dishes You'll Love actually look really, really freaking good.
Most people who hear that Orthodox don't eat meat or dairy for Lent think it's insane. It's cool- I did too. I kind of still do, but I've been struggling through some stuff the past few years, and have decided this year I really need it, and am excited to embrace it. Without going all Jesus-y on you, the spirit of the Orthodox Christian fast (which technically starts two weeks before Lent- the first being a "farewell" week to meat, and the second a "farewell" to cheese- Russians and Greeks take both very, very seriously mind you- a week full of delicious indulgences to say goodbye seems oddly apropo) is a time to allow your relationship with food to become healthy again.
This is kind of an odd idea to think about, especially for a blogger whose life is so intrinsically tied to food, but it makes a lot of sense, wether your goal is to become closer to God, your family, your friends, or even yourself. It is basically a time to try to obsess (and lust) less over food, which is a very temporary thing. Sure, it is delicious, and I strongly believe that food should taste good, or there isnt a whole lot of point in eating it- but I personally could use to have a healthier relationship with food, and taking time to reflect on my attitude towards food is a good thing. It's like eating with intention- eating to fuel yourself and your soul, without flooding either. Of course, if you'd like an official Orthodox explanation of the fast (and why it is just as bad to become obsessed with fasting as it is to become obsessed with food), please visit the Orthodox Church of America's FAQ here.
This year, I'd like to take my fast up a notch and actually make it healthy. In past years (having been pregnant and breastfeeding the past few Lents, we haven't been really strict since before marriage!!) my hubby and I resort to a lot of pastas, breads, etc. This year, I'd like to stick to a semi paleo diet (forgiving myself beans, lentils, and chickpeas as well as peas and corn on occasion), as well as a budget. Basically- I want to eat as healthy as possible for as little money as possible and actually lose weight this year. I am also not going to use tofu, meat replacement items, margarine, or other soy-stuff because I don't think it is healthy for me, and I want to eat as minimally processed as possible. Tall order, eh?
So let's get to it!
Paleo Squash Pesto Pasta (if Orthodox, sub the olive oil in pesto for coconut or other non-olive oil):
I love this dish, and it is really easy to make. It's also easy for my husband to take to work (pesto and squash in separate containers, heat the squash and dump pesto over it before eating).
Mexican 3 Bean and 3 Pepper Salad by The Wanderlust Kitchen  (not paleo) :
I'm not always into raw peppers and onions, but this little bean salad looks pretty delicious. It would also go well in homemade corn tortillas or over cheeseless nachos!
Classic Baked Falafel from Clean Wellness (gluten free):
I'll admit, falafel was kind of scary to me for a while. It can be SO dry and dense, even though I really love the flavor. And when you fry it- ugh. That falafel oil stench lingers for DAYS. Baking sounds totally up my alley!
4 Bean and Quinoa and Veggie Tacos from Vegetarian Gastronomy :
My hubby is kind of afraid of Quinoa, even though I try to incorporate it into our meals because I love how nutrient packed it is (he always has a speech about plant reproduction when he sees the germ.)
Spicy BBQ Chickpea Polenta Bowls from Half Baked Harvest (Orthodox- sub the olive oil) :
I'm about the only person on the planet who doesn't like avocado- but this dish looks amazing. Guess Luke will get my serving of avo's when we make this!
Beet and Blood Orange Salad from a House in the Hills:
Blood oranges and onions are a thing, y'all. Trust me. Add in beets, and this looks divine.
Quinoa Chia Porridge with Stonefruit from Tales of a Kitchen:
I know a lot of people are sketched out by chia. And you can't help but sing ch-ch-ch-CHIA, amirite?? But it is really good for you, insanely filling (great for diets), and isn't scary at all.
Hot and Sour Sweet Potato Noodles from China Sichuan Food:
I don't think there is anything I can say that will make this dish sound more delicious. Hot and Sour is such a delicious combo to help you forget you aren't eating meat.
Roasted Root Vegetable Fajitas from With Food and Love:
I love this take on fajitas! Bright, full of color and different textures. Would be great for lunches at the desk for Luke.
Zucchini Pine Nut and Cranberry Paleo Pasta:
This is SO easy to make, and has a bright tart flavor. Sub coconut oil for olive oil and toss in a pan- it cooks in under 10 minutes!
Citrus Winter Salad by Pure Ella:
Simple, understated, and amazingly colorful. I think I could eat this citrus salad every day.
Sunchoke Soup by Snixy Kitchen:
My hubby and I LOVE sunchokes. But I have a hilariously tragic story about what they can do to your digestive system if you don't cook them long enough... I've never had it happen when eating sunchoke soup. Stick to the soup. It's delicious, wonderful and won't turn your intestines to a war zone.
I know it's not technically a dish, but it's a delicious snack. Sub the oil, and carry around in a bag to lessen cravings during the day.
Vegan Cuban Bowls from the Wanderlust Kitchen:
I really like grilled plantains, but never know what to add them to. This dish looks fabulous!
Quinoa & Lentil Pilaf from Akshayapaatram :
I can't get over the colors of this recipe! Quinoa and lentils can be a bit... um... ugly. This is so visually appealing and full of filling ingredients - something I need to keep from blowing diets.
Mango Siracha Cauliflower "Wings" from Vegan Richa:
This is a little off the beaten path, but I can see how a roasted cauliflower would perfectly compliment the sweet and spicy mango siracha sauce. This would be great for parties - serve with a toothpick for easy plateless appetizers.
Chana Masala from Not Just Baked:
You might sense a trend- Chickpeas are kind of the king of Orthodox Lenten fare. I tire of them quickly, but the spice combination in the Chana Masala sounds divine and unique!
Happy Tacos from Wholehearted Eats:
I really, really like the intention behind these. These tacos were created to promote hormonal balance- something I notice creeping up on me when I am not eating cheese and meat. What can I say- they are my love language!
Paleo Shrimp Scampi (omit butter):
While the luxurious buttery taste takes this recipe up a notch, it is still really delicious without it. And as zucchini give off a lot of water while cooking, you don't really need the butter for the sauce. I'd recommend tasting and adjusting salt, as you may need more without the addition of salted butter. This is obviously not vegan, but is lenten fast ok as shellfish is ok to consume.
Collard Green, BBQ Jackfriut and Mango Salsa stuffed Sweet Potatoes from For Reals Life:
This is such an interesting, fun combination of flavors, textures and colors- and looks like a great meal for groups.
Tempeh Salad Sandwich From Margaret's Kitchen:
This one is my little ode to 300 Sandwiches. I'm not a fan of anything-salad sandwiches (my aversion to avocados is only rivaled by my utter abhorrence to mayonnaise. This one is purely for my hubs. I'm always looking for dishes I can use up avocados in for him since I won't go near them- and a salad he can take to work and spread on a sandwich is a healthy, economical choice.
Buffalo Chickpea Nachos from Vegan Yak Attack (yes, that is by far the most amazeballs blog name ever):
More chickpeas. I'm not kidding, a Lent without chickpeas is like a sky with no sun. I'm pretty sure we would have no problem inhaling this on a friday night!
And... if you've trolled many Greek Diners, you know how all-important the fries are with souvlaki and gyros. Sadly it's not always easy to find lenten dishes in greek diners around northern Colorado, but the french fries- while not the healthiest- seem like lenten staples for us. Here's my recipe for crunchy baked fries that won't bomb the whole lenten diet (just sub coconut oil, or go without oil).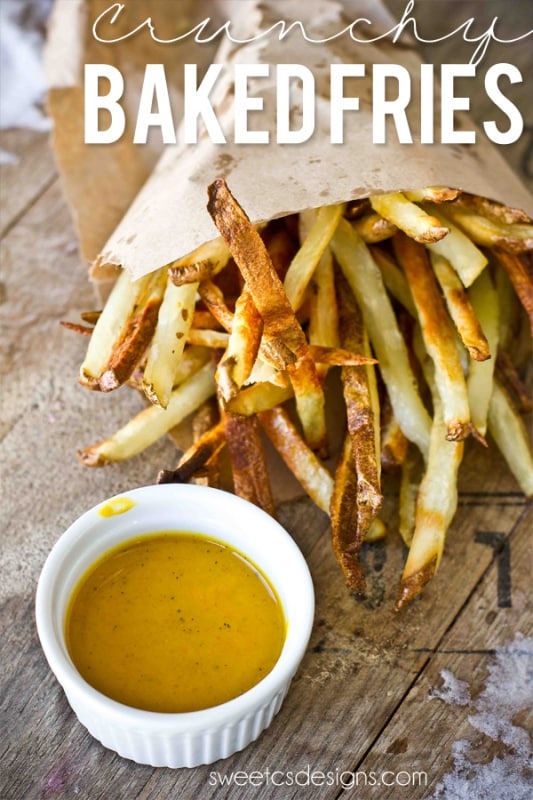 *Vegan-ish because we are allowed seafood without vertebrae (shellfish), and are only allowed olive oil and wine on certain days.