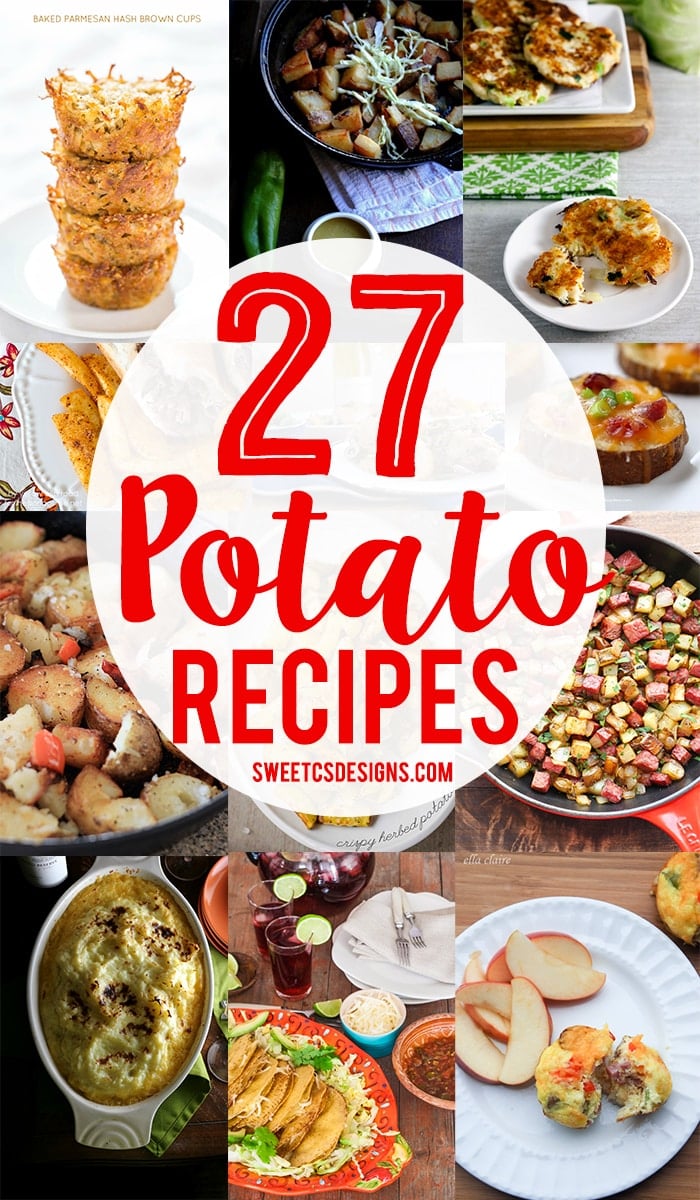 We love potatoes. They aren't the most healthy to eat all the time, but they are cheap, easy to cook, and great for picky kids. I love finding delicious potato recipes after stocking up on those big, bulk bags you can find at grocery stores- and today I am sharing 27 Potato Recipes that are sure to be a huge hit in your house- from breakfast and lunch to dinner and side dishes! These recipes are easy, delicious and hearty- and good for any season.
Want perfect, crunchy fries without having to fry them? I have the perfect recipe for Crunchy Baked Fries here!
These roasted poblano scalloped potatoes look like a perfectly smoky, spicy side!
Hatch chile roasted breakfast potatoes are a great way to start the day!
Love potato salad but want a lighter version? This lightened baked potato salad with yogurt and turkey bacon looks delicious!
These buffalo chicken twice baked potatoes look like the most delicious and fun appetizer for a party!
Spicy Shepherds Pie is a delicious take on an old favorite!
These Potato Cakes are a great way to use mashed potato leftovers and look so good!
These skillet homefries look absolutely amazing- a perfect breakfast treat !
A perfect side dish for steaks, chicken, fish and other meals- these crispy herbed potatoes are quick, delicious and so easy!
Colcannon is one of my favorite Irish dishes- and these colcannon cakes look so good!
Three cheese potato tacos are a perfect meal to entertain with!
These Parmesan Hash Brown Cups are so cute and look delicious!
Omelet and potato breakfast muffins are a hearty, portable breakfast for busy mornings!
Chicken thighs with potato, lemon and castrelvatrano olives is a classic, elegant, and simple dish!
Loaded nacho fries are sinful, quick, easy- and a filling meal on their own!
Crispy Corned Beef Hash with potatoes is a hearty, protein packed breakfast!
These easy homemade french fries are like Red Robin's- so you can have bottomless fries at home!
Buffalo cheese fries.... who baby!
These easy potato skins look like a great solution for busy weeknights!
One Pot Beef Stew is easy and keeps your cleaning to a minimum!
Have leftover mashed potatoes? Turn them into Loaded Baked Potato Soup!
These Paprika roasted potatoes look like a perfect side dish!
These breakfast Potato Tacos look so good!
These cheesy potato noodles are a fun spin on au gratin potatoes - just spiralized!
Colcannon is one of my favorites- and this recipe with Whiskey looks divine!