I was provided a Denver Mattress Bed and accessories as a part of this review. All opinions are 100% my own. 
I've been asking my readers on facebook and instagram a lot about beds lately. My husband and I have been completely uncomfortable on our bed, and were desperate for help to get better sleep. But we had a TERRIBLE mattress picking history- and according to the responses I got, most of the people I know did too! Mattress buying seems overwhelming, completely out of my comfort zone, and considering how expensive buying a mattress is- it seems like a completely crazy investment based on very little physical interaction (unless you camp out in the store and take a nap- could you imagine??). I've been compiling tons of information, common mattress complaints, and spent a good deal of time mattress shopping- and want to share my very detailed guide for How to Buy a Mattress with you.
This post isn't short- but I found out a TON of information I think is really important to the mattress buying process. It is hard to find great information that isn't part of a company ad!
While Denver Mattress did give me a bed, I want to stress that they did not provide me any information to give out, there are absolutely no affiliate links in this post, and this post is solely written by me because I was frustrated at the lack of quality information on mattress buying. I chose one of the Denver Mattress label beds while shopping in store- but I was not limited to buying one of their beds (they carry many other brands). I'll talk more about what I chose and why (and why you might pick differently) below and in coming posts.
When I sent my husband out to buy a new mattress a pathetic 2 1/2 years ago, I was 7 months pregnant and on bedrest. My only requirement to him was that he buy something firm and NOT the mattress we were currently sleeping on (which we had only be using for 3 years but was completely worn out and sagging). Well, much to our dismay, we quickly found out that he had bought the identical mattress we had, just under a new name. UGH! In not even 3 years, it was completely sagging on the sides and terribly uncomfortable. Even with frequent rotation! Here's the mattress we were sleeping on- you can see how much it sags just from this photo for a DIY headboard on my site: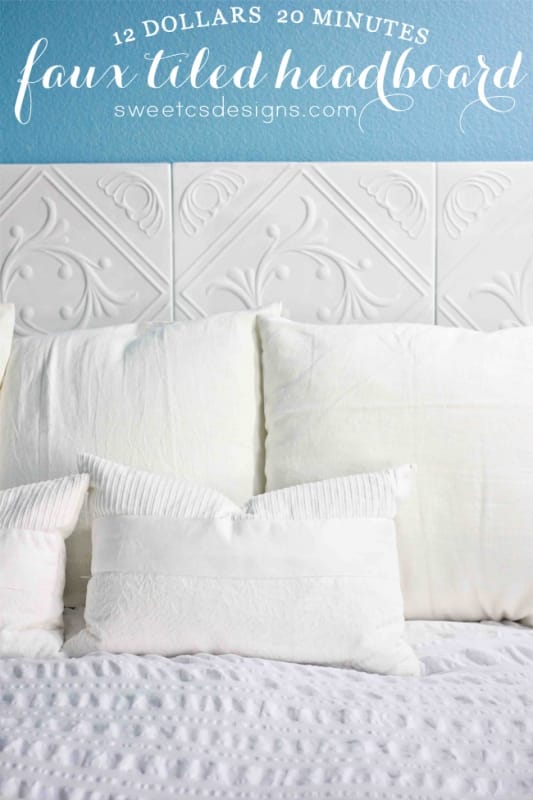 That sag isn't exaggerated at all! See how on the right side of the photo the bed dips down? That's because on each side of the bed, we had massive pits, and a huge hump in the center. It was horrible- and the mattress itself wasn't supporting us at all. I kind of think there should have been a maximum weight for this bed, because I think our un-svelte figures killed the springs quickly! To say we were disappointed in the failure of 2 $500+ mattresses is a bit of an understatement. We didn't know where to go to find a hopefully more permanent mattress and felt a bit lost when it came to finding something that would work for us. I was initially drawn to Denver Mattress because of the Denver Mattresses return policy. 
This alone is why I wanted to buy something from Denver Mattress- you can take advantage of the 365 Better Sleep Guarantee. Basically, if you picked the wrong mattress, and it just isn't working for you, you can return it within 4 months for a refund or exchange. For the second 4 months, you get a 75% credit towards return or exchange, and the final 4 months you get a 50% credit. That means you can swap out for another bed if you realize your bed isn't the one for you! I really like that Denver Mattress stands by their product like that. (The guarantee also extends to other brands they carry, not just those in the Denver Mattress label.) They also have a generous warranty against sagging beds- if a bed sags over 1 1/2" it is considered a default and allows for the warranty.
This in itself was enough to sell me with our track record of sagging mattresses! I immediately felt less pressure and more comfortable to find a bed that I thought would work well for us and our unique sleep needs when I didn't have to worry about picking the wrong bed. That was an immense lift of pressure, and allowed me to focus on the science of sleep that our awesome salesman Robert had for me.
I also learned it helps to have a specific set of needs in a mattress. Sit down before shopping and write out what your concerns are when it comes to sleeping. If you get hot at night, if you have more neck pain than back pain, if you notice you sleep better in a hotel, if you have a hard time getting up in the morning, if you have joint pain, if you prefer green mattresses, etc. It's also important to consider other things you'll be doing in bed (no- I don't mean THAT). If you sit up to watch tv or read books, or if you sit in bed to work on your computer like I do, or if you have reflux, sleep apnea, or bad snoring, you might benefit from an ergonomic motion base. Those are the beds that fold up like a hospital bed but are a million time more comfortable. If you have all your concerns in one place, it can help you narrow down from certain types of mattresses with a knowledgeable salesperson.
  I also learned about some long-held mattress myths while there that I'd like to debunk- because I found them to totally change the way I looked at mattress shopping.  First off, being "nice and toasty" warm does NOT help you sleep! Now, I know this already because I am something like a space heater at night- I've literally had friends fight over who got to sleep next to me while camping because I give off a ton of heat! That being said, it is actually proven that being a bit chilly helps you sleep more soundly. The ideal temperature for sleep is in between 60-68 degrees. Besides keeping your room cool (we use blackout shades to keep our western facing windows from baking our room in the evenings) there are actually beds and bed toppers that can help keep you cool at night. Since the mattress I picked out didn't contain materials that absorb body heat, I opted for the Isocool Harmony mattress pad and isocool pillows, and they have really helped so far. I'm not cold at night (which oddly enough, I would love to be), but I am not so hot I wake up in the middle of the night. Let me tell you- if I am this warm now, I am SO glad I know of this topper for later in life because I don't even get hot flashes yet!
Secondly, back pain doesn't necessarily mean you need a firm mattress. This one really surprised me. Robert, my salesman, showed me how a firm mattress might actually not help the hip and back pain my husband and I have. While we need a sturdy bed, a little softness doesn't hurt. Having a soft top to the mattress allows your body to sink into the bed and be supported at all points. If you're on a firm bed, and you sleep on your side like we do, your hips, shoulders and upper back will end up carrying more of your weight and your lower back goes unsupported. I never thought of it this way- I figured you always needed a firm bed for back and joint pain, but we already wake up feeling better!
Thirdly, you really CAN learn what mattress works with your body- even in the store! My husband and I thought we were picking decent mattresses because it seemed comfortable in the store. That's how everyone does it, right? Lay on a bed for a while and if it seems comfy enough, it must be right? Well I was wrong! While at Denver Mattress, I "muscle tested" a few beds. This basically means my salesman took me around to all the types of mattresses I was interested in, or fit my needs. He had me test them out and get comfortable for a few minutes. He then came back and had me do some quick muscle testing (basically where you hold an arm out at a specific angle and they push against your arm, to see which muscles you activate).
To my surprise, the bed I thought I was most comfortable on (a lovely Tempurpedic), my muscles were actually working a lot harder on. We moved to other beds, and I found that I was actually a lot more relaxed on a Madison Plush mattress. Denver Mattress also fits you for a pillow right there in the store to complement the mattress and your specific sleep needs! 
This won't be the same for everyone, and isn't meant to show one bed is "better" than the other- it is just to help you find what works for your body. This was a completely unique and informative process for me- and I really felt more confident in my selection knowing why this bed worked better for me.
Sleep Apnea, Reflux, sinus problems, and snoring can actually be reduced with the right mattress. With ergo mattresses (that fold up like a hospital mattress would, complete with remote control), you can elevate your head, your feet, or both to find a position where you are supported with your head higher than your heart, allowing for better airflow and digestion. There is a "zero g" position that actually makes you feel like you are floating and helps reduce pressure points and pain. All of the ergo beds also come with a massage feature that has a timer, which I am not a fan of (it's a bit weird like those magic fingers beds in hotels) but I know some people find it very relaxing while falling asleep. As I sometimes blog while laying in bed, I have had a lot less pain using the tv setting because my back and legs are lifted and supported.  
You can still have an innerspring mattress and not be interrupted by your partner's movement.  Luckily for me, I took my kids along with me while shopping. I had them bounce up and down in the bed to see how much I felt movement. On our old mattress, I felt every single move my husband made- and as a light sleeper, it drove me nuts. I swear, I could even feel his eyes blinking in that bed! Denver Mattress uses an spring inside a spring system with many models- the inner coils help reduce movement. They are all individually wrapped so they respond differently to movement, which greatly reduces movement. I feel a bit of movement, but my husband is no longer waking me up all night long from his tossing and turning- except when he rolls into my side. If only Denver Mattress sold bed separators- cause he's ALWAYS invading my side!  
And finally, you CAN buy a mattress made locally and you CAN see inside a mattress!  I was very excited to be able to interact with the materials Denver Mattresses are made from right in the store, and to find out that most of the materials that go into Denver Mattress labeled mattresses are made right here in Colorado. I got to touch and feel springs just like those in my mattress, look at and test different types of foam, and the materials that make up the bedding. I know not everyone that reads my blog is from Colorado, but I love being able to support a company that uses American labor and goods at every stage. I also learned a fun fact- Barney Visser, the owner of Denver Mattress and Furniture Row, was a Vietnam veteran who grew up in Denver and started his company without any loans as an all-cash company.
I'm going to be sharing more about our new bed soon- including a comprehensive review of our mattress, pillows, and the ergo bed system. Please stay tuned (while we test it out a bit more)! And look forward to a great infographic guide to buying a mattress coming next week!
I'd like to lastly give a HUGE shout out to Robert at the Dacono Denver Mattress- I've never, ever had a salesman know so much about sleep- what our bodies need, what works for specific concerns, what common complaints are- and he was also really forthcoming with beds that he saw high return rates on, and which beds he thought would not work for us based on information I gave him. I had absolutely no pressure from him, and he took a lot of time walking me through tons of options. As I watched other salespeople in the store, they all took the same time and had the same low-pressure attitude. You can tell how much Denver Mattress employees believe in their products, and it was very refreshing!