Cheesy Pesto Stuffed Prosciutto Wrapped Chicken is a delicious and easy to make recipe that is great for a weeknight and impressive enough for a dinner party!
I'm always looking for new and delicious recipes that are easy to make on weeknights, but are impressive enough to serve for dinner parties. This Cheesy Pesto Stuffed Prosciutto Wrapped Chicken is not only completely easy to make on a weeknight, but it is an impressive dinner party main dish as well!
If you're new to my blog, you might not know I have a thing for wrapped chicken dishes.
I have bacon wrapped cheddar and pepper stuffed chicken and mac and cheese stuffed bacon wrapped chicken.
I also LOVE making this super easy stuffed chicken parmesan! This version is super low carb and so easy!
Clearly I have a thing for wrapping and stuffing chicken! It's not just a random obsession- its a great way to infuse flavor, keep chicken from drying out, and it is incredibly easy. Just a few minutes of prep and throw it in the oven- this turns out perfect every time!
If you're not familiar with prosciutto, it is very similar to bacon- but thinner, and cured like pepperoni or salami (you can eat it uncooked) and it has a more mild flavor. It doesn't have quite as much fat as bacon, so we're adding more fat with the oil in pesto and some delicious, melty, oozy-gooey mozzarella. This helps the chicken not dry out when tossing it in the oven. Its hands down one of the easiest ways to cook chicken!
Yield:

2
Cheesy Pesto Stuffed Prosciutto Wrapped Chicken
Ingredients
2 chicken breasts
1/2 cup pesto
1/2 cup mozzarella cheese
4 slices prosciutto
Instructions
cut chicken in half, butterflied (you'll want to keep part of the halves touching for easier stuffing)
add 1/4 cup pesto to inside of each chicken
repeat with 1/4 cup cheese per chicken breast
wrap with prosciutto
Bake at 350 for 30 minutes, until chicken juices run clear or reach 170 degrees with a meat thermometer.
Nutrition Information
Yield
2
Serving Size
1
Amount Per Serving
Calories

716
Total Fat

47g
Saturated Fat

12g
Trans Fat

0g
Unsaturated Fat

31g
Cholesterol

179mg
Sodium

2108mg
Carbohydrates

5g
Fiber

1g
Sugar

1g
Protein

66g
Nutrition is automatically calculated by Nutritionix - please verify all nutrition information independently and consult with a doctor or nutritionist for any and all medical and diet advice.
I used store-bought pesto with lots of pine nuts, but I would probably use my own in the future because I like my pesto a little spicier- but feel free to use pre packaged pesto to save time. I tried Giada's new pesto that I found at Target- its pretty darn yummy!
If you can't find prosciutto at your local market, check the deli counter (sometimes they have it behind the counter)- or you can use bacon. I like that prosciutto has a milder flavor and doesn't overpower the chicken- but bacon would work just fine in a pinch.
For more easy weeknight meals, check out some of my favorites! They are all simple dishes that wow a crowd!
This quick and easy One Pan Taco and Rice Skillet is so good, and feeds a lot of people for just a few dollars!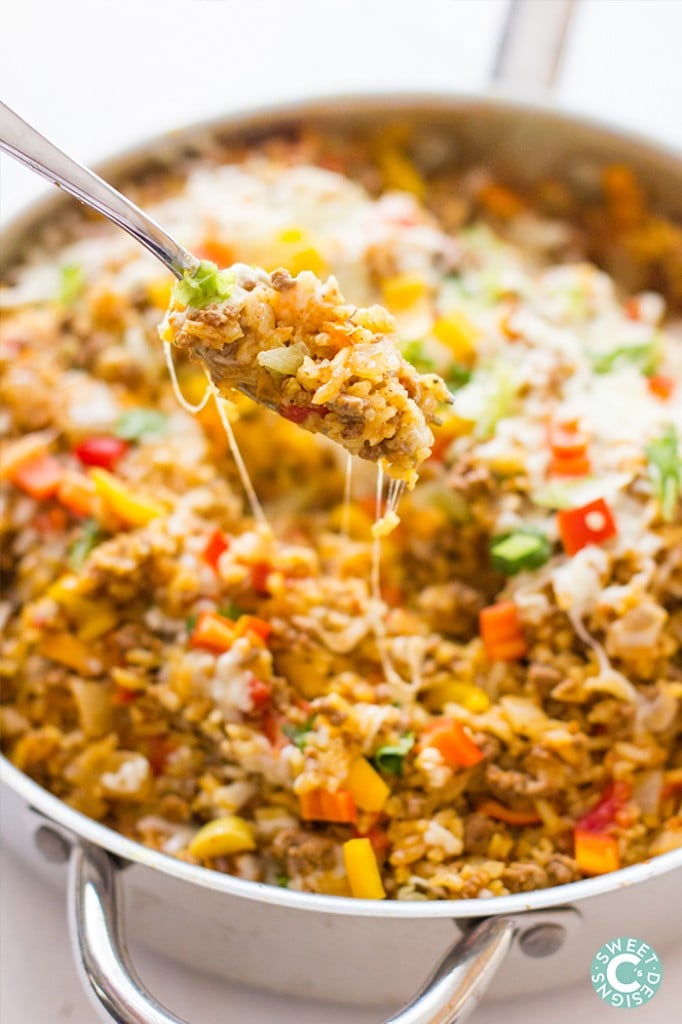 One Pot Chicken Risotto is delicious, quick, and easy- and always a huge hit with our family!
One Pot Chicken and Asparagus is delicious and easy, full of garlic and lemon flavor- and your side dish cooks right in the same pan with the chicken!
Dutch Oven Grecian (Lemon and Garlic) Chicken is one of the easiest and most impressive ways you can cook a whole chicken- and it is SO delicious! Tell everyone you spent hours on it... your secret is safe.
One Pan Tuscan Pork Chops are a delicious, easy and impressive way to cook pork chops to perfection!
And if you want a deceptively easy way to frost a cake, check out my favorite cake hack ever! I show you how to POUR store bought icing!