One of my favorite new drinks is flavored "moonshine". No, we're not distilling (totes illegal- don't do it), but flavoring grain alcohol with fun different creations. It's a delicious (and super strong) drink base, it makes for a fabulous gift, and it's pretty easy and inexpensive. This Cherry Pie Moonshine is beyond delicious and is perfect for Christmas or Valentines Day- and makes a great group gift! (you'll get 8 mason jars full, so you can spread the love around!)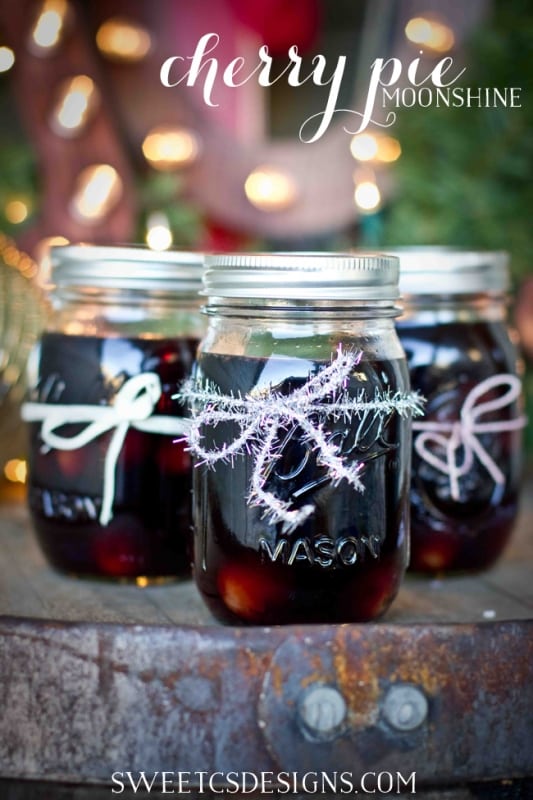 You can drink this moonshine straight, or mix it with sprite, ginger ale or tonic for a fizzy drink- or use as a base in all sorts of drinks!
One note- this is STRONG. Everclear is 190 proof- even though we've added juice to this, it is SUPER strong. Be careful because these can sneak up on you! Always be sure to drink in moderation, and have a designated driver. And if you are giving these as a gift, make sure your recipient is over 21!
I added super simple and fun embellishments from Martha Stewart's crafts line at Joann Fabric and Crafts to the mason jars- I just cut enough ribbon to tie around the jars and made a simple bow. You could also add a gift tag to them for more festive fun!
If you like drinks to be super sweet, use cherries in syrup. If you prefer it more tart, use cherries in water. Both are good- just different sugar levels!
If you like this recipe, be sure to check out my Apple Pie Moonshine!
And my Peach Pie recipe!
 As this is a pretty colored jar, and SO alcoholic, please store out of the reach of kids. This is NOT juice! A child taking a swig of this highly alcoholic drink might constitute an emergency. Seek help immediately.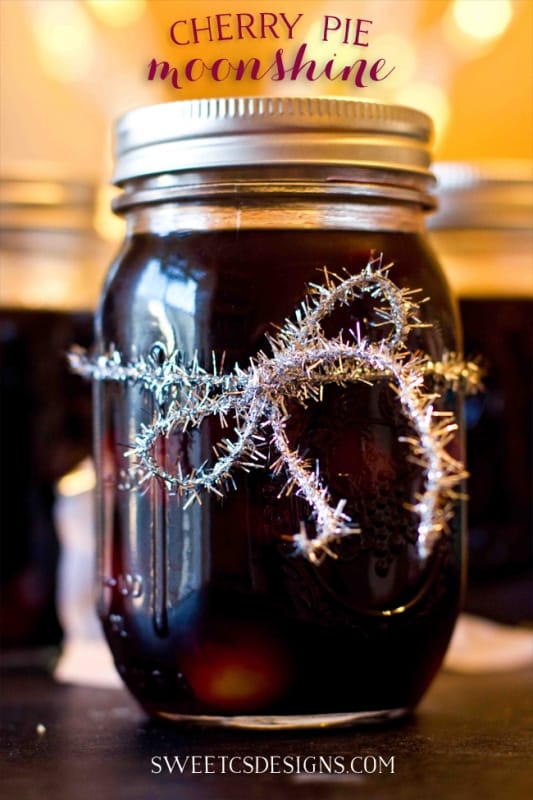 Yield:

68 oz.
Cherry Pie Moonshine
Ingredients
2 32 ounce jars all cherry juice
2 cans tart cherries in heavy syrup
1/2 cup white sugar
1 liter bottle everclear
8 8 oz sized mason jars
Instructions
In a large saucepan, bring all ingredients but everclear to a boil.
Stir to make sure sugar completely dissolves, remove from heat.
Let cool.
Pour in Everclear.
Pour into sterilized mason jars.
Moonshine can be consumed immediately, but gets better after time. 2+ weeks is ideal!