Disclosure:
I'm required to disclose a sponsored partnership between our site and Bing. I have been compensated in exchange for this post in the form of payment, product or experiences.
This post was created in partnership with Bing. With a type or a swipe you can search the web, the cloud, apps, and your PC or tablet, all in one place using Smart Search " target="_blank">Bing Smart Search on Windows 8.1.
img src="http://farm8.staticflickr.com/7357/10551490754_4f5d861d39_n.jpg" width="" height=""
Birthdays growing up were always special. My parents had fun things planned to make us feel extra loved on our birthdays… and I can't wait to carry on the tradition with our little ones. This fun Birthday Brunch is a great way to spoil and honor anyone you love!
The recipes I came up with are SO easy- be sure to save them for your next breakfast party!
I knew I wanted to do a fun twist on regular breakfast foods, and I've been on a major sprinkles kick lately (did you see my poured icing cookies, cupcakes and cakes??), so I used the Bing Smart Search to get ideas of what I'd like to make for my two picky kiddos that they wouldn't turn down!
I got to test out the Bing food and drink app more at Alt summit, and I was totally hooked! Usually when you search you get a ton of random recipes with tiny (if any) photos that you can see in the search results, but the Bing Food & Drink App makes it easy to preview and flip through recipes to find exactly what you are looking for quickly.
I wanted to find something super sweet for my breakfast party, so I scrolled though some milkshake and belgian waffle recipes.
Look at those huge preview results!
You can even sort results by ingredient, prep time, cuisine or special occasion!
I got a ton of ideas, but settled on waffles and milk shakes (with a twist, of course) because you can't go wrong with those!
Since these recipes are super quick to come together, you can make them early in the morning before anyone wakes up (really- all of it is done in less than 20 minutes if you make 10 pops), or even make them ahead of time. Since you are coating the waffles in chocolate (and really, the target audience of under 12 don't care if they are eating cold waffles when sprinkles are involved…) it's fine to pop them in the fridge the night before for a stress free morning. I'd make the milkshakes fresh though, since freezing can make harsh crystals and throw off the smooth texture.
To coat my special treats, I used a Wilton Chocolate Warmer and threw a whole mess of chocolate melts in it (yes, a whole mess is an actual measurement- in my house, at least.) I let them melt and added a touch of vegetable oil (about 1 tsp, depending on your chocolate- you just want to loosen it a tiny bit) to make it a little thinner so it wasn't too clumpy and heavy.
I then put a bunch of sprinkles in a tupperware lid, dipped the glasses in the chocolate and dunked them into the sprinkles, turning the cup to get a nice and even coat of sprinkles.
For the waffles, I made tiny waffles by just pouring a little bit of the mix (think silver dollar pancake size) around my waffle iron. I made sure to spread out where I was pouring so they didn't touch when I pressed it down. If that sounds like too much work, you could just cut bite sized waffles to dip from bigger waffles.
When done, I added some cute paper straws in rainbow colors to match the sprinkles and let them cool a bit as I finished up the batch.
I then spooned melted chocolate over the waffles so only one side was coated, since I didn't want to deal with crazy sugar crashes later- but you could coat the entire waffle by dipping it in chocolate, too. While the chocolate on the waffle was still hot, I tossed some sprinkles over them and set on a plate to cool and let them set (about 5 minutes).
I quickly rimmed some mason jars with chocolate by dipping the lids into a chocolate warmer and then dipped them in sprinkles while the chocolate was still melted. Let them set for a while before serving to reduce messes from little hands!
How cute did these little glasses turn out?
Want some other fun ideas for a breakfast party? My sweet friend Melissa of Number 2 Pencil posted some super cute pancake pops a while go- and they gave me the idea to put a fun twist on a waffle breakfast and make mini waffle pops! You could easily add sprinkles to them, too.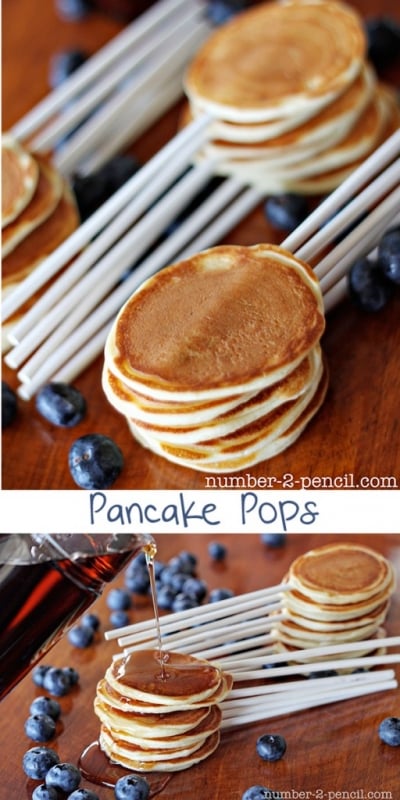 And for a bit of a heartier breakfast (for those who aren't into just diving into chocolate first thing in the morning) to go with the waffles and milkshakes, these breakfast bites from Ella Claire would go perfectly!
 Interested in the food and drink app? Click the photo for more information! 
And be sure to check out the Bing Food & Drink App for more delicious ideas!
Chocolate Dipped Waffle Pops and Strawberry Shake Birthday Brunch
Ingredients
2 cups all-purpose flour
1 teaspoon salt
4 teaspoons baking powder
2 tablespoons white sugar
2 eggs
1 1/2 cups warm milk
1/3 cup butter, melted
1 teaspoon vanilla extract
2 cups chocolate melts
sprinkles
Instructions
Turn on waffle iron.
In a large bowl, mix together dry ingredients.
Turn on chocolate melting pot or start melting chocolate in a double boiler
In a separate bowl, beat the eggs, and then add other liquid ingredients, stir well.
Combine liquids into your dry ingredients and stir enough to break down large clumps- don't overwork.
Ladle the batter into a preheated waffle iron.
Cook the waffles until golden and crisp.
Add paper straw as a pop.
Dip in chocolate and add sprinkles.
Serve and enjoy!