This creamy chicken bruschetta tortellini one pot pasta is quick, delicious, and incredibly easy for a hearty meal in under 30 minutes! 
 I love one pot pasta meals, especially pastas with chicken.
There's nothing better on a hectic weeknight than tucking into a hearty, warm meal that takes less than 30 minutes and can be made all in one pot with simple ingredients you already have on hand- they are the best!
This creamy one pot recipe is SOOOO good. It is tangy and tart, with my favorite flavors from rich butter, heavy cream, garlic, and bruschetta mix!
And really, it couldn't be simpler.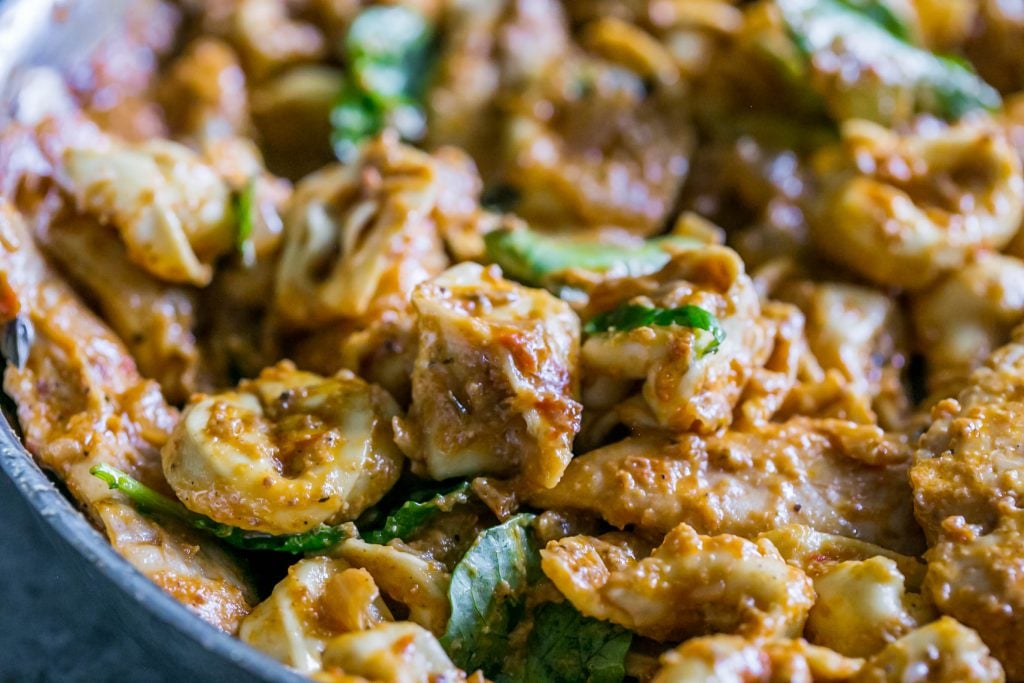 Yield:

4
Creamy Chicken Bruschetta Tortellini One Pot Pasta
Ingredients
3 tbsp butter
1 lb chicken , raw
1 onion, diced
4 oz bruschetta mix, whichever jar kind you prefer
2 tbsp garlic powder
4 oz heavy cream
salt, pepper to taste
1 lb cooked tortellini
basil, to garnish
Instructions
In a large pan, heat butter until melted.
Add chicken and brown, flipping often to prevent burning, about 8 minutes.
Add diced onion, and brown about 5 minutes.
Add garlic powder and heavy cream, stir well,
Add bruschetta mix and stir.
When chicken is cooked and sauced has thickened, add tortellini.
Garnish with basil.
Serve immediately.
Nutrition Information
Amount Per Serving
Calories

797
Saturated Fat

20g
Cholesterol

189mg
Sodium

662mg
Carbohydrates

56g
Fiber

5g
Sugar

4g
Protein

39g