The holiday season always means a few things- frantic schedules, festive decorations, shopping- and lots of parties! Winter flavors are some of my favorites- sweets and treats filled with spices, warm and delicious beverages- and today I am sharing one of my absolute favorite drinks to get the party started! This crockpot cranberry apple sangria and virgin sangria is a delicious, easy and festive drink that will get any holiday party in the spirit!
I'm a big believer of making mocktails that taste like their cocktail counterpart since I have a lot of friends and family who don't drink. The non alcoholic version of this sangria is delicious and has lots of layered flavors for a drink that is a lot more interesting than a basic punch or apple cider. It is sweet and has plenty of holiday spice!
I'm a big advocate of only using high quality wines and liquors in mixed drinks- but sangria is my one exception. My favorites are inexpensive spanish red and white table wine for these sangria- but you can always add a delicious more expensive bottle instead. Since we're adding so many other flavors, I like to save the good bottles for nights when I am not adding in a bunch of other stuff.
This recipe is perfect for parties since you can make up a big batch ahead of time and let it sit out with some ladles and cute mugs for people to serve themselves all night long. This recipe is always a great hit!
Crockpot Cranberry Apple Sangria
Ingredients
1 bottle white wine, non alcoholic- sub one bottle sparkling apple juice
1 bottle red wine, non alcoholic- sub one bottle sparkling grape juice
3 cups apple cider
3 cups cranberry juice
1 cup brandy, non alcoholic- sub 1/2 cup italian soda cherry syrup
4 cinnamon sticks
1/2 cup mulling spices
Sliced apples and fresh cranberries, to garnish.
Instructions
In a large crockpot, add ingredients and stir.
Add mulling spices, cinnamon sticks, apples and cranberries.
Heat in crockpot on low until warm.
Keep crockpot on warm during party and enjoy!
Nutrition Information
Amount Per Serving
Calories

1263
Sodium

47mg
Carbohydrates

183g
Fiber

9g
Sugar

160g
Protein

4g
My friend Kimberly from A Night Owl Blog has a bunch of festive sangrias as well. Be sure to check them out by clicking on the photos below:
And if you're looking for a more traditional sangria, check out my recipe for the best Sangria and Virgin Sangria ever!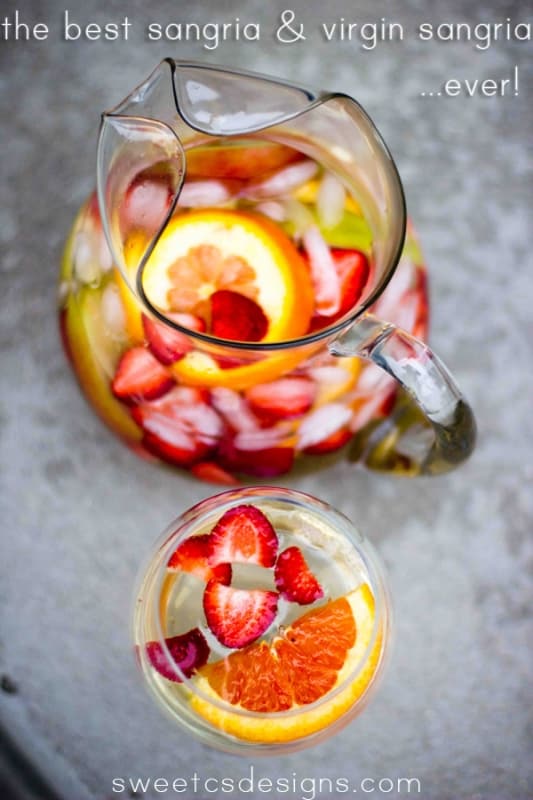 Or some floral sangria: