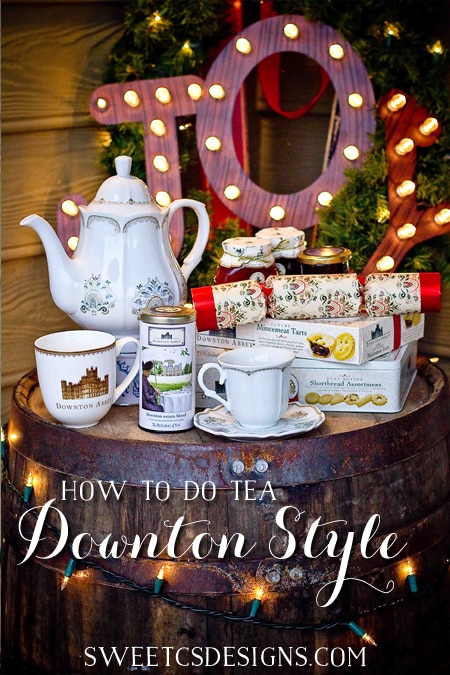 Have you seen all the new TO. DIE. FOR. tea items at World Market? To celebrate all things Downton, World Market is introducing a fabulous new line of tea party inspired items perfect for any Downton lover. And they are giving away a trip to Highclere Castle and the set of Downton! WHAAT??? So awesome!
To get in the mood, I am showing my FAVORITE tea party essentials today, and will be sharing a super special Christmas tea party soon! I'm also super excited to be a part of the "Do the Downton" promotion with World Market on Sunday. Be sure to follow me and World Market on facebook, twitter, pinterest and instagram to see all the Downton fun!
Onto my perfect picks for a Christmas Tea. Did you know my husband lived outside of London for a while as a kid? We're officially huge anglophiles and LOVE having tea parties. And my husband is very particular- we have to have his favorite British snacks when we throw a fancy tea. So this was the perfect way for us to stock up on some lovely tea snacks and setups- especially for the Downton lover in your life! These all make perfect Christmas presents!
The first thing I grabbed was the oh-so-lovely Downton teapot. I love the lines and subtle design of this tea pot! It is so classic looking and is a perfect showstopper.
The lovely teapot also has matching teacups + saucers and dessert plates. Perfect for a whole festive tea!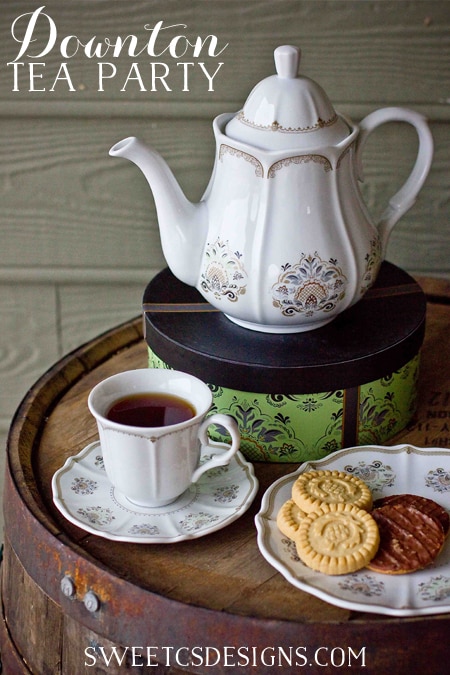 No tea is complete without delicious sides. For our Christmas tea, I picked up the limited edition Walker's Shortbread Downton tins, Mince Pies, and lots of jams, marmalades and preserves. There's even a special mulled wine preserve that I found with the Donwton line at my local World Market. It is delicious with scones! (Did you know World Market stocks a few flavors of gluten free scone mixes?? They are so easy to make and delicious!!)
We also picked up some Hobnobs (a favorite of my husband's, and jammie dodgers (which my son and I adore) to go with our tea.
To make things a little more festive for Christmas, we always get Christmas Crackers at World Market. I was super excited to see a set of Downton Crackers– they have a gorgeous design that mirrors the tea set, and are the perfect fun and festive tradition to accompany a Christmas tea! We have the family open their crackers in a big group and all don the paper crowns during Christmas Dinner. It would be so fun to add to a Christmas tea as well!
Of course, at any tea party the tea kind of is the star. But after being married to a tea snob, I always get a bit intimidated to pour the perfect "cuppa". Luckily, with the Republic of Tea's special edition Downton blend (which is a delicious earl grey with notes of vanilla), it was pretty easy.
First off, you'll measure out your water. Measure water? I bet you think I'm insane. But if you measure your water to tea ratio, you will really get a better tasting cup of tea. I mix 6 ounces of water per tea bag. I'll add one and a half teabags per guest (if you are left with a number and a half, round up- obviously you aren't splitting open the teabags).
Then, I will bring my water just under a boil. I want little bubbles, but not a full on boil or to the point the kettle whistles.
Pour your water and teabags into your teapot and let steep at least 5 minutes.
If you want to add sugar or cream (milk) to your tea, add them to the cup beforehand, and pour tea into cup. This helps the sugar fully dissolve- but give it a gentle stir with a spoon right before drinking to be sure the sugar is completely dissolved.
And with that- you'll have the PERFECT cup! Balanced, flavorful and not bitter.