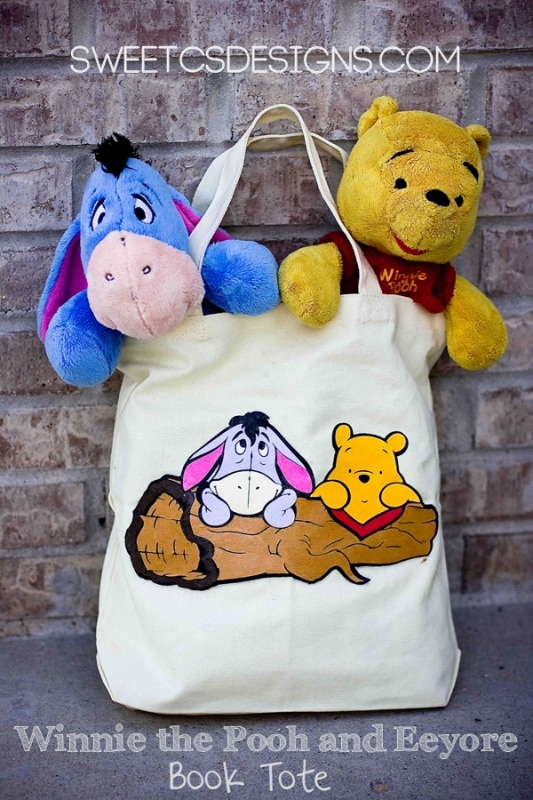 I was compensated for this post and provided a copy of Disney's The Many Adventures of Winnie the Pooh. All opinions are 100% my own. 
What was your all time favorite movie growing up? Mine was, and always has been The Many Adventures of Winnie the Pooh. Always. And forever. So I can't tell you how thrilled I am that my kiddos love my silly old bear as much as I do.
We laugh when Pooh dons mud to disguise himself as a little black raincloud. We dance to all the songs. My daughter's third word was "Pooh" and she sleeps with a Pooh and Eeyore stuffed animal every night. Little man's first phrase ever was "House for Owl" (as they went house hunting for a new house for Owl when his blew over on the very blustery day). We even threw my son a Hero Party for his second birthday.
But, we don't Pooh very often. I'm kind of stingy about my favorite movie, because I dont want it to break. You see, the staple of our Disney movie library- IS ON VHS. The same tape I've had since I was a kid. I don't think I was paying attention when it came out on DVD (I was probably in college and having a dvd for future kids was the last thing on my mind), and it is being released for the first time ever on Blu-Ray on August 27.
To say I am happy is an understatement!!!
We can't wait for Pooh to come out again. We can have a dvd for the car, the blu ray for the big downstairs tv- and a digital copy on the kids ipad. In other words- all Pooh, all the time!
To get my kids extra excited for their favorite friend to come to Blu-Ray, I made a sweet little book tote for them to carry their favorite books- Pooh- and stuffed animals while we're on a road trip in two weeks across country. I'm sure it will also have a dvd package tucked inside for the long drive, too!
I made this tote with Eeyore and Pooh, because they are my kids favorites- but you can add whichever characters you'd like from the Cricut cartridge. They have a ton!
For this tote, you'll need:
Scrap fabric (well under 1/4 yard each) fabric in colors of pooh, eeyore and a log- pink, purple, tan, yellow and red- as well as brown and black.
Disney® Pooh and Friends Cricut® Cartridge
Heat 'n Bond Ultra, about 1/2 yard
iron
mod podge- outdoor or fabric
a foam brush
Canvas tote bag
First off, iron heat n' bond to the back of your fabric scraps. You can see this process in detail on one of my (wickedly old- sorry) posts here - and how I use fabric mod podge to affix firmly to fabric here .
Next, set your cartridge to the largest setting possible and cut your log, eeyore and pooh. If you are using Cricut craftroom, you'll want to make sure you cut to a size that will fit on your tote bag- I suggest laying it all out on the screen and then cutting each layer individually.
Cut each layer just like you would paper. The cricut will cut fabric just fine when backed with heat n bond. If there are any frayed bits, just snip around them to make a clean cut. If you have any problems, make sure you have a new mat and new blade.
When you have each layer cut, remove heat n bond backing and assemble into shapes. You can glue them one of two ways- using an iron or fabric mod podge. I went for mod podge because I am always afraid when I iron shapes together something will slip and I will have an eye out of place!
I put the characters together first, and then mod podged them to the front of the log shape so they looked like they were peeking out over it. Again- you can do this with your iron, but I was just a bit afraid of uneven placement from the irons movement.
I then coated the top with a layer of fabric mod podge to give the characters a bit of shine, seal the fabric to protect it from stains, and make sure everything was tightly together a little big more.
Next, you'll place a good healthy coating of mod podge on the back of the log and eeyore and pooh shapes and affix it to the tote. I know you're wondering why not iron it on- I just personally think mod podged items hold up better. This is a completely personal preference, and totally up to you.
Let dry completely- about 5 hours to overnight- and then use!
I grabbed my Pooh and Friends Cricut Cartridge and made a log shape, and an Eeyore and Pooh cutouts to affix to the log like they were peeking out from behind it.
For more Pooh ideas, check out my son's Winnie the Pooh second birthday party posts- we had a Pin the Tail on Eeyore game, a Pooh Hunny Toss game, and a Hundred Acre Wood Dessert Cart! It was so much fun, and all of the projects were quick and easy!
And for more information about the re-release of our all time favorite movie ever, The Many Adventures of Winnie the Pooh, please visit the Winnie the Pooh facebook page!
For more Pooh inspired fun, please check out some other projects from some of my favorite blogs:
WINNIE THE POOH and all related characters and elements are trademarks of and © Disney. Based on the "Winnie the Pooh" works by A.A. Milne and E.H. Shepard. This tote is made for personal purposes only- don't sell them in an etsy shop, etc.