As you may have read from an earlier post, my husband and I are giving the Paleo diet a try. With a messed up immune system, joint problems, and an autoimmune disorder that has a high likelihood of affecting my future fertility, as well as putting me at high risk for diabetes, estrogen-related cancers and heart disease; I knew recently that it was time for MAJOR change.
While all of that seems like perfect motivation, giving up the foods you love is not easy. We love our dairy and wheat- and to a lesser extend we have become pretty dependent on soy. While I don't intend to permanently say good-bye to all of these foods, I am interested to see how my body responds to them after I have completely "detoxed" and introduce them back in slowly, one at a time in limited amounts.
For the time being, I actually am really comfortable with this diet although it is incredibly restrictive. I don't do well with counting diets (Weight Watchers used to work fabulously for me, but now it is just too much work to track points), and I know with PCOS I have become a little insulin resistant making my hunger all over the place. In just a couple of days doing paleo, I have not been ravenous and am actually eating a lot less- being full in between meals is really a new feeling for me. I also have noticed all of my cravings are gone, and unlike any other diet I've ever tried I am not sitting down, craving cakes and cookies and pizza (ok, I'll confess- I still totally crave cheese- but who wouldn't??).
I would be happy eating a stir-fry every night- veggies, onions, a little curry powder or blackening spices, and rotating types of lean meat- but I know that would bore my husband to death. I have been trying to come up with different foods that keep him happy without potatoes and grains. I know he loves fried foods (while fried foods aren't exactly healthy, we don't eat them often, and I use small amounts of olive oil) so I wanted to try out some tempura-style zucchini using gluten free flours.This meal is not strictly paleo- some paleo diets say non gluten flours are ok, some say they aren't- but I figured the small amount used for dredging isn't going to hurt us, and if it keeps us on the plan longer, and doesn't contain forbidden foods, it can't be terrible. I'm also not looking to eliminate carbs from our diet-- just foods that are known to increase inflammation.
The result was delicious- and a big hit. Read on to see how I did it!
First, I want to disclose- I tried this with both almond flour and tapioca flour. While the almond flour tasted good, it clumped a bit and was just too mealy for the zucchini. I think it would be fabulous as a breadcrumb alternative for chicken strips (coming soon!!!). The tapioca flour tasted just like tempura when fried, and had a fabulously light and crisp texture. Tapioca flour is also much less expensive than almond flour. The thought of tapioca flour totally creeped me out (I have weird, irrational reactions to random foods) but it really was delicious.
You'll need:
-Zucchini Sticks
-Egg Bath
-Plate with tapioca flour spread out for dredging
-Large sautee pan with olive oil about 2cm deep, heated on medium-high**
**Olive oil has an extremely low smoke point, so be very careful to not overheat your olive oil. Do not treat it as peanut oil- it can burn! If it starts to smell off, immediately remove it from heat. Also, I wouldn't recommend
If using a large zucchini, quarter it, and then cut long thin strips to make zucchini sticks. If using a smaller zucchini, you could just chop it into discs. Sprinkle them with salt and pepper.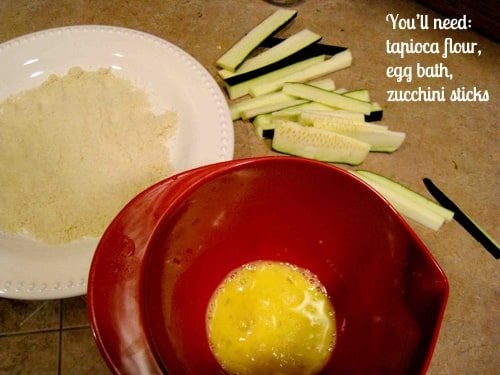 Dip the zucchini into the egg wash, and dredge in tapioca flour. Once all are coated, head over to your oil. Flash fry until the side in the oil has taken on a nice warm brown color, about 1-2 minutes, and flip to the other side. When both sides have finished, place on a plate with paper towels to drain excess oil.
When I was done, I dropped a few whole leaves of sage into the oil to fry. You will start to see the sage crisping right away- it only takes about 40 seconds per side to be done. Remove when finished, reserve for garnish.
Plate by arranging a few sticks on top of each other, and top with your crispy sage. There you have it- a tasty, elegant, gluten free fried appetizer!
This recipe would probably work well with a host of veggies. I recently had some delicious tempura veggies during a sushi feast- I think the tapioca flour will easily replicate the tempura for mushrooms, onions, sweet potatoes, and more!