I felt a little weird about writing an entire post about my "secret" dip. I've been making "crack dip"- molten lava cheesy goo sent directly from the heavens- for a long time. And while it's the easiest thing to make, I constantly have friends asking me how I make it. So today I'm letting the cat out of the bag.
And I kind of feel guilty, because I don't have some 15 step recipe where you make fresh and delicious green chili from scratch- or use non-processed and totally artificial cheese product. Nope. I'm going the easy route because, well, its just SO dang good. Like, 12 step good. I'll admit it, I have a problem. That's the first step, right?
I actually used to make this with regular old chili, and it was fantastic. One Broncos game we were out of chili but had some green chili, and my hubby figured "why not"? I was totally mad at him for perverting my "recipe"- until I tasted it. Bless that man, because he stumbled right into genius. And so the green chili variety of crack dip was formed- and we haven't looked back.
So if you're ready to let your inner fat kid rejoice, grab a can or two of green chili, some Velveeta and check out how I make it below. And don't forget the stretchy pants.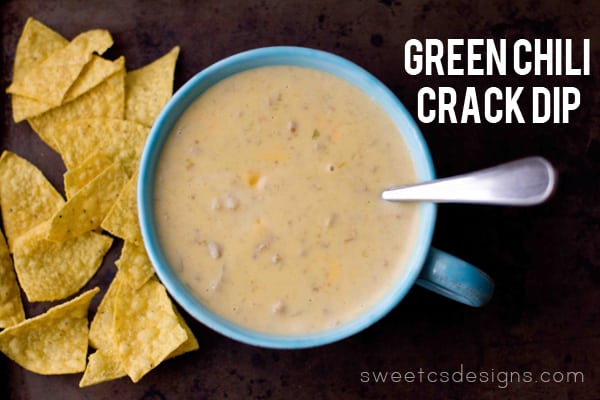 For this dip, you'll need:
1-2 cans of Stokes Green Chili (can't find stokes? Any green chili will do- but after extensive taste testing over the years, hubby and I firmly believe this is best). If you don't like green chili you can add a can of regular old chili- but trust me, the green chili is TOTALLY worth trying. Stokes is NOT gluten free. It does contain wheat. So if you're GF, pick another brand.
Yield:

6
Green Chili Crack Dip
Ingredients
-1 can stokes green chili
-1package velveeta
-Microwave safe bowl or fondue pot
-Chips, pretzels, tortillas or other dip delivery vessels
Instructions
First, cut the velveeta. I like to cut it into pretty small pieces so it melts easier. Then toss em in a big microwaveable bowl or fondue pot with the green chili. Microwave for 1 minute bursts until melted, stirring frequently in between. You dont want to over microwave it, because it will burn a bit on the sides. If using a fondue pot, keep it on low and stir frequently.
When it's all melted- rejoice. You've now made crack dip. Bust out those stretchy pants, and devour.
Nutrition Information
Yield
6
Serving Size
1
Amount Per Serving
Calories

383
Total Fat

23g
Saturated Fat

10g
Trans Fat

0g
Unsaturated Fat

9g
Cholesterol

64mg
Sodium

848mg
Carbohydrates

17g
Fiber

1g
Sugar

2g
Protein

20g
Nutrition is automatically calculated by Nutritionix - please verify all nutrition information independently and consult with a doctor or nutritionist for any and all medical and diet advice.
What is your favorite party food? Or your favorite dip?