Learn about lightbox photography and how it can impact your small online business!
Today I am showing you an awesome product I found (well, actually, my dad gave to me for Christmas) for under $40 that will help your blog/food/Etsy shop photography... a fabulous lightbox. If a DSLR isn't in your budget, if you are up late at night crafting and need a good shot, but it is too dark; or if your fancy schmancy DSLR still isn't helping you get the perfect light you need- this could just be the solution for you! And being so inexpensive, it is totally worth a shot!
This post is 100% my own, and I was not contacted or compensated by the manufacturer at all.... I just can't keep all my good secrets to myself!
Today's post is brought to you by Dirty Deeds Soap, a sponsor of the Sweet C's 500 Fan Giveaway, which is running through February. Please take a moment to get to know Dirty Deeds and check out their awesome, family-made soaps and shave accessories- and be sure to enter to win!
Hello there, we are Dirty Deeds Soaps and are a family owned business. We love being able to work at home surrounded by the people we love the most and couldn't be happier with what we are doing!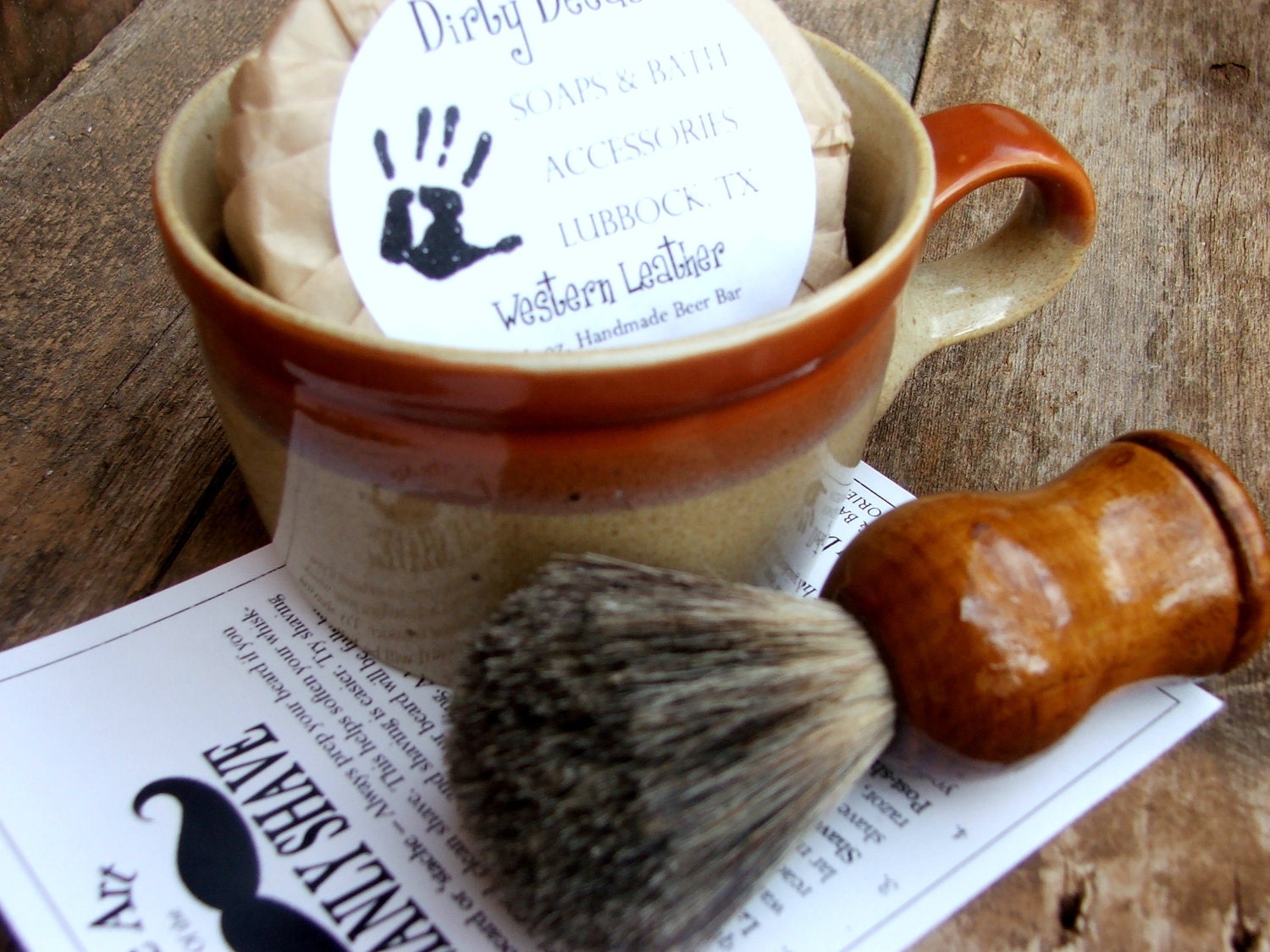 We offer wide array of handmade soaps and shave accessories. We also have grooms gifts, bridal favors and can customize a logo for your special event. Right now we offer mainly french milled soaps from detergent free bases and use both essential and fragrance oils.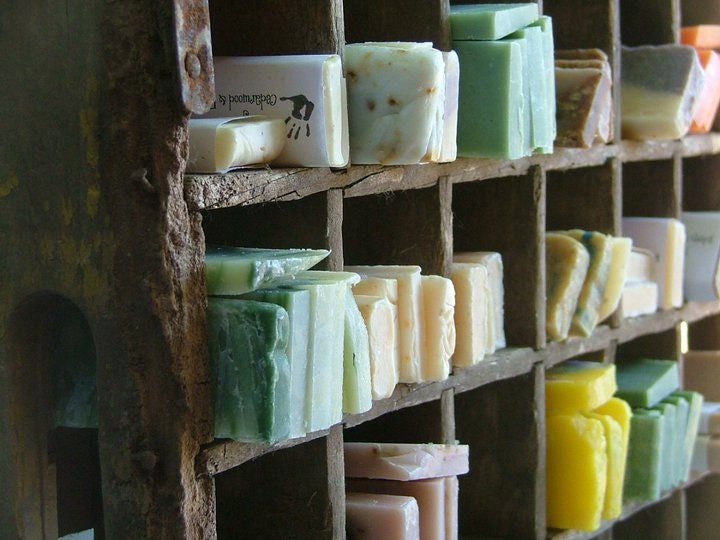 We hand cut every bar, whether it be our full size bath bars or our special guest sized bars so expect to see some discrepancies in size as is with all handmade items. All of our packaging is either recycled or recyclable materials and are shipped to you fully wrapped and labeled for your enjoyment and freshness. We use non plastic materials as often as possible unless needed for the shipping safely.
You can follow us on Facebook, on Twitter, on our Blog, or on YouTube (where you will find their awesome new commercial).

A couple of months ago, I showed you how to make your own lightbox. While it works well, it can take up a ton of space to have to store a cardboard box- and space is something a lot of us don't really have in our craftrooms. So this Christmas, I was really thrilled to open a very odd shaped package from my dad- a travel lightbox (with lighting!!). I was in no way compensated for this post, I just had to share this little gem with you because it was a fabulous find (my dad rocks!).
Why are lightboxes so useful? Well, they help to reflect even soft light onto your subject, they can help you create light in a dark surrounding (midnight craft post edits, anyone?), and they are largely portable- you can plop them down in a hectic kitchen and present a fabulous, clean background for your shots in under two minutes. Best of all- this is a tip that works fabulously for people with fancy, schmancy DSLR cameras, but also basic point-and-shoots as well. (I am including P&S photography in this post, so you can see for yourself).
Here is the kit my dad found. I didn't find it on the Kaezi site, but there were plenty of Amazon shops offering this little beauty for under $40. It includes the lightbox, four dropcloth backgrounds (red, blue, black, white), a mini tripod, and two lights. I am just using the basic lightbox today to show even in it's simplest form it can be a HUGE help! The best part- it folds almost flat in its built-in carrying case (totally flat if you remove the lights and tripod from the pocket), so you can tuck it into a corner or under a desk when not in use.
I just popped out the box (I love that you can configure it in a bunch of different ways) and set it on my ironing board, next to my big bedroom window. If I was in my kitchen, I would have also used the included lights. To make a perfectly smooth background, use the canvas dropcloths (they do need to be ironed, so I skipped them this time).
So how does it do for taking photos? Here is a quick shot I took of a ring pillow with my Canon Powershot Point and Shoot: (turn OFF flash, and turn MACRO setting- the tulip icon- ON). I just got in close, took some pics, and they turned out fabulously!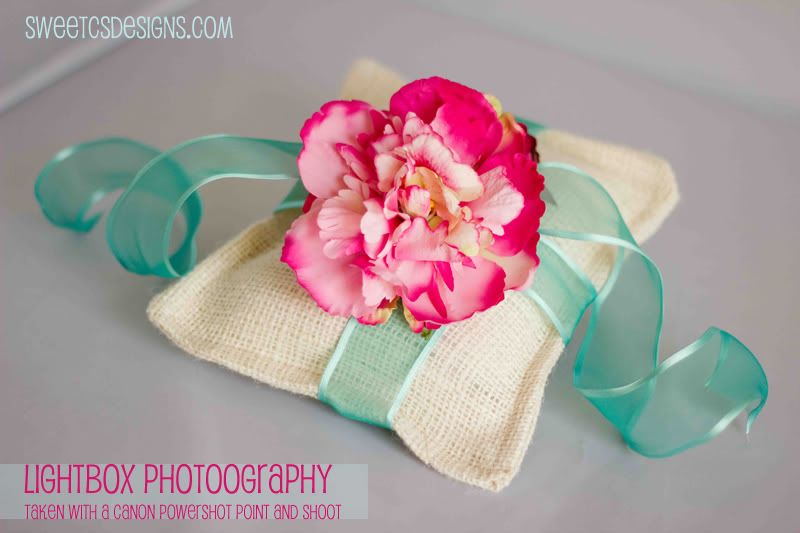 And with a DSLR? The lightbox's smooth white background, and great reflection of soft light made it SO easy to get in close and really get some good detail of the peony on this ring pillow. The shot above, with the P&S in it, was also taken with my DSLR. Easy clean background, even lighting, and you can't see the abysmal mess my bedroom is- all in under 2 minutes!
I shot the DSLR photos with my 50mm lens at 1.8. I used a/v mode for this shoot.
If you enjoyed this photography post, please add Sweet C's to your RSS feeds, or add me, and Sweet C's Designs on G+! Larger networks help me find new opportunities and help offset some of the costs for running this blog.
I add new photo tips on Mondays- please let me know if you'd like a specific topic covered!