Cute ring pillows are a beautiful piece at any wedding! Learn how to make a burlap ring pillow for less than $10 in 10 minutes or less.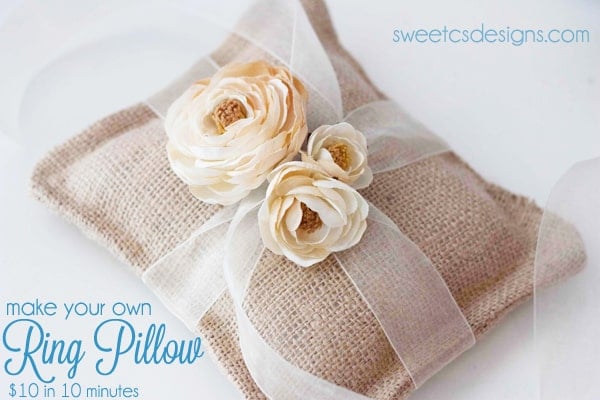 For those readers who have been around with Sweet C's since the beginning, you know I started this blog as a way to promote my Etsy shop where I sell wedding accessories and other fun gifts.
I'm actually in the process of moving the shop here to my website (with some exciting new products and faster production time), and it got me in the wedding mood.
I know a lot of people who got engaged over the holiday season and are looking for some fun, beautiful crafts they can make to add to their wedding's charm- without breaking the bank.
Today I wanted to share one of my top sellers with you- in a version I have sped up so you can make it yourself without any advanced sewing knowledge (you just have to be able to sew a line- promise!!).
These ring pillows are a fun touch to any wedding- and really shine at outdoor or homemade styled affairs. You could even use these as a fun throw pillow in a sunroom or reading nook if you increase the size!
To start, we'll need:
2 burlap squares, 10″x10″ (larger or smaller depending on your finished pillow size- 10″ squares will end up being 8″ pillows).
Jute twine or ribbon
Fiberfill
Horseshoe, optional
Silk flowers, with the base trimmed off, optional
Hot glue (if adding flower or horseshoe)
tip: to save money, buy 1/2 yard of burlap, and watch for big sale days at a craft store. Fiberfill and burlap tend to go on sale regularly at Jo Ann Fabrics, and seasonal flowers are almost always 30% off. Jute and ribbon tend to not go on sale, so grab a 40-50% off one item coupon to make this project even less than $10!!
First off, you'll measure out your burlap to make two 10″ squares.
Next, stack the squares on top of each other, and sew up three sides, leaving one open.
Turn the inside of the pillow out.
Fold down about 3/4″ of fabric on the open square side and tuck inside pillow. Pin or pinch to hold in place.
Sew a straight seam to close the right and left sides of the open side- leaving a gap in the middle for you to stuff fiberfill into. Continue around pillow to create a 1/4″ edge. (in the picture below, I made the seams blue so you could see the thread. Unless this is your "something blue", you'll want a coordinating thread color. Pale brown makes the seams virtually invisible.)
Stuff pillow with fiberfill, then sew opening shut.
Tie ribbon around the pillow like you would a gift, making sure to knot the ribbon in the middle so it is secure.
To add an extra touch, hot glue a horseshoe on the side (in Irish tradition this brings good luck), and a silk flower (be sure to completely cut off the stem with wire cutters so it lays flat).
How easy was that? There are so many fun ways you can make these…. you'll be making them for all of your engaged friends in no time!
Of course, if you'd like to buy your pillow instead of make one, you can find a large assortment in my shop! (And you can always email me if you'd like something custom… I love making custom orders for pillows!).