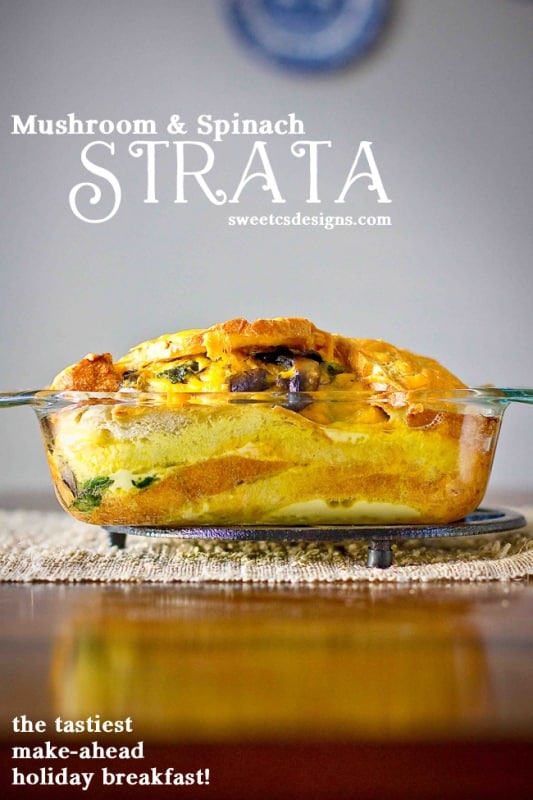 Holiday mornings get hectic. Heck, any weekend morning has a way of getting crazy fast! So I like to have easy, simple, hearty and healthy breakfasts to start off the day right. This Mushroom and Spinach Strata is an easy, make-ahead breakfast you just have to pop into the oven in the morning for a hearty, warm and vegetable packed breakfast.
One of the greatest things about stratas – an overnight soaked egg dish- is that you do all the work the night before so on big holiday mornings you can just pop it in the oven. They take very little work, and puff up wonderfully like a souffle.
You can also sub out any veggies in this recipe- but there is something about mushroom and spinach that I love with eggs in the morning! They go so well together, it is one of my favorite breakfast combinations. The one thing you DON'T want to switch out is the bread. I've made stratas with different types of bread and the only one  I like is sourdough. I get really, really sour sourdough (sometimes a bread bowl and just cut my own slices). If you use whole wheat or white bread, it will taste too sweet. Which is kind of nasty with mushrooms and spinach. (You won't see any mushroom and spinach desserts here…. just saying.)
Remember that scene in the Family Stone where Sarah Jessica Parker's character picked the mushrooms out of her strata and then it spilled all over her when she was putting it in the fridge the night before Christmas? I think of it every. single. time. I make this dish! I can see why it was her family's tradition- it is perfect on holiday mornings.
Mushroom And Spinach Strata
Ingredients
8 large eggs
1/2 cup milk
2 tbsp butter
1 large onion, diced
1/2 pound cremini or button mushrooms, chopped
4-5 cups fresh spinach, about 1 bag
1 loaf sourdough bread, sliced (or 1 large sourdough bread bowl, sliced)
1 cup extra sharp cheddar cheese, grated
1 cup goat cheese, crumbled (sub another cup grated cheddar if you arent a fan of goat cheese)
Instructions
In a large bowl, whisk eggs and milk until foamy.
Set aside.
In a large heavy pan, melt 2 tbsp butter.
Add diced onion and mushrooms and brown.
When onions and mushrooms are browned, add spinach and wilt until it is cooked down, about 5 minutes. (add a little bit at a time if it overcrowds your pan).
Remove from heat.
In a well greased 9x13 pan, lay down 3-4 slices sourdough bread to cover bottom of pan. Don't worry if there are small gaps.
Layer 1/2 mushroom, onion spinach mix on bread.
Add crumbled goat cheese.
Add another layer of bread, then another layer of vegetables and 1/2 cup cheddar cheese.
Add another layer of bread and top with 1/2 cup cheddar cheese.
Slowly pour egg and milk mixture over layers. Make sure the top layer all has a little egg mixture on it.
The egg/milk mixture should come almost to the top of your pan. If your bread is particularly dry, you can add a bit more milk and a few more eggs- but if you are within 1/2" of the top layer, you're fine.
Cover with plastic wrap or tinfoil and refrigerate overnight.
In the morning, bake in a preheated oven at 375 for 45 minutes or until very puffy and golden.
Serve immediately- strata will deflate a bit over time.