Can you believe the Christmas season is almost here? How did time fly by so quickly? Every year, the advent season sneaks up on me. This year though, I am planning ahead with easy, simple crafts that help us remember the meaning of the season without taking up a ton of time. And since it is only a few days from the Orthodox Christian Advent Fast period, I needed an Advent Calendar, stat! There aren't a lot of Orthodox Advent Calendar Printables out there (none that I could find, actually), so I made my own!
If you aren't familiar with the Greek or Russian Orthodox Christian Church, our advent fast runs 40 days.. so we start our countdowns a little early on November 15. Since I know a lot of my readers aren't Orthodox, I am including a 25 day version as well!
You could also use the 40 template to start a 40 day challenge to encourage acts of service, no matter your denomination or beliefs. You could write small ways to help someone this Holiday season and encourage your whole family to participate- maybe fold someone's laundry for them, bake someone a special treat, or help someone with a chore. It's a great way to set the tone for the entire holiday season and help remember that Christmas isn't just about getting presents.
All you need to do to have a fun, easy advent display is print these out, cut them and hang them!
I hung mine by punching a small hole in the top of each day, and then tying it loosely onto some baker's twine which I hung over a large chalkboard in our living room. That's our "second tree" in the picture- stay tuned because I am going to show you an AWESOME faux flocking method I found that isn't messy around kids. It's only halfway flocked here- you'll love the final results!
Both sets have snowflakes, a santa, and cross decorations you can add to your calendar wherever you'd like to put them. They are broken up into different pages for easier printing- each page contains 9 boxes. When printing, you'll need to scale it down a bit so your printer doesn't cut off the edges. Each file is sized at 8 1/2 x 11″. I recommend printing on heavier cardstock, and not on photo paper (the shiny finish looks weird with chalkboard prints).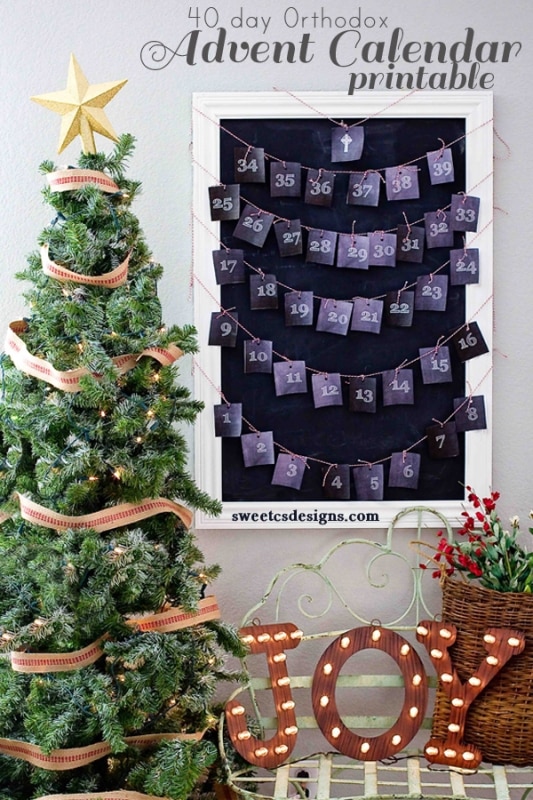 If you'd like a standard 25 day printable, download each of these files (click the link to start your free download):
Download Advent Calendar 1-9.jpg
Download advent calendar 10-18.jpg
Download advent calendar 20-24 (christmas & cross).jpg
And for a 40 day advent calendar, please click the following:
Download Advent Calendar 1-9.jpg
Download advent calendar 10-18.jpg
Download advent calendar 20-27 (orthodox).jpg
Download advent calendar 28-36 (orthodox).jpg
Download advent calendar 37-40 and crosses (orthodox).jpg
Once printed, you can print scriptures, messages or notes on the back of each date depending on your own observations.