One of my new favorite "diet" dishes doesn't taste very much like diet food- these Paleo Chorizo Stuffed Peppers are just about the tastiest grain-free, dairy-free, packed with vegetables meal I've made in a long time.
You know how on the Food Network's Next Food Network Star they encourage all the cooks to taste their food and make awkward proclamations about how "OMGamazing!!" their food is? Who really does that in real life?
Nobody. That's who. Especially if you're trying to stick to a somewhat structured diet (NO CARBS? NO SUGAR? NO FUN!!!!!).
Sure, there's always our new paleo diet darling- BACON (drooool), and lots of faux-grain substitutes- but I've been trying to keep things a little more calorie restricted while I am on a seemingly never-ending prednisone doses for some stubborn arthritis (for an already overweight girl, prednisone is brutal. I swear I get fat from breathing air on it!). Not to mention, I have the energy of a teenager with mono- so complicated meals just aren't in my repertoire right now- which can be hard when pretty much only eating meat and vegetables, but still trying to ENJOY food. Fun times.
But instead of eating boring chicken and salads nonstop, I'm trying to load up on fresh, delicious and full of nutrient low-sugar foods.
None of that sounds like something Guy Fieri would put his sunglasses on the back of his head upside down so that he could wildly gesticulate and scream awkward foodie cliches over- but I promise you these stuffed peppers are totally food-gasm worthy while still being totally healthy.
One note- I found Chicken and Lean Beef Chorizo at my local Sprouts. I don't know how much more privileged upper-class finicky foodie you can get than organic grass fed chicken and beef chorizo- but I suppose stuffing it in a bell pepper with more veggies is pretty close. Both of these were significantly less oily than traditional chorizos I usually cook with from our local market's amazingly fabulous Hispanic section. They had much less fat- I actually had to add a little extra fat to cook it without burning.
Normally fat=flavor and I wouldn't bat an eye at the high octane stuff, but if you're looking for less calories, try to find chicken. It's super delicious!
If none of that matters to you, go for the fabulous full-of-fat, amazing, traditional chorizo. But just be sure to drain off ALL the extra oil and fat after you cook the veggies in it or you will get some soggy peppers. People, you don't want over-oily soggy peppers. It's ick.
Be sure to slice your veggies to your preferred thickness. I slice my zucchinis into fourths normally, and then rough chop into small pieces- but if your peppers are on the smaller side, you'll want to cut them into eighths so they take up less room.
Add curry and spices for more layers of flavor without adding calories. Test your meat to see how spicy it is, and go from there. If it is very spicy, you might add less curry powder and instead add more smoked paprika, cumin or garlic. If it's not spicy enough, add some cayenne pepper or red pepper flakes.
The turmeric will give it an odd yellow hue, but it is SO delicious and is a powerful anti-inflammatory, so I try to add a bunch to curried dishes. I LOVE turmeric!
When your meat and veggie/curry mixture has fully combined, add them into your emptied out peppers in a slow cooker with just about an inch of water.
Cook on high for 2 hours or until peppers are soft. You could skip the steps above and just add your raw veggies and meat into each pepper and cook for 4 hours, but I prefer the flavor you get by browning everything. It really is worth the extra step- but because you can make a ton at once, I don't think it's too labor intensive.
Also, you could skip the slow cooker and pop these bad boys in the oven at 350 to cut down on cook time. If you do, add a little water to the bottom of your pan. This helps the filling from becoming too dry. If you don't have calorie or dietary restrictions, you could add a little shredded cheddar cheese over the top to help retain some of the moisture, too.
The best part? They are absolutely perfect as lunchtime leftovers. Just pop in the microwave or an oven for a delicious, healthy lunch. They are very portable in the pepper- just wrap in foil or eat in a small bowl!
Isn't that a pretty dish for a next-day lunch? I sometimes can't get my stuff together enough to hand my hubby healthy, filling lunches for work- but these are perfect. He can add a little cheese if he likes, too.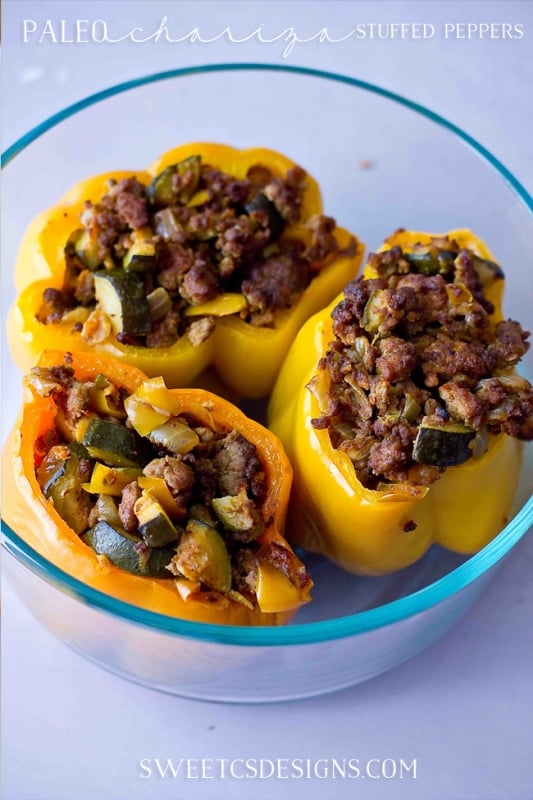 There you have it! Be sure to check out the full recipe below!
Yield:

5 stuffed peppers
Paleo Chorizo Stuffed Peppers
Cook Time:
2 hours
30 minutes
Total Time:
2 hours
45 minutes
Ingredients
5 bell peppers, any color tops sliced off and seeds removed (dice tops, minus stem for filling)
1 lb chicken chorizo
1 lb lean beef chorizo
1 large onion
2 zucchinis, quartered then sliced thin
2 tbsp smoked paprika powder
2 tbsp cumin
1 tbsp red curry powder
1 tbsp turmeric
optional- cayenne pepper and red pepper flakes to taste
Instructions
In a heavy pan (or cast iron), brown chorizo.
When chorizo is nicely browned, add diced onions, zucchini and diced tops of peppers to mix.
Brown veggies.
Taste mix.
If too bland, add spices and mix well. Chorizo should have given off enough oil to allow for enough liquid to combine spices with. If not, add a little olive oil or water.
Taste and add additional spices to your liking.
In a slow cooker, add peppers.
Pour enough water to cover 1" of the slow cooker.
Carefully add meat and veggie mix to peppers.
Cook on high for 2 hours, until peppers are soft.
Serve warm.