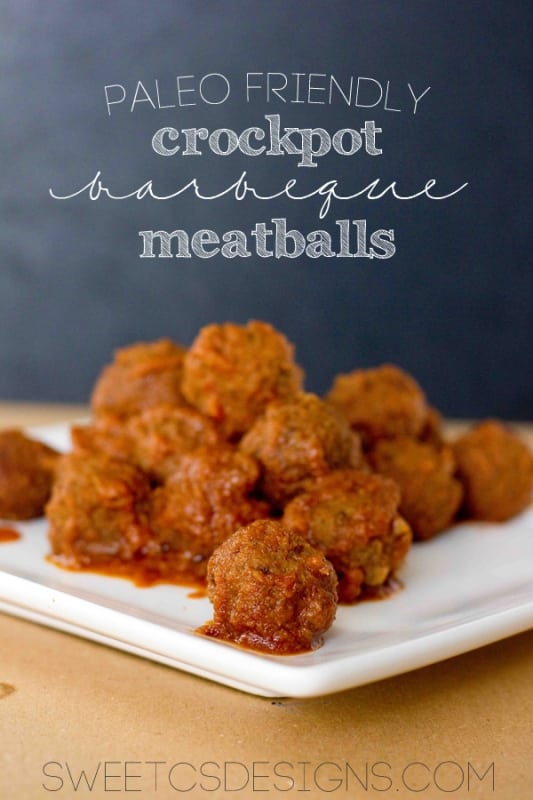 Want to know what I have been eating all weekend and loving? Paleo Friendly Crockpot BBQ Meatballs. After some extensive testing from hubby and the kiddos, I am finally ready to unveil a delicious, diet friendly, low carb and processed sugar free food you HAVE to serve at holiday parties. And it is SO GOOD, this is one "diet" food you won't mind indulging on.
This is not meant to be a strict recipe... but a base that you can build upon. Since BBQ sauce means so many things to so many people, you might like yours a little more on the vinegar side. Or you might like it sweeter. Or more tomato-ey. Make small tweaks to make this your own- you'll find a fit for you! I'm going to suggest additional (sugar free) ways to tweak this, so experiment!
One small note- you can make this with fresh, made from scratch meatballs, or go the lazy route and buy the frozen kind. Here's the important thing here: if you buy frozen, be SURE to check the ingredients! I found some at Sam's club that are totally grain free, and only had a tiny bit of soy (which was listed as the last ingredient as a preservative, not a main ingredient). While this isnt ideal- it's not a deal breaker. I'm still making baked goods and other food for my family (my kids are only peckish when it comes to meat), so I figure following an 80% paleo diet is better than nothing. But if you are being strict and avoiding soy, or other preservatives (which I am working towards myself, but am not there yet), make your meatballs from scratch and give them a simple sear to brown them and keep them from crumbling in the crockpot. The slow cooker will do the rest!
Paleo Friendly Crockpot Meatballs
Ingredients
2 lbs meatballs, from scratch or a gluten free pre-made version
1 can tomato sauce, no sugar added
1/4 cup apple cider vinegar
2 tbsp backstrap molasses*, omit if you prefer vinegar bbq sauce or are restricting sugars
2 tbsp garlic powder
2 tbsp onion powder
1 tbsp cumin, optional (for a smokier sauce)
1 tbsp cayenne pepper, optional (for a spicier sauce)
1 tbsp red pepper flakes, optional (for a spicier sauce)
oregano, basil, fresh onions, etc (add as you'd like, to taste)
Instructions
In crockpot bowl, mix tomato sauce, molasses, vinegar and powders.
Add meatballs.
Cook for 2 hours on high or until sauce is cooked down to a sauce like consistency.
Add salt, pepper, and additional garlic/onion powder to taste.
Serve with greens, as an appetizer, in a grain free zucchini dish- however you please! These also make FABULOUS leftovers, if you can keep them around that long.