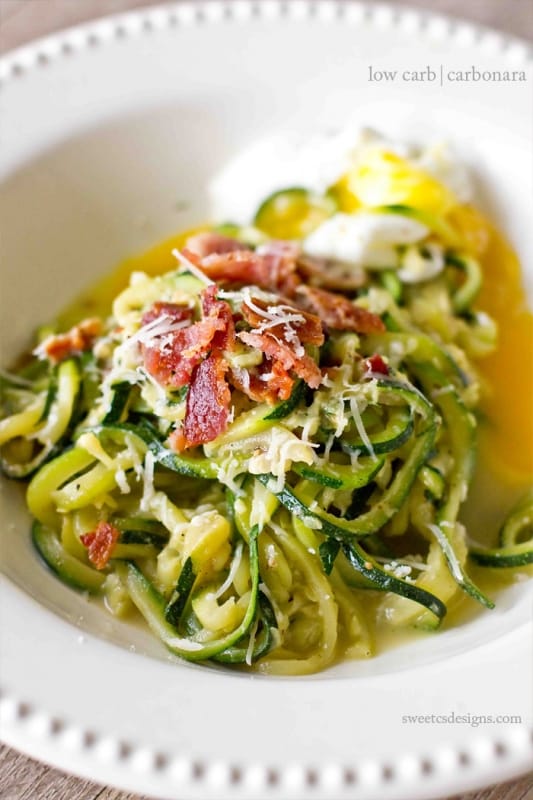 This paleo low carb carbonara was a HUGE hit. My husband is naturally a little skeptical of some of my "pasta alternatives", but he quickly demolished his dish and eagerly asked for more. He was pretty upset when I told him I made just enough for the two of us... but he was reassured when I told him just how easy this dish is to make- it will soon become one of our mid-week regulars!
We did the paleo diet for a while in between kids, before I got pregnant with my second. It was fabulous- and we've been trying to get back on track for a while. The truth is though, with our crazy lives we haven't been very good about eating primarily whole foods, in part because of the time it takes to make meals with fresh ingredients. Plus, our carb-crazed kids wont go near most of the food we make, and turning into a short order cook is little motivation for me. We are trying to increase the amount of real food we eat on a daily basis though, in a way that also helps cut grocery costs and time in the kitchen.
This meal is quick, easy to make, and doesn't break the bank- it's a great way to get back into eating real foods. Now, before you get all crazy on me about the strict adherence paleo- yes, I am adding parmesan cheese here. If you are keeping strictly paleo, skip it, as cheese is decidedly not paleo approved. This is a pretty small amount though, and if you don't react poorly to dairy (like my husband and I), this little bit won't hurt.
If you're new to paleo style foods, you'll ask how a recipe with high fat ingredients (egg, cream, bacon) can be healthy. I like to send people over to one of my absolute favorite paleo sites for a quick intro- and Nom Nom Paleo's Paleo 101 is a great place to start. Plus, she's pretty awesome, has wonderful recipes, and beautiful photos. I had carbonara on my mind- especially after eating an out of this world carbonara at La Tour Vail recently on vacation. This version is slimmed down, gets you 1 1/2 zucchinis per serving, and is extremely low carb!

You're first going to need to have the perfect zucchini noodles.
And lots and lots of delicious bacon. Yes, BACON! On a diet. Really.
To make this dish extra creamy, without adding a ton of cream, we're using poached eggs to add into the "sauce" of the dish. I am not including information on poaching the eggs, because frankly, there is no better way to poach an egg than Alton Brown's method- which includes adding vinegar to boiling water to get perfect poached eggs.
It works every single time! So while your noodles are cooking, boil a pot of water. When you've added the bacon, cheese and cream to the pan, go ahead and add your eggs to the boiling pot of water using this method. You'll top the pasta with the eggs at the end. When you eat it, break up the egg and stir all over. The delicious runny yolk becomes a fabulous addition to the pasta! Of course, this means there is some risk of consuming undercooked eggs which carries all sorts of dangers that you can chose to skip and add a little more cream to the dish instead.
Yield:

4 cups
Paleo Low Carb Carbonara
Ingredients
3 zucchinis, washed and prepped
3 cloves of garlic, diced
4 slices bacon
2 eggs
2 tbsp vinegar
pot of boiling water
1 tbsp heavy cream
1/3 cup shredded parmesan, omit if keeping to a strict paleo diet
Instructions
In a large pan, slowly render fat from bacon. Cook on low setting and flip when slightly browned. You want to render the most fat possible and make the bacon perfectly crunchy- so don't rush it.
When bacon has been crisped, remove from pan and set aside.
Add garlic to pan and let brown slightly on low- you dont want it to burn. (about 5 minutes)
Spiralize zucchini noodles, and add to pan with bacon grease and garlic.
Cook on high until browned and most of the liquid has drained.
Drain off liquid.
Return pan to stove and turn to medium.
Add cheese and cream, stirring frequently to incorporate.
Crumble bacon and stir in to noodles.
When sauce thickens, remove from stove.
Add poached eggs and serve.