Every year in August and September as you drive through the towns of Colorado, you'll see numerous vans pulled over in parking lots with large painted signs heralding the good news: Palisade Peaches are in season. If you've never had a Colorado peach- specifically the large, luscious orbs from Palisade- you're missing out on the most flavorful, robust and delicious peaches you'll ever find. Palisade peaches grow with several cold snaps making the fruit extra sweet in a way that you can only find in the Colorado mountains. Each year I try to find new recipes to pay homage to my favorite end of summer fruit- and this year I'm proud to offer up this delicious Peach and Mint Gin Mule.
If you haven't figured out yet, I have a bit of a thing for moscow mules and virgin mules. They are light, refreshing, and let's face it- any drink served out of a copper cup is just impossibly cool. But- I'll tell you a secret. I'm not a huge fan of the traditional moscow mule (featuring vodka) because I think it really shines with more complex liquors- especially gin and tequila.
If you've tried my virgin moscow mules (which you should) you'll know that you can also make a really delicious Virgin Mule- and this recipe would do really beautifully as a mocktail. To make it alcohol free, simply sub out the gin for juniper soda. If you can find Dry Soda (the brand), their Juniper Berry soda is fantastic- not too sweet- and a perfect addition to drinks that would call for gin. You could also use lavender soda in a pinch. I've had a few people ask about ginger beer- while obviously beer is alcoholic, ginger beer is not. It's like ginger ale, but quite spicy and not very sweet. I am calling for Cock 'n Bull ginger beer here because it is, quite frankly, the perfect ginger beer to go with lime juice as it was blended specifically for the moscow mule. However, I also really like Bundaberg ginger beer (from Australia- you can find it often in World Market) if you can't find Cock 'n Bull.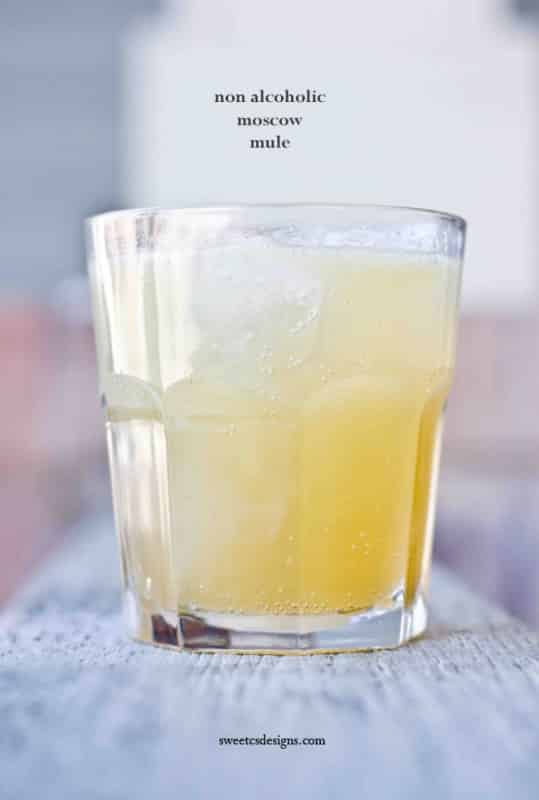 For this recipe, I used Old Tom Gin from Spring 44, a Loveland Colorado Distiller. Spring 44 might not be available everywhere- so try to find an oaked gin if you can. Oaked gins give a delicious, toffee like flavor you wont find in other gins- and one with notes of citrus like Old Tom are so delicious you almost feel bad mixing them with ginger beer and peach puree. Almost. Because if you're not sold on gin, Old Tom will make you a believer! Right now Spring 44 is just in Colorado, Arizona, Massachusetts, New York, New Jersey and Florida.
If you're not a gin fan, you can use vodka for a traditional moscow mule, or try my husband's favorite and subsitute the gin with some reposado tequila.
Ingredients
2 ounces old tom gin*, if not in colorado, try for an oaked gin, or any gin will work OR 3 ounces juniper berry soda
1 ounce lime juice
1/2 peach, blended
3 sprigs of mint, muddled
1/2 bottle of Cock 'n Bull ginger beer
Instructions
In a copper cup, mix gin, juice, peach and mint and stir well.
Add in ice, stir.
pour ginger beer to top of cup, enjoy!