Peppermint Cocoa Shooters and virgin shooters are the perfect sized drink for festive holiday parties! Get the night going with these delicious shots!
This year is a bit hectic as far as our holiday plans go-- we will be celebrating Christmas a few times this year with our families that are spread across the country, and I have been getting a head start on decorating.
Of course, anytime I plan for Christmas, my thoughts tend to shift towards all the fun events I want to throw and all the delicious food and drinks I want to eat (it shouldn't need to be said that bikinis have never been and will never be in my future come January.) Holidays are the best time to try out fun new drinks, and these Peppermint Cocoa Shooters are one of my favorite new cocktails!
Can we derail the recipe talk for a second and take a moment to full appreciate the mini copper cups I found to put them in?
Because guys... I spent like $20 on them. ON FANCY MINI COPPER MUGS.
That hold like a double shot.
Not even enough alcohol to get me properly tanked enough that buying $20 copper cups seems like a genius idea I can simply no longer guilt myself over... but just enough to make me want to keep drinking more adorably trendy swigs of festive cheer.
I've heard of some Target stores toying the idea of setting up a bar in the store- and while it might save me money because it's likely I'd just move in, I shudder at the idea of what I'd bring home when I'm not in a rationally sober state of mind. I mean... can you imagine? It goes without stating you should probably not drink these and drive shop. (don't drink and drive- even one- either, ever.)
No matter what you put them in, these Peppermint Cocoa Shooters and Virgin Cocoa Shooters are a delicious, fun, and adorable way to get your Christmas party started this year! There's enough peppermint and booze to get you feeling nice and jolly, but they are nice and small, so you won't be belting out renditions of Santa Baby in front of all your guests.
Unless you are me and do that totally sober... but I digress....
Because we live in Colorado, and spend as much time as we can at our family condo in ski country, we LOVE cocoa. It's a staple for me and my kids, and for all of my winter entertaining. As you'd expect, I have lots of cocoa ideas that are perfect if you love this recipe and want to try out some others!
Peppermint hot cocoa is always a favorite of mine in the winter- I also have a delicious recipe for a simple three ingredient peppermint hot cocoa you won't want to miss!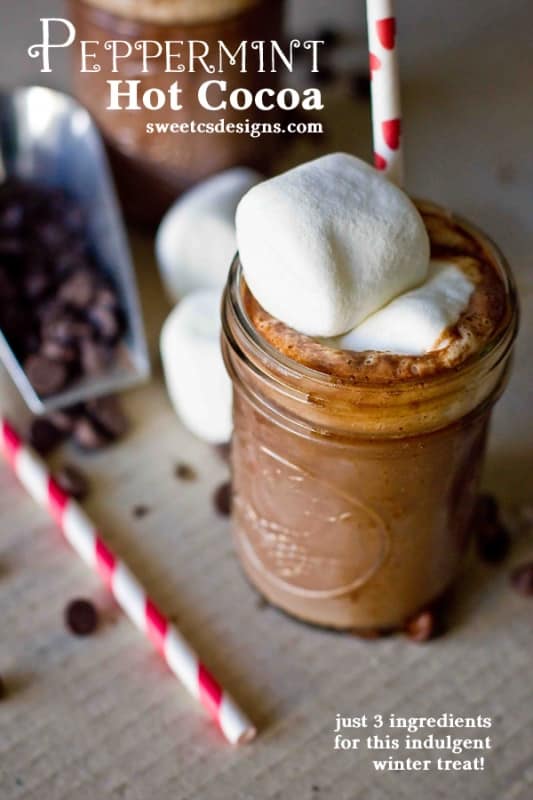 I also have a fun cocoa bar idea with printable gift tags if you'd like to decorate your mini mugs for a party!
And of course... one of my all time favorites- White Fudge Oreo Hot Cocoa.
And finally- a delicious Cocoa Candy Cane Martini that is perfect when you want a little more of a holiday kick! (Virgin version, too!)
But back to today's recipe- this is the perfect appetizer, or welcome drink for a party! They are small but pack a sweet punch to give you a delicious, perfect shot of flavor! And booze. Christmas isn't Christmas without a little extra boozy cheer!
Peppermint Hot Chocolate Shooters
Ingredients
2 cups whole milk
2 ½ oz dark chocolate
pinch of sea salt
4 oz peppermint schnapps, for non alcoholic version, add 1 tsp peppermint syrup to mix - will make less overall
8 oz vodka
whipped cream
crushed candy canes, to garnish
Instructions
In a double boiler, combine ½ of milk and chocolate and stir well to melt.
When chocolate has melted and combined, slowly add rest of milk and salt.
If making non-alcoholic version, add peppermint syrup and mix well.
Remove from heat and pour 2 ounces cocoa + ½ ounce peppermint schnapps and 1 oz vodka (non alcoholic- use 3 ounces cocoa) into each glass.
Top with whipped cream and crushed candy canes.
Enjoy!
Nutrition Information
Yield
8
Amount Per Serving
Calories

231
Saturated Fat

4g
Cholesterol

7mg
Sodium

48mg
Carbohydrates

19g
Fiber

1g
Sugar

17g
Protein

3g