I love holiday candies. One of the best is Peppermint M&M's… they are so good! They are red and white and make anything festive for Christmas (and Valentine's Day if you can find them then!!!!). They are great in cookies, and in this epically awesome Peppermint M&M Loaded Chocolate Chip Cookies recipe.
It's perfect for cookie exchanges, for teachers gifts, neighbor gifts and Christmas parties!
The red and white M&M's give them fun colors, too! Like extra fancy chocolate chip cookies. You won't be able to put them down!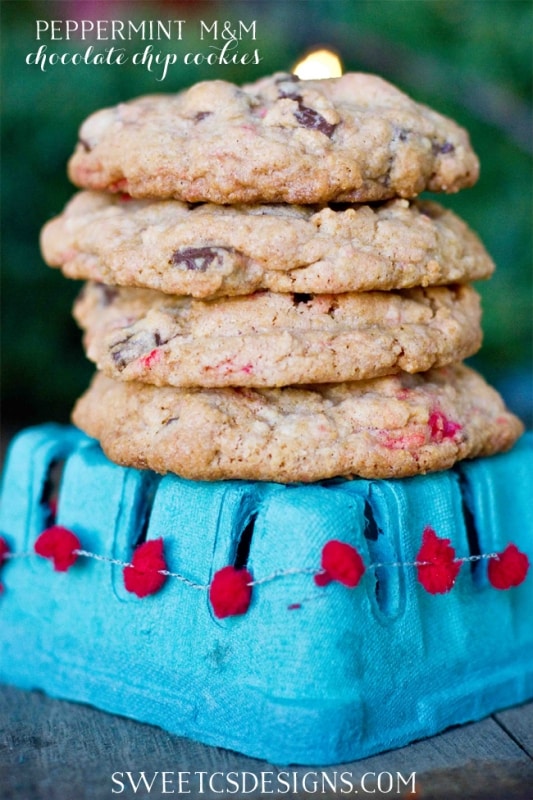 Yield:

16 cookies
Peppermint M&M Loaded Chocolate Chip Cookies
Ingredients
2 1/4 cups all-purpose flour
1 teaspoon baking soda
1 teaspoon salt
1 cup 2 sticks butter, softened
3/4 cup granulated sugar
3/4 cup packed brown sugar
1 teaspoon vanilla extract
2 large eggs
1 cup chocolate chunks or chocolate chips
1 cup peppermint m&ms
Instructions
Preheat oven to 375 degrees
In a large bowl, mix dry ingredients.
In another bowl, cream sugar and butter.
Add in eggs and vanilla and make sure mix is completely incorporated.
Fold dry ingredients into cookie mix until mixed well.
Add in chocolate chunks and M&Ms, stir gently and roll into 1 1/2" balls.
Bake 8-12 minutes, until edges are lightly browned.