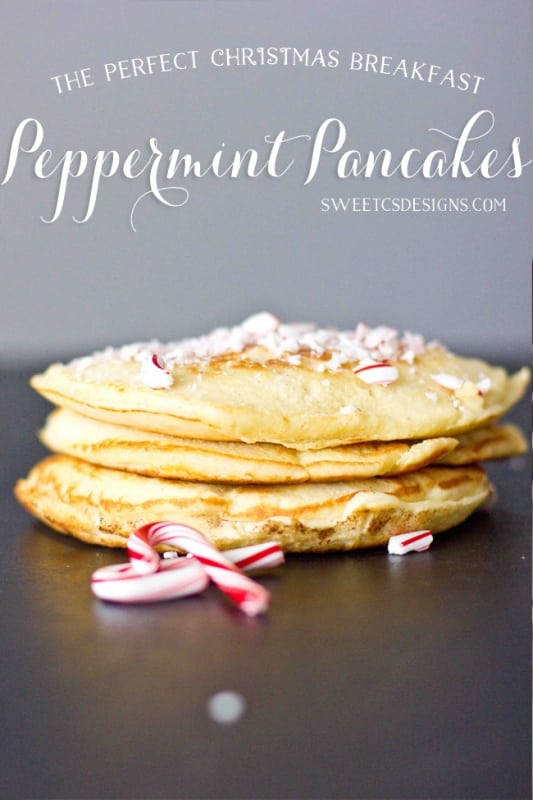 The best holiday breakfast, hands down, has to be pancakes. And in winter, there is nothing better than Peppermint Pancakes!! This delicious recipe is easy, quick, and so delicious. Your whole family will love them!
Outside of pepperminty perfection, this pancake base recipe is really easy to make ahead of time or on the fly for light, fluffy waffles.
If you can find it, try this recipe with vanilla syrup. I've seen a few brands that make vanilla syrup and it is completely to die for. It's sweet, but not too sweet- and works wonderfully with flavors you wouldn't normally pair with maple (though I will admit, I could eat maple syrup on just about anything.)
I'm not a big whipped cream on pancakes gal myself, but if you are, add some more crushed peppermint on the whipped cream- or maybe a few drops of peppermint extract to heavy cream if you are making your own. You just can't go wrong with these pancakes!!
One note- it helps to divide the crushed candy. You dont want to overload the pancake batter with crushed peppermint candy because it can melt and destabilize your pancake once its set. Or in plain english- it makes weird bubbly-melty alien looking pockets in your pancakes and can make them get all schmooochy. (yep, I invent words with recipes. Just nod your head along.)
If you're looking for a more savory holiday breakfast, check out my Strata. It's TO. DIE. and you can assemble it the night before.
Peppermint Pancakes
Ingredients
1 1/2 cups all-purpose flour
3 1/2 teaspoons baking powder
1 teaspoon salt
1 tablespoon white sugar
1 1/4 cups milk
1 egg
3 tablespoons butter, melted
1 tsp peppermint extract
4 mini candy canes/2 large candy canes, crushed and divided
Instructions
In a large bowl, mix dry ingredients well.
In a small bowl, whisk egg and milk until egg is completely beaten.
Add milk, egg, and melted butter into bowl and mix.
Add peppermint extract and 1/2 crushed candy canes.
Don't overmix! There will be small lumps.
In a well oiled hot griddle add enough batter for pancakes (I either make them HUGE and fill up a whole medium sized pan, or make them 3" silver dollar sized).
When you see bubbles on the pancakes, flip.
Add crushed peppermint to top of pancake after being flipped. You dont want the candy to actually touch the bottom of the pan, so add it while still cooking, but once the top won't get flipped back over again.
Serve warm with melted butter, vanilla syrup, or maple syrup!