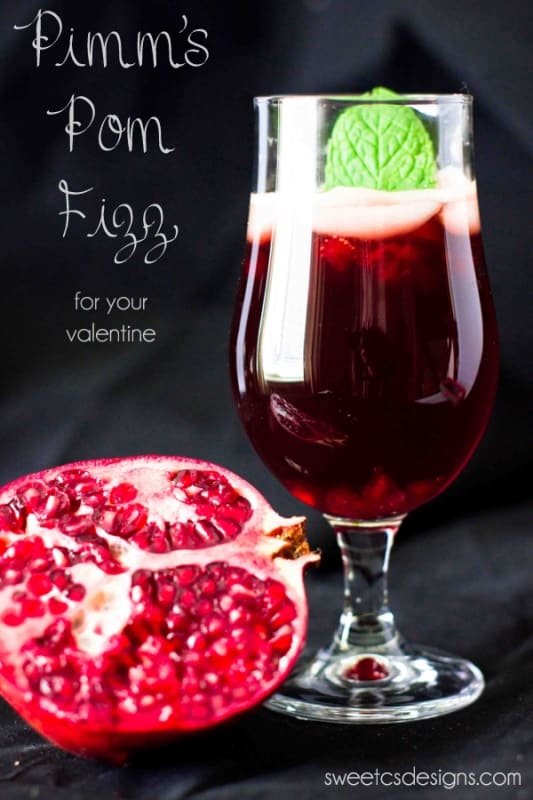 Do you love having fun and festive cocktails every holiday? I do!
I set out this weekend to find a delicious drink that screamed "Valentines"- sweet, full of antioxidants, and with a little bit of a kick… so I decided to add one of my favorites… some delicious Pimms!
Never had Pimms? It is an herbal Gin blend, that has a citrus-y taste… I absolutely love it (it is delicious on its own over ice on a warm afternoon with a little lemon juice).
If you aren't a drinker, just substitute the Pimms for a non-sweetened lemon or lime juice and follow the rest of the recipe for a magnificent mocktail!
In a shaker, combine 2 oz Pimm's No. 1,a few ice cubes, 2 oz blueberry pomegranate juice, and a few sprigs of mint. I also like to add some fresh pomegranate seeds to float in the drink, and add any juice from the fresh fruit that you get from cutting it in half to get to the seeds.
Give your shaker a good shake until it feels cold to the touch allover.
Pour into a glass and fill the rest of the way with ginger ale (or tonic/sparkling water if you prefer something a little less sweet).
Sip and enjoy!
I love the way the chilled pomegranate seeds pop open as you drink… and how refreshing this drink is. While it is perfect for a summer sipper, I like this as a Valentine's hors 'd oeuvres accompaniment since it won't overpower your palate or fill you up.
Plus it is so sweet and has great antioxidants for your heart… which means it is ok to have a few, right?
Enjoy!