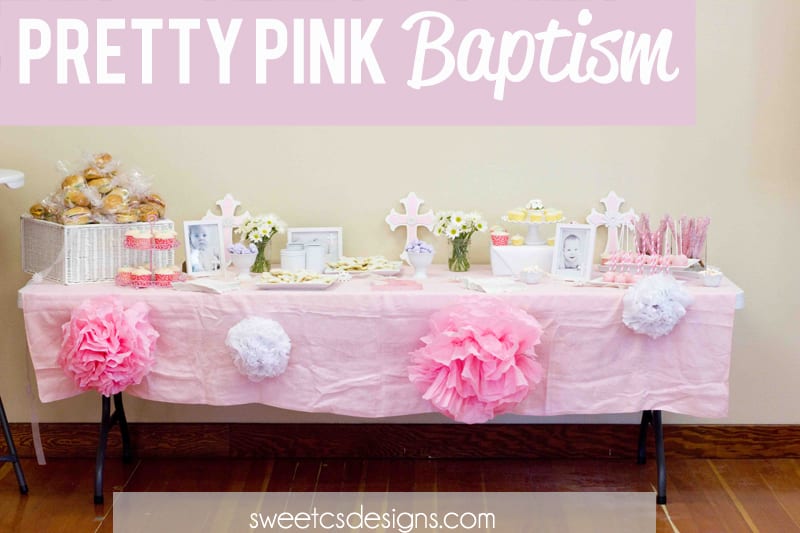 A few weeks ago, we had the wonderful honor of welcoming our beautiful daughter Bridget into our church at her baptism.
It was a beautiful Colorado day, and afterwards we threw a small reception in our tiny church hall for everyone that came out- and it was my first excuse to throw a pretty pink soiree.
You might have already seen our cute little "Kisses from Bridget" favors, but I wanted to show you the rest of the spread!
We had cupcakes and cookies adorned with gumpaste flowers (while I have made these in the past- and they are surprisingly easy- I picked these up at a cake supply shop in Denver), rich buttercream and shimmery, glittery sprinkles.
The main dessert table centered around some delightfully pink cake pops and pretzels.
To make covering both the pops and pretzels easier, I cut about 1/4 cup of vegetable oil into the candy melts I used to cover them. It makes the candy move smoothly and dry quickly on frozen cake pop balls and pretzels (for more on my cake pop techniques, please visit here and here).
I then covered the pops and pretzels with pearly white nonperils. You have to act pretty quickly to get them to set if you use frozen pops like I do.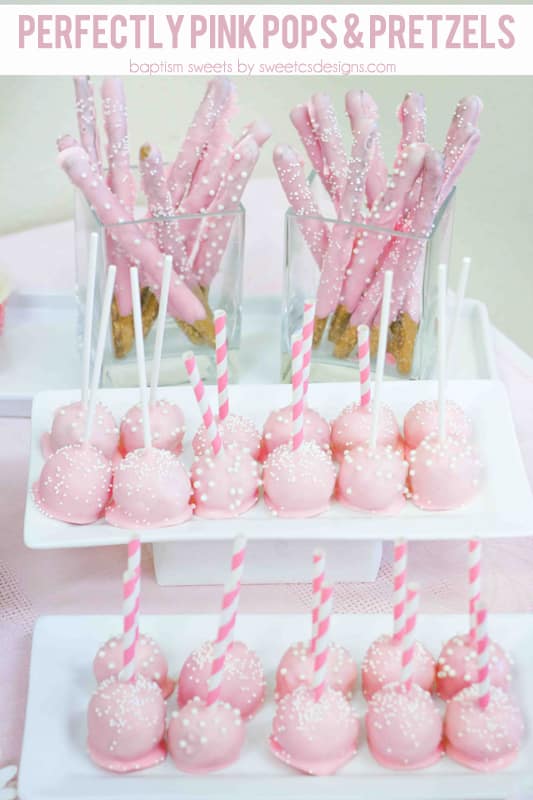 Bridget's dress was refashioned from my First Holy Communion gown... more on that a bit later though.
We took plain wooden crosses that we picked up at Jo Ann Fabrics, painted them white, then covered over the middle section with pearlized pink Martha Stewart all surface paint. When it was dry, I took white scrapbook flowers and glued them into the center of each cross. We placed these around the food table, along with black and white pictures of Bridget.
Instead of simply serving mini sandwiches (I buy rolls and deli meat/cheese at Sams Club and then pre-assemble- it is really inexpensive and delicious!), we popped each one into a small clear Wilton treat bag, and tied the top with pink bakers twine in a simple bow. It only took a few minutes, and looked so much cuter than a bunch of piled sandwiches.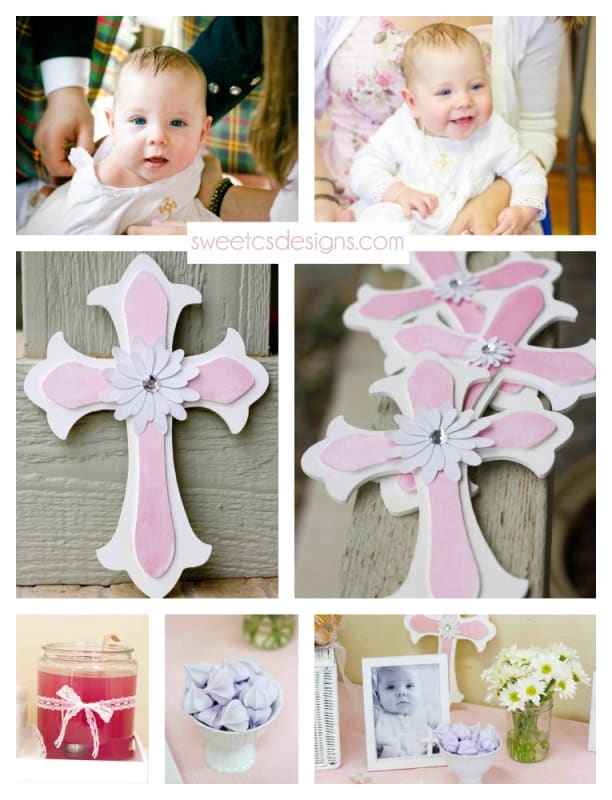 We had small white dishes that we picked up at Pier One filled with candies and meringues.
We served pink lemonade in a huge pitcher, and to quickly and simply dress it up, I tied a length of lace around the jar and placed in on white doilies. It took seconds, but looked so cute! I am going to dress up all of my pitchers like this in the future... why haven't I been doing this forever?
Have you recently thrown a baptism, churching or other small reception? Church halls can be tricky to work with, but I love how ours turned out with such fun simple touches!