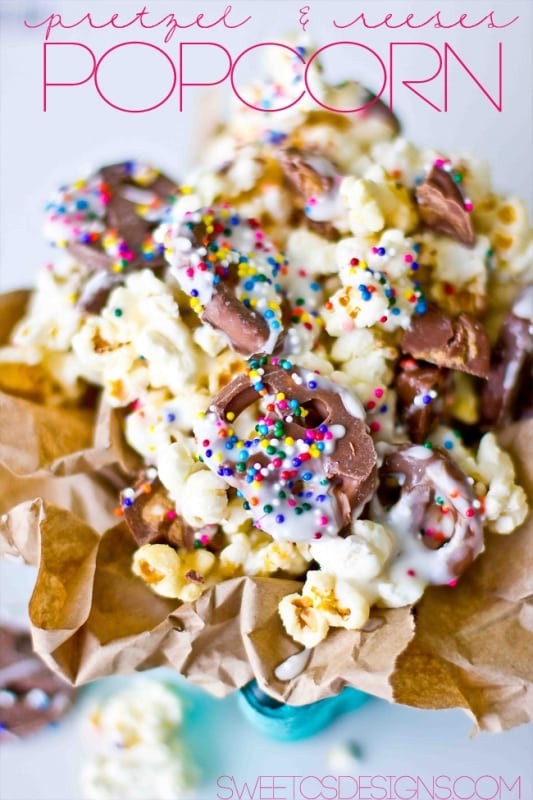 Have you ever made something ahead of time for a party or to give to someone, only to try it and be so hooked you have to make the whole thing over again for your party because you just couldn't stop eating it? This Pretzel & Reeses Popcorn Mix is one of those. Thankfully, my kids ate most of it... but it is one that gets devoured incredibly fast.
It is so easy to make, your kids can help, and its DELICIOUS! So... break out a stock pot, some white chocolate (or candy melts), some delicious goodies, and sprinkles- and let's go! 
My recipe includes cooking popcorn yourself. It is quick and easy- but if you want, you could buy pre-popped corn at the store. I've done this with lightly salted popcorn and kettlecorn- and I prefer the lightly salted because making this with kettle corn is just a touch too sweet. My kids of course don't mind the extra sugar- but if for an adult you might want to not over sugar them.
If you've never made popcorn on the stove before, you really don't need to be afraid. I spent a fortune on special stovetop popcorn makers (and one that you just plugged in), but after realizing how easy it was to just make in a stock pot I will never go back! There are less parts to wash, you can make more, and it tastes just as good- I promise!
I used Glutino fudge coated pretzels that were gluten free. This is an excellent treat idea for gluten free kiddos- just be sure to grab some GF pretzels and check the back of the white chocolate or candy melts. Reeses and popcorn as well as many sprinkles are gluten free! If you arent gluten free, you can go ahead and add any pre-covered pretzels, or even make your own.
This recipe is best when served room temperature (so the candy melts or white chocolate set firmly), so it is a great make-ahead snack for parties or gifts. And you can dress it up with different sprinkles- I think this would be adorable with a team's colors for tailgating!
Quick tip: you can get your kids in on the action! Have them help mix the popcorn and goodies, drizzle the candy melts (if old enough to not burn themselves by getting it everywhere), or add sprinkles! My kids love to help in the kitchen. Just dont have them do the popcorn  unless you are only opening a bag of pre-popped 🙂 .
Ingredients
1 cup unpopped popcorn
2 + tbsp vegetable oil, or other high heat oil- amount will depend on size of pot
1 + tbsp salt, variable to your taste
1 package white candy melts
1 1/2 cup fudge coated pretzels
1 cup reeses peanut butter cups, chopped (about 20 mini reeses)
Sprinkles galore- I use about 1/2 a sprinkle container
Instructions
Find a pot with very tall sides (I use a stock pot) with a lid that fits tightly.
Heat pot on high for about 2 minutes, until hot to the touch.
Add oil and heat on medium until shimmery- about 20-30 seconds.
Add popcorn, swirl pot to coat kernels with oil.
Place lit on pot and keep cooking on medium-low until kernels pop, swirling pot around occasionally to prevent burning.
While popcorn is melting, turn candy melter on, or begin to melt candy melts with a double boiler, stirring every few minutes to make sure it doesnt burn.
When kernels stop popping and there is a length of 5 seconds between kernel pops, remove from stove, take lid off, and add salt- shaking pot to be sure salt is evenly distributed.
Lay popcorn on silpat, wax paper, or foil.
Add pretzels and reeses to popcorn and spread mix out in a thin layer.
Add 2 1/2 tsp oil to candy melts, stir until completely mixed in.
Drizzle candy melts onto popcorn, pretzel and reeses mix.
Immediately add sprinkles so it sticks to candy melts.
Let mix sit for 10-20 minutes, until candy melts are hardened (or pop in the fridge for 5 minutes to set it more quickly.)
Serve and enjoy!
Mix will keep in an airtight container for a week0 if you can keep it around that long!