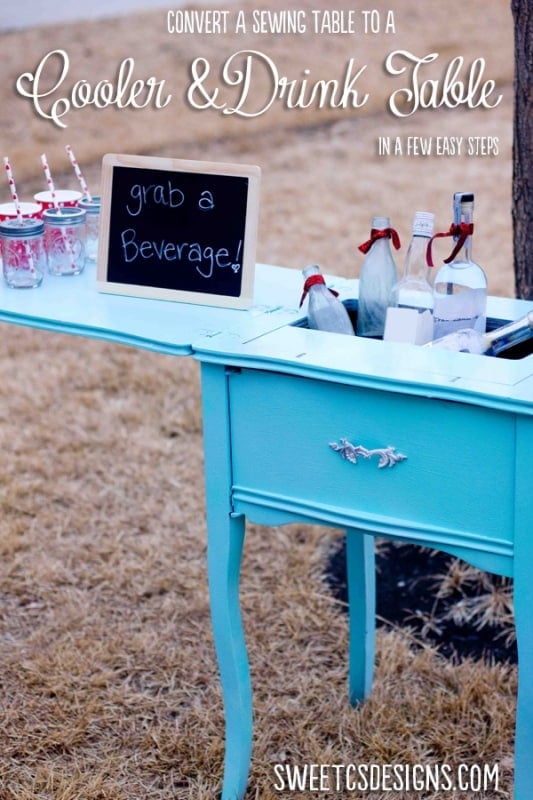 Last year, I was all about aqua and pink. I was decorating my sweet baby B's nursery and I took an aqua-pink theme and completely ran away with it.
So in planning B's 1st birthday party (mind blowing....), I wanted something aqua to stand out as a centerpiece of the affair.
I have some cute IKEA aqua furniture I was thinking of using for displays, but then realized I had an old sewing table I had been meaning to do something with.

A funky, drab, boring old sewing table that my mom snagged at consignment shop for something like $40, and then she passed it on to me. It was painted a horrible forest green, in thick acrylic paint.
I had spray painted white to prime it, and then left it in my garage for weeks, forgotten, until I had a good use for the table. B's upcoming party was a perfect excuse! I knew I wanted it to function as a serving table, but wasn't sure how. Then it hit me: turn the empty, hollow inside of the table into a cooler- the flip-top would make a PERFECT serving table/drink station!
Here's the table, sitting in my garage, roughly primed: (i took the handle off)
And here's the inside/flip-top of the table- ugly.
To start, I spray painted the whole table a lovely turquoise/aqua color. Since the table itself was already primed, I focused most of the spray paint on the inside of the flip-top. As this was some weird enamel, I had to do multiple coats of paint so that it wouldn't crack or drip. And yes- I did ghetto spray paint my lawn. It's dead anyways, right??
I also spray painted the handle white (it was a funky gross gold), and instead of doing multiple coats, I stuck with one so a little bit of the tarnished gold peeked through. I loved the rustic feel!
When the table had dried, I brought it inside and took out the electronics that came with it (it had an old vintage electric panel that was screwed in- there was no way I'd use that ancient wiring, so I just unscrewed the component from the table).
I then grabbed an unused roasting pan lid (a big heavy one that is big enough for a turkey), and placed it in the table lined up with the opening.
I then measured out a piece of wood- any scrap plank thicker than 1" and 3" wide will do- and had my husband screw it in to the sides of the table (anyone can complete this step- but I had him do it so I could take pics!!).
He screwed them into the tables legs so the roasting pan lid would be securely set inside the table.
We flipped the table over, and filled the pan with ice.
Then you can add in sodas, juice boxes, bottle of wine or booze- whatever you are serving!
Add cups and straws, mason jars or even snacks off to the side for a chic and stylish alternative to your typical party cooler!
How about a milk and cookies bar? Or a scotch bar? Margarita bar? Mix your own juice bar..... I could go on for days!!!
The best part is the flip top that old sewing tables have built in. They work perfectly as serving tables, as a lid to keep your drinks cold pre-party, and when you're done, you can dump out the ice and close the top, and you have an oh-so-adorable side table!
Stay tuned in a few months to see this little beauty in action at Miss B's 1st Birthday- I am DYING thinking she's almost a year old. Where the heck did that go?
What is your favorite party furniture? I'd love to see it!