Hey Sweet C readers! I am McKenzie from the lifestyle and beauty blog, Girl Loves Glam.
I am thrilled to be sharing one of my very favorite summer recipes with you today! These marinated vegetables are healthy and SO delicious!
There hasn't ever been an event that I have taken these vegetables to that I haven't been asked for the recipe. It is a huge hit! It is the perfect combination of crunchy, spicy, and flavorful. This summer salad is really easy to make too. It never disappoints!
Spicy Marinated Summer Vegetables
Spicy, marinated vegetables that are full of flavor and perfect for any occasion.
Ingredients
1/4 c Oil
3/4 c Apple Cider Vinegar
2 tsp. Salt
1 tsp. Sugar
1 tsp Tabasco Sauce
1 Head Broccoli
1 Head Cauliflower
1 can Olives
1/4 Red Onion
1 Green Pepper
1 Yellow Pepper
1 Red Pepper
Instructions
Chop up all vegetables and place in a large bowl. Put the rest of the ingredients on top of the vegetables and stir to coat all of the vegetables. If the bowl has a lid, place the lid on the bowl. If the bowl doesn't have a lid, put vegetable mixture in a large bag that can be sealed shut. Let vegetables marinate while turning veggies every few hours. For best taste, allow the vegetables 24 hours to marinate.
It is a great side dish that is full of flavor without being packed full of calories too!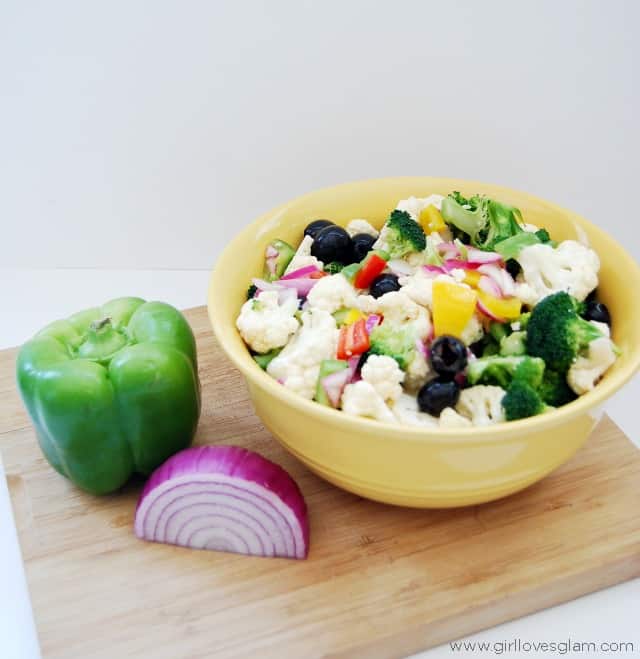 If you love this recipe, make sure to try these other fabulous recipes of mine too!