Top Five Cinco de Mayo Drinks and Desserts- the best Mexican inspired dishes full of fresh fruits and veggies, and TONS of flavor perfect for any fiesta! 
This Cinco de Mayo, I'm sharing some of my top Mexican-inspired recipes to celebrate!
These dishes are easy, quick, and perfect for sharing- the ultimate celebration foods! And I'm sharing my top five Cinco de Mayo drinks to wash them all down- plus a special easy dessert!
These will get you in the mood for a party in an instant- Happy Cinco de Mayo!
These easy Habanero and Tomatillo Shrimp Tacos are the perfect way to kick your fiesta up a notch,
This festive black bean salad is a great way for vegans to get in on the festivities...
These Slow Cooker Chicken Tacos are a simple, fresh, and amazing dish that couldn't be easier!
Not traditional, but these Taco Stuffed Potatoes are a fun and unique way to spice up your fiesta!
This Cheesy Taco skillet is the top post on Sweet C's for a reason- so delicious!
Pink and Orange Palomas are a deliciously fun non-margarita Tequila cocktail...
Salted Lime Shooters are one of the most fun drinks- just sing "shots" as you go!
Orange Margarita Cocktails are a tasty and bright drink to celebrate with!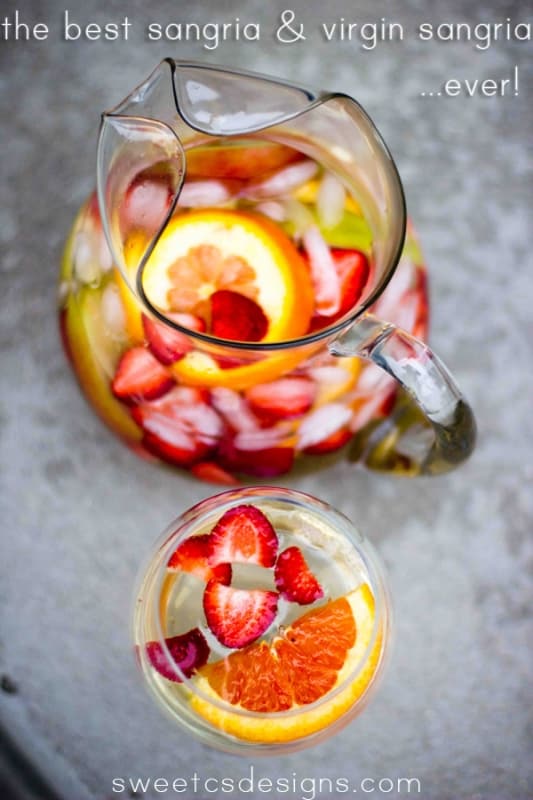 This sangria and virgin sangria recipe is literally the BEST ever!!
These pomegranate beer itas are so easy and delish!
And to finish it all off, try out this insanely easy Margarita pie!
Have a very safe and happy Cinco de Mayo! Don't drink and drive 🙂