The Ultimate Southern California Taco Tour Roadtrip
Dec 30, 2019, Updated Feb 03, 2023
The Ultimate Southern California Taco Tour Roadtrip – how to plan a delicious itinerary from Los Angeles to San Diego, stopping for delicious tacos and cool California coast activities along the way!
This post is sponsored by Visit California. All opinions are my own.
Visit California is one of my favorite travel destinations to work with – they help visitors from all over the world connect with amazing vacations across California every day – California has something to offer for everyone!
From five star to budget travelers, romantic trips to solo treks, foodies to film buffs – California truly has something for everyone, and Visit California helps bring the best ideas to make your trip memorable!
I recently embarked on a road trip across Southern California with my husband in search of the best tacos – from five star tacos, to taco trucks, family restaurants to take out spots – and we were blown away with the amount of flavor we tasted on the way from Los Angeles to San Diego!
We love tacos – I often joke if I could only chose one food for life, it would be a taco – and we couldn't wait to try out Visit California's Visit California's new 50 Life Changing Adventures Road Trips publication.
How To Plan A California Road Trip
Before we get to all the delicious tacos, I wanted to share the BEST way to plan a California road trip – with the Visit California 50 Life Changing Road Trips guide book.
While planning the perfect trip to California can be seriously daunting (there is just SO MUCH I always want to do and see… and never enough time for it all) – Visit California's new 50 Life Changing Adventures Road Trips publication has made it incredibly easy to take in some of California's best sights and locations!
I have gone through my copy of the guide so many times, and every single trip has things I would love to check out – and so many ideas!
If you're looking for your own personal California Road Trip tour guide, you need a copy!
Our trip was a once in a lifetime experience – we were so full by the end, but we got to learn so much more about some of our favorite flavors, spend an awesome week together enjoying tons of fun in California, and we met so many amazing people.
This is one road trip you DONT want to miss!
There are suggestions on what to pack, who to bring, what kind of car to rent (including where to rent, what to expect from rentals, etc.), where to fly into, where to stay, where to eat, and even tips on what to wear!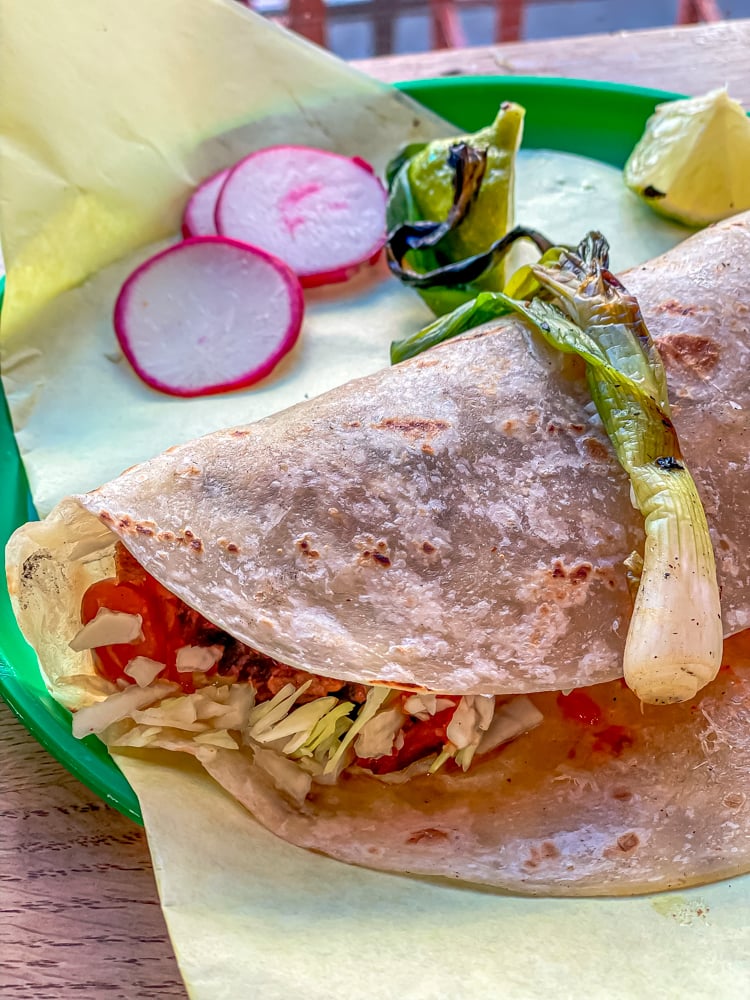 The Ultimate Southern California Taco Tour Roadtrip
If you love this road trip as much as I do, be sure to share with your friends and family and save it on Facebook and Pinterest!
The Ultimate California Taco Tour Road Trip
Travel from Los Angeles to San Diego sampling some of Southern California's best taco spots for an incredibly delicious road trip you won't soon forget!
Ultimate Southern California Road Trip on Instagram
To find more of my stories and photos from the trip, please check out some of my favorite Instagram shots from the trip, and be sure to follow me @sweetcsdesigns to see more from my travels and favorite foods!
View this post on Instagram

Is there anything better to cap off a hearty taco dinner than some sweet and cinnamon-y horchata?? The horchata at @eatpuesto is a perfect way to cool down a hot day when you @visitsandiego !! ?? To see more from my Taco Tour #RoadTripCalifornia from Los Angeles to San Diego with @visitcalifornia , head to my profile and click "CA Taco Tour" in the highlights (the little circles at the top of my profile)…. there's maps of locations, pictures and videos of some of the amazing food we ate, and more!! ?? #dessert #eeeeeats #horchata #GlobeTrotting #WonderfulWorld #SeeTheWorld #PassportReady #PassportLife #LonelyPlanetTraveler #OurDailyPlanet #WonderfulPlaces #Travelholic #TravelGuide #TravelJournal #BestVacations #TravelOften #WeAreTravelGirls #SheIsNotLost #Globelletravels #LadiesGoneGlobal #gltLOVE #girlslovetravel
View this post on Instagram

After a spending a week heading from Los Angeles to San Diego checking out some of @visitcalifornia 's favorite tacos, I thought I'd never want to eat tacos again… but I'd be lying if I wouldn't happily sell all of my belongings to tuck into some @titostacosusa right about now!!! ?? What are YOUR favorite tacos? I'm going to be sharing some of my favorites tomorrow for #tacotuesday !! ?? #RoadTripCalifornia ?? #tacogram #eeeeeats #nomnom #eatingfortheinsta #GlobeTrotting #WonderfulWorld #Travelholic #TravelGuide #TravelLover #TravelMore #LiveIntrepid #TravelLove #NatGeoTravel #TravelJournal #BestVacations #TravelOften #WeAreTravelGirls #SheIsNotLost #Globelletravels #LadiesGoneGlobal #gltLOVE #girlslovetravel