This 10 Minute Perfect Broiled Lobster Tails Recipe is the quickest, tastiest, and easiest way to cook lobster tails- get perfect lobster every time!
Be sure to scroll through the post for important tips and tricks for this viral easy lobster tail recipe!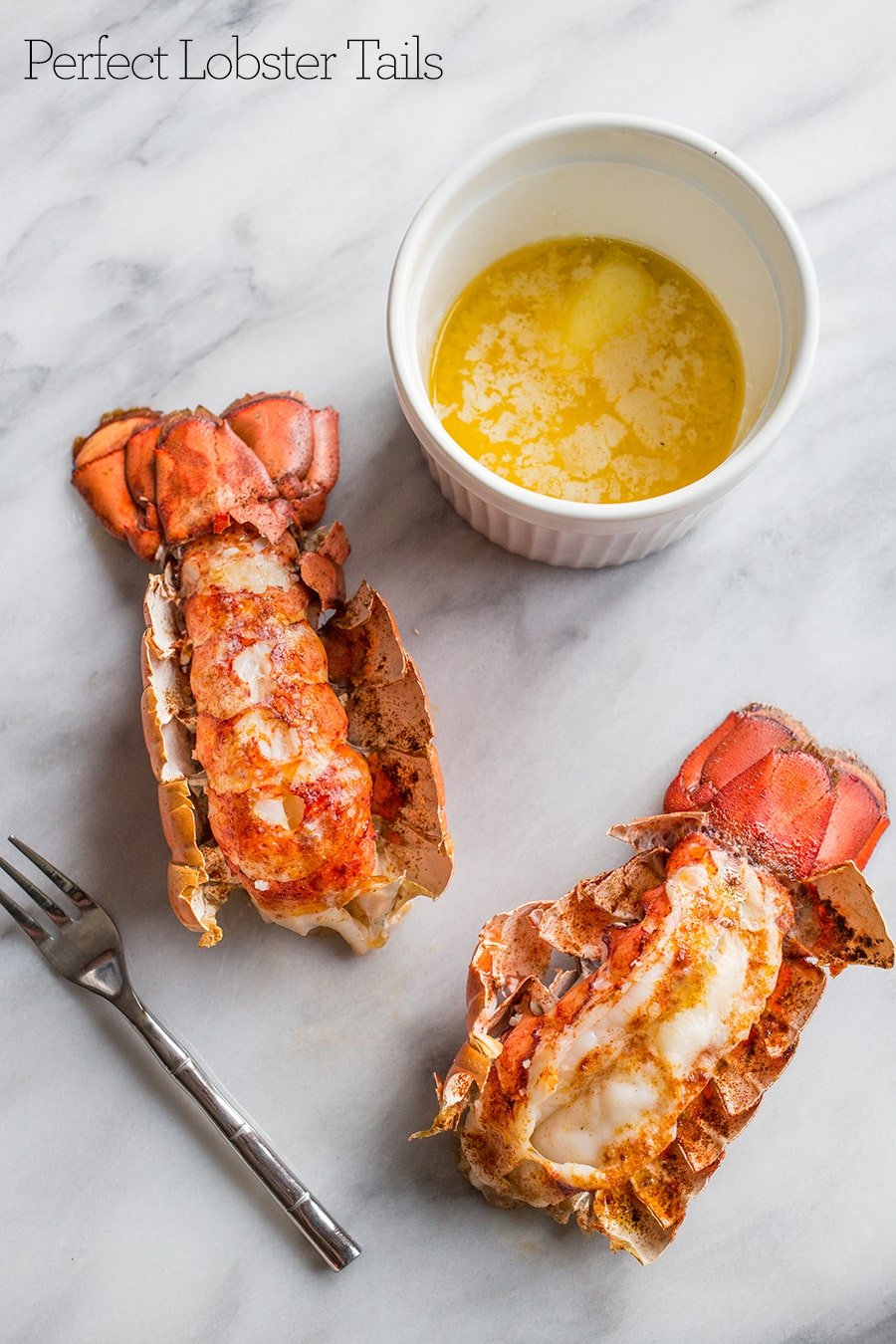 How I Discovered the Best Baked Lobster Tail Recipe
I love lobster – bbut I didn't always love lobster!
Lobster tails are something I actually really detested until I worked at a country club's dining room one summer during college, when the head chef heard I hated lobster, he decided he'd get me to love it.
I had always had horribly overcooked, gummy, and blandly boiled lobster- and it had always tasted fishy to me (which I am not a huge fan of). Granted, I never had baked lobster tails like this recipe —- but rather overboiled, gummy lobster recipes.
The chef at the country club I worked at, however, served me some of the most sweet, salty, and delicate lobster meat ever- and my mind was forever changed!
I instantly tried to come up with my own easy spin on his baked lobster tail recipe – and through some trial and error, I found the easiest method to perfect broiled lobster tails!
This 10 Minute Perfect Broiled Lobster Tails Recipe is one of the absolute best ways to cook lobster.
We're giving it a slightly smoky flavor with a touch of paprika, as well as a sweet and salty hit of butter.
Like most seafood, when overcooked, lobster is just a mess. Its really a shame because it's so expensive- it ought to always taste fabulous!
This method to prepare lobster tails won't leave you with gummy, fishy flavor- and it's one of my favorite tricks I learned from working at a Country Club (outside of becoming really proficient at folding interesting napkin shapes and removing wine stains- I once accidentally spilled a very expensive bottle of red wine all over one of our members- who just happened to be the owner of Madison's biggest dry cleaning chain. He taught me some awesome tricks every time he came in after that night!).
This recipe is lightning quick- and gets you the most flavorful, succulent, and juicy lobster. No gummy, dry, or fishy meat here!
This would be really fun for a romantic meal or dinner party- you can prep the tails and place in the refrigerator (I'd cover them to keep the lobster meat from absorbing fridge flavors) and pop them in the oven when it is time to eat.
Tips to Get Perfect Lobster Tails From the Oven
If you buy frozen lobster tails (I live in northern Colorado, closer to Wyoming than even Denver- it's frozen or it's from the land and goes "moo" up this way) just pop them in the fridge the day before you make these. You want them to fully thaw before cooking.
Don't rush the thawing process in the microwave- it will make the lobster meat tough.
If you're looking for a delicious 3 course dinner you can share with your love this Valentines, I have a perfect meal that takes under 20 minutes for all 3 dishes – and they are rich, delicious, and not too heavy so you're not slaving away in the kitchen all night, or too stuffed for a night full of romance!
I've also just updated a new recipe that you can use with this method for the most deliciously easy, creamy, and amazingly rich lobster tail dinner ever – click here to see my 10 Minute Creamy Lemon and Garlic Lobster Tail recipe! 
Or check out this creamy shrimp florentine skillet recipe that is getting RAVE reviews from Facebook fans!
10 Minute Perfect Broiled Lobster Tails Recipe
Please click below to see my recipe instructional video:
10 Minute Perfect Broiled Lobster Tails Recipe
The best way to cook Lobster Tails- quick broiled with a hint of butter and paprika!
Ingredients
2 Lobster tails
1½ tbsp butter, divided
celtic sea salt
1 tsp garlic powder
1 tsp smoked paprika
1.2 tsp white pepper
Instructions
Preheat broiler to high.
Set lobster tails on a baking sheet or in an oven safe dish.
With sharp kitchen scissors or a knife, carefully cut the top of the lobster tail shell down to the tip of the tail, avoiding the meat. Devein and remove any grit if needed.
Carefully pull shell down, so meat looks like it is sitting on top of shell and open.
Mix spices in a small bowl.
Sprinkle with spices.
Add small pats of butter along the lobster tail.
Place in oven on an upper middle rack.
Let cook until meat is opaque and white, about 8-10 minutes.
Remove and serve immediately with drawn butter.