Easy, crunchy, and juicy chicken drumsticks that are bursting with flavor straight from the air fryer for a healthy fried chicken the whole family will love!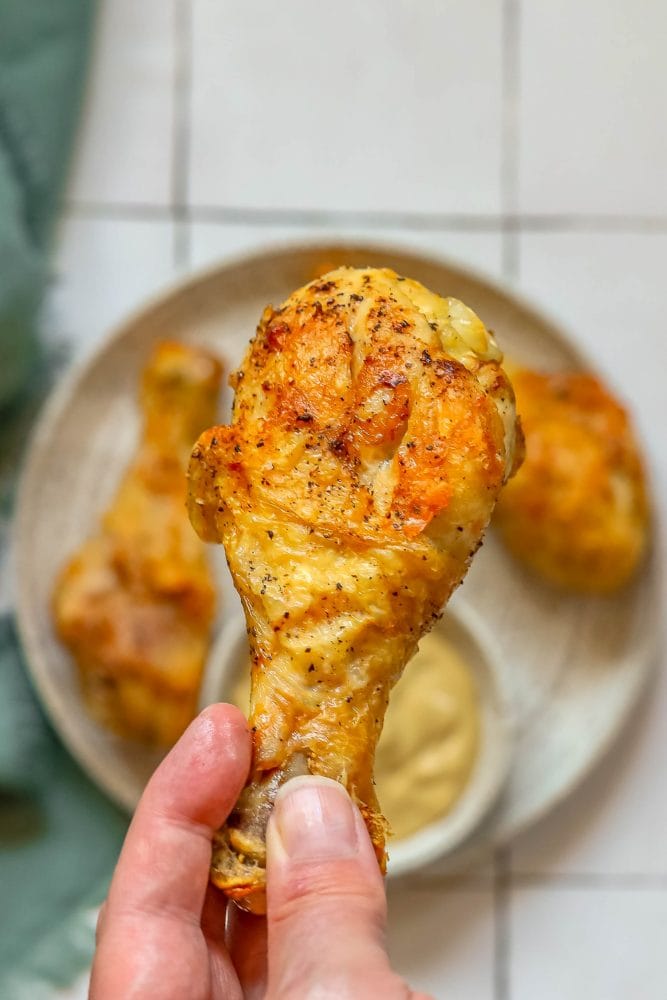 If you've never had air fried chicken, it might sound a bit funny, because food in an air fryer isn't actually fried.
Air fryer food is more like ultra-convection broiled.
This means you can use just a tiny bit of oil and still get delicious crispy chicken.
Air fryers are awesomely easy to clean (some even pop into the dishwasher) - and so simple to use, making it the perfect tool to use for cooking drumsticks.
Simply add drumsticks to marinade, shake, place in basket, and cook - and you're on your way.
If you're looking for a spicy kick, try our Air Fried Piri Piri Chicken which is a spin off this method, too - or our baked honey mustard chicken drumsticks recipe that is loaded with out of this world flavor.
This delicious recipe will quickly become one of your very favorite dishes to make - I hope you love it as much as we do!
Here at Sweet C's, we have lots of types of readers - those who like to get straight to the recipe, and those who would like more information, including tips and tricks to feeling more comfortable in the kitchen.
We provide a skip to recipe button in the top left corner, as well as a clickable table of contents, just below, to help make this page easier to navigate.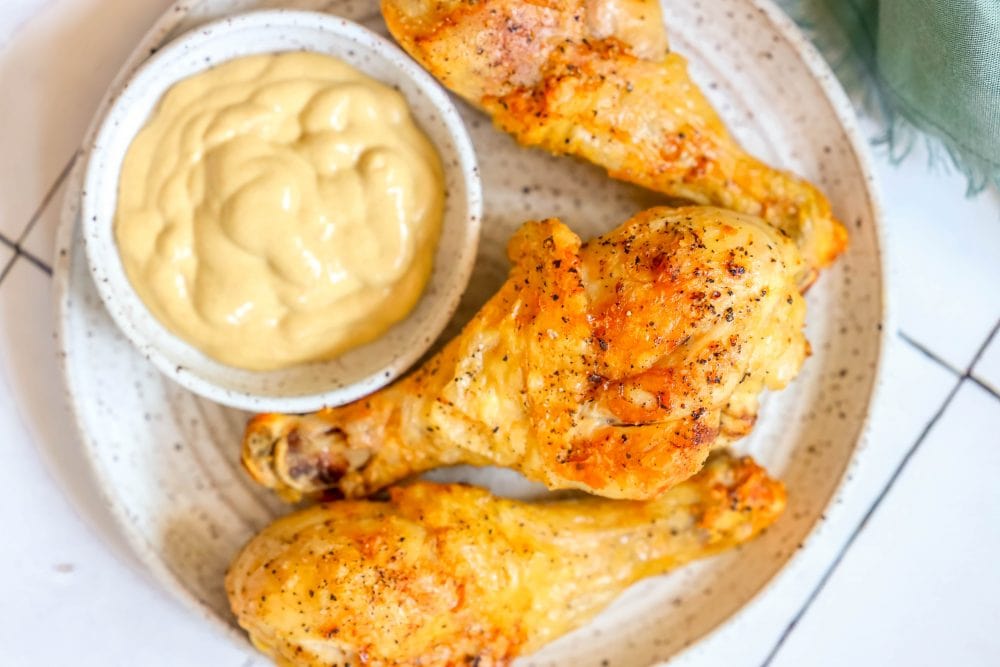 This recipe is gluten free, dairy free, and keto diet compliant -as well as heart healthy with a little olive oil.
If you're on a low-calorie diet, a low-carb diet, or other healthy eating plan, you can work chicken legs into your meal planning, especially when air-fried.
Air fryers are awesomely easy to clean (some even pop into the dishwasher) - and so simple to use.
Simply add drumsticks to soak in marinade, then place in basket, and cook - and you're on your way to a delicious, perfectly juicy chicken drumsticks with crispy skin!
This air fryer recipe gets deliciously crisp drumsticks with crunchy skin that tastes fried- without all the oil from deep frying.
The only oil we're using in this recipe is a tiny bit - about two tablespoons - of heart healthy avocado or olive oil.
You'll be using just enough oil to coat the drumsticks, not enough to actually fry them.
Since traditional fried chicken is cooked in hot oil, it can be coated.
This recipe is keto diet compatible and low carb because we're not breading it at all.
The air fryer's fans and heat will help give us a fried chicken taste - without the extra work and calories.
And it makes it as easy as prep, dump in air fryer basket, and go about working on the rest of your meal!
This recipe goes from the fridge to the table in less than 30 minutes - and will soon become your favorite gluten free way to cook drumsticks and even wings.
Try this method with my Air fryer Nando's wings - the sauce works really well on this recipe, too.
How To Cook Chicken Drumsticks in the Air Fryer
Cooking drumsticks in an air fryer is a delicious, easy way to get crunchy, juicy, deep-fried chicken flavor without all the extra oil or carb-y breading.
If you love crunchy chicken drumsticks, be sure to check my top tips for perfect air fried chicken legs below:
Run your air fryer for a few minutes before adding the food so it is hot and ready to go when you go to air fry your chicken drumsticks.
This is optional, but I feel it helps the skin to puff up and get a crispy "fried" texture.
If you're going to sauce your drumsticks, wait until they have cooked and crisped to toss in sauce.
You also can layer the sauce on to get a crunchy "crust" throughout the cooking, similar to my baked BBQ Chicken drumsticks.
The baked recipe involves baking with a BBQ sauce - which does require a bit of modification.
To add a BBQ sauce "crust" with this recipe, simply baste with BBQ sauce every 5 minutes as the drumsticks air fry.
Since air fryers are completely sealed off, it's hard to judge your chicken's doneness by the look of it.
Don't open your air fryer constantly, letting heat escape - trust in the timing of the recipe, and a handy rapid-read digital meat thermometer.
Check the temperature of the chicken when you're already opening the air fryer to flip them - don't open it just to check the temperature or too much heat will escape.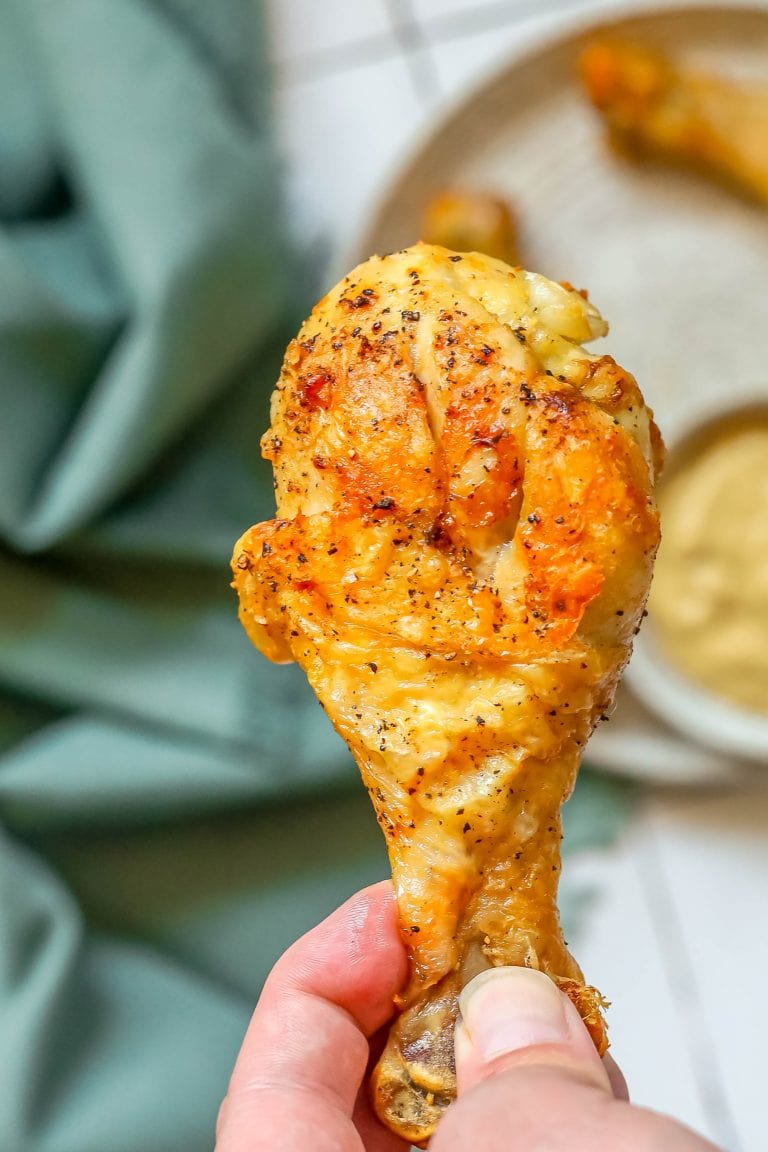 Use a Digital Thermometer
When your timer is done, immediately test the temperature of the chicken pieces with a digital thermometer inserted into the middle of the thickest part of the chicken drumstick without touching bone.
Chicken should be cooked to 165 degrees internally.
If chicken has not met 165 degrees internally, add another 2-5 minutes to cook time.
Air fryers help get hot air to circulate around the chicken drumstick to get a heat so high it makes meat taste fried - and to do that, it helps to not crowd the pan.
Put the chicken in your air fryer pan in a way they aren't crowding each other - it makes a huge difference.
The Best Air Fryer Recipes
If you're looking for more delicious recipes to use with your air fryer, check out some of our favorites below:
You can find our entire air fryer recipe index here.
Instant Pot Air Fried Chicken Drumsticks
If you have a crisping lid for your Instant pot, or an Instant Pot Duo crisp, you can also use your Instant Pot to air fry chicken!
If you need an air fryer crisplid for your Instant Pot, click here.
If you'd like to buy an Instant Pot with pressure cook and air fry functions, click here.
Use the method below to make these chicken drumsticks in your Instant Pot:
Instant Pot Air Fried Chicken Legs
Prep chicken legs as called for in recipe below.
Place the chicken drumsticks in the CrispLid basket.
Place the trivet and the basket inside the inner steel pot.
Place the Crisplid on the Instant Pot.
Set to 425°F and follow instructions in recipe below.
For more step by step information, see our web story here.
How Long Should I Air Fry Chicken Drumsticks?
This recipe was designed to work with different types of air fryers - so the time listed is an estimate. Your air fryer might take a bit longer than time listed.
Check the temperature of your chicken legs often while cooking - chicken is fully cooked at 175 degrees internal temperature.
What Air Fryer Should I Use?
This recipe was designed after testing in the Instant Pot Air fryer, Instant Pot with Crisping Lid broiler function, Ninja Foodi + Broiler lid, and the Phillips Air Fryer.
Cooktime was slightly different with each appliance, but each resulted in perfect air fryer fries. Check chicken legs as you cook to make sure they are done to your preference!
Should I Marinate Chicken Drumsticks Before Air Frying?
I personally always marinate chicken before cooking - even just 30 minutes in some olive oil, lemon juice, and herbs can infuse a ton of flavor into your chicken. This recipe was designed to boost flavor regardless, so if you don't have time to marinate, no worries!
How long do chicken drumsticks last?
Chicken drumsticks can be stored in an airtight container for up to four days, or frozen for up to four months.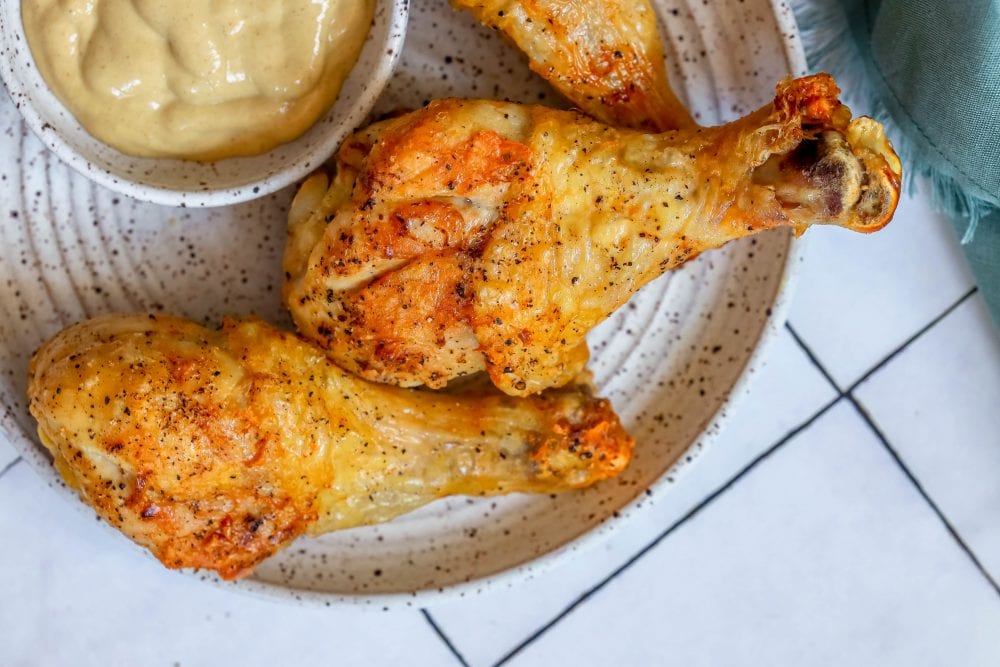 The Best Air Fried Chicken Drumsticks Recipe
If you love this delicious air fried recipe as much as I do, please give it a review and help me share with your friends and family on facebook and pinterest!
CONNECT WITH SWEET C'S!
Be sure to follow me on social media, so you never miss a post!
Facebook | Twitter | Youtube | Pinterest | Instagram
Only have 30 minutes to get dinner on the table? Sign up for my 30 minute dinner plans direct to your inbox!
Find and shop my favorite products in my Amazon storefront here!
Yield:

8
The Best Air Fried Chicken Drumsticks
Easy, crunchy, and juicy chicken drumsticks that are bursting with fried chicken flavor straight from the air fryer.
Ingredients
8 chicken drumsticks
2 tbsp olive oil
1 tsp celtic sea salt
1 tsp fresh cracked pepper
1 tsp garlic powder
1 tsp paprika
½ tsp cumin
Instructions
In a small bowl, combine herbs and spices.
Set aside.
Place drumsticks in a bowl or a plastic bag and drizzle with olive oil.
Toss to coat.
Sprinkle herbs and spices all over drumsticks to coat them.
Preheat air fryer at 400 for 2-10 minutes.
Place drumsticks in air fryer basket and cook for 10 minutes on 400.
Remove basket and flip chicken drumsticks.
Cook at 400 for another 10 minutes.
If chicken is not 165 degrees internally, add another 5 minutes of cook-time.
Time can vary based on drumstick size, so do check the temperature with a digital thermometer after cooking to prevent over or under cooking.
When chicken has reached 165 degrees internally, serve immediately.
Nutrition Information
Yield
8
Serving Size
1
Amount Per Serving
Calories

201
Total Fat

12g
Saturated Fat

3g
Trans Fat

0g
Unsaturated Fat

8g
Cholesterol

116mg
Sodium

381mg
Carbohydrates

1g
Fiber

0g
Sugar

0g
Protein

22g
Sweet C's Favorite Recipes
If you love these air fried chicken drumsticks, please check out my other top recipes!
Sweet C's Favorite Recipes
Favorite recipes from Sweet Cs Designs