Ocean Medallion on Caribbean Princess
Jun 01, 2019, Updated Aug 12, 2021
Ocean Medallion on Caribbean Princess – what the Ocean Medallion experience is like on the Caribbean Princess and why to book an Ocean Medallion cruise with Princess Cruises.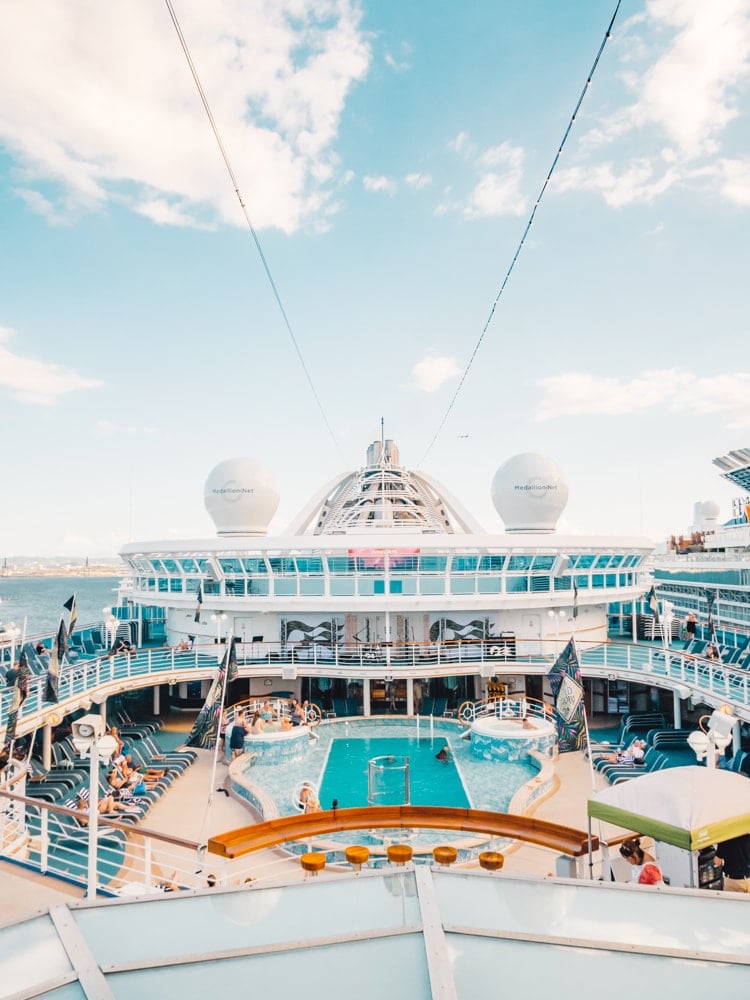 This post is sponsored by Princess Cruises – but all opinions are 100% my own.
I was recently invited to tour the Caribbean with Princess Cruises on board the Caribbean Princess and try out the new Ocean Medallion program on ship – this revolutionary charm makes it easier than ever to explore the world and take in new cuisine, meet new friends, explore gorgeous places, and relax and recharge to #comebacknew.
Princess Cruises
is one of my favorite partners to explore the world with – they have the best food, are focused on relaxation and cultural experiences, and offer fantastic routes through some of the world's most gorgeous locations.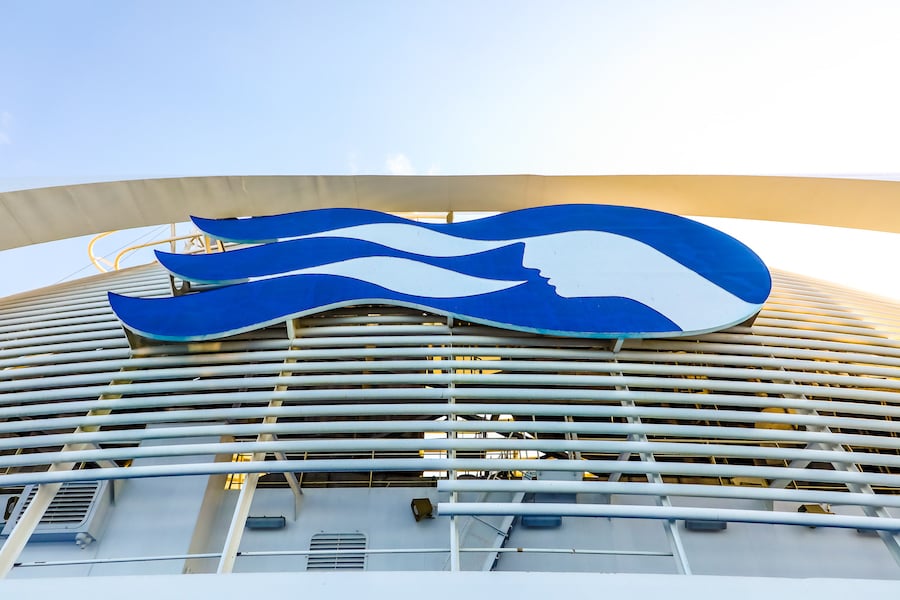 Ocean Medallion is a revolutionary program being launched across Princess Cruises fleet – and in a word?
It's a GAMECHANGER.
Ocean Medallion is one of the best hospitality programs I've had the chance to preview – it helps make every minute on ship easy, relaxing, and luxurious!
Want to access your room, the ship, or buy drinks – WITHOUT presenting your room key? NO PROBLEM!
Just simply wear your OceanMedallion, the key to unlocking all of the MedallionClass programs in style.
Want to order new pillows? Or pizza and beer by the pool? No worries… there is an app for that!
How about unique games and casino experiences… all from your phone?
Or the fastest internet at sea?
How about the ability to quickly find or message family and friends on ship?
Your Ocean Medallion unlocks it all!
(And seriously… it unlocks your door. Simply walk up to your door, and it unlocks! No more key fumbling. I can't stress just how much this means to me!!)
OceanMedallion offers a series of apps to help take your vacation to the next level – you can download just the ones you want, or all of them, to enjoy your Princess Cruises OceanMedallion vacation to the fullest.
While there are a few apps, they each have such robust features, I am glad they split the apps up so they can do a lot more, and aren't clunky or heavy feeling in-app.
Breeze through check in and get on ship faster with OceanReady!
With OceanReady, we were able to get on ship faster than ever when leaving Fort Lauderdale – we even got to use a special OceanMedallion cruise terminal with fun interactive games and displays, opportunities to learn more about OceanMedallion, and great photo opportunities.
I wasn't with my kids on this trip to check out OceanMedallion, but the new check-in area would be perfect for keeping antsy kids happy while waiting to board the ship.
Ocean Now is your ticket to anything you need on ship – pizza delivery poolside? No problem!
Aloe delivered to dinner? In an instant! New towels or pillows for your room? Easy!
Order it all in Ocean Now, your at sea delivery!
I could happily live off margarita and pizza delivery (Princess Cruises has won "Best Pizza at Sea" from USA Today, and I can't disagree with their title) while lounging poolside, so the ability to skip past the line for drinks and a slice of delicious cheesy thin crust is pretty major in my book!
Less time waiting – more time relaxing – hello dream vacation!
Play Ocean
Games, activities, scavenger hunts, trivia – Play Ocean keeps things fun at sea with tons of entertaining programming that gets you laughing, excited, and some even send you across the ship for a great scavenger hunt turned workout!
We LOVED the scavenger hunt (Ocean League) on Ocean Play – it lead us to different portals around the ship – which was SUPER fun!
Ocean Compass – your guide to the ship, find your friends on board, find where you are on ship and fastest routes to other areas – as well as chart your ships course on your voyage!
Ocean Compass helped us connect on board – my friend Kim traveled with me, and one day she headed up to the deck to do yoga and I forgot where she said to meet her – but I was able to find her in an instant thanks to the medallion she was wearing!
Like the action of the casino, but want to bring it with you? The Ocean Casino app offers plenty of excitement, from anywhere on ship!
Fantastic programming, tv shows, cruise-produced content and more – stay entertained with Ocean View! We loved the Good Spirits programming, which showed the backstory to some of our favorite drinks – like the Sandia En Fuego!
Ocean Medallion Apps
All the apps you need to have the greatest time at sea ever with Princess Cruises!
What Ships Have Ocean Medallion
If you're looking to book a medallion class cruise, you'll want to start narrowing down routes you're interested on that are available on a ship currently offering Ocean Medallion.
Princess Cruises is rolling out more and more features as they continue to expand service across their fleet – I can't wait to see where it goes from here because I can't even imagine cruising without it ever again!
Current Princess MedallionClass Ships:
Caribbean Princess® | Regal Princess® | Royal Princess®

MedallionClass is coming soon to:
Crown Princess® (7/24/19), Sky Princess® (10/12/19), Ruby Princess® (1/27/20), Grand Princess® (3/29/20), Enchanted Princess®(6/15/20), Emerald Princess® (8/16/20), Coral Princess® (10/16/20), and Island Princess® (12/20/20).
You can find more information about which ship offer Medallion Class cruising here.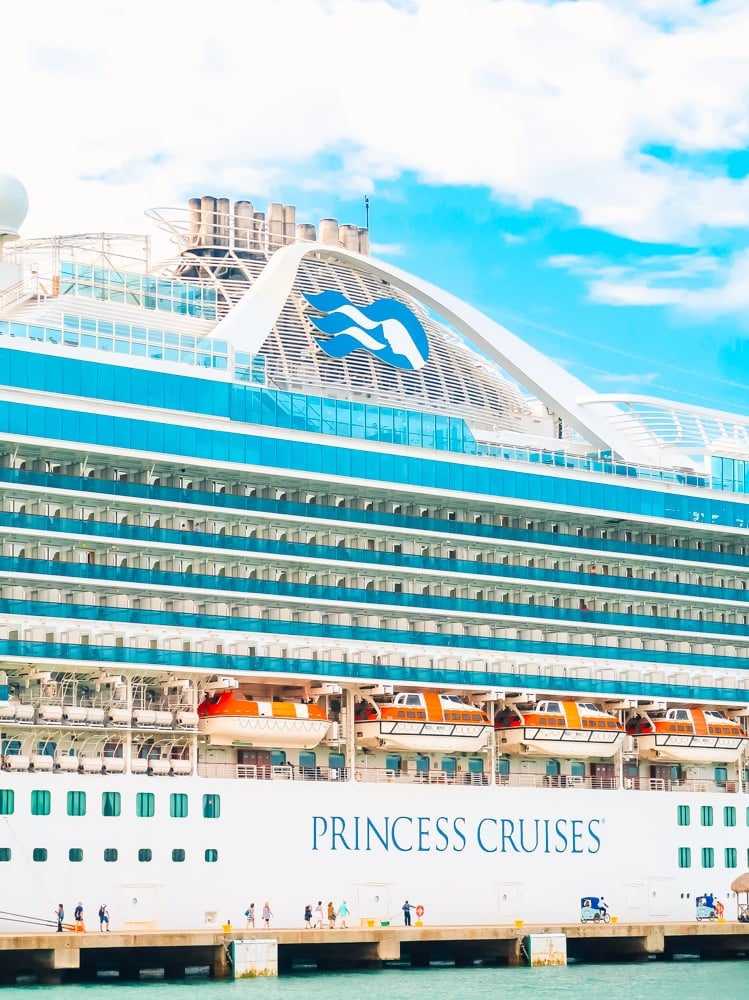 How Is Internet Speed on Princess Cruises
Internet options on a cruise can be frustrating – it can be expensive, slow, and hard to get things done (as a food and travel blogger, I work especially when I am on trips, so while some passengers prefer to disconnect, I am somewhat unfortunately reliant on internet on ship.)
With the rollout of MedallionNet, Princess Cruises is completely changing the game for internet at sea – with blazing fast speeds (I live in a rural area, and my internet connection on ship easily beat my speeds at home) – and it is now much more affordable.
When prebooking, you can buy MedallionNet packages for as little as $9 a day – which is comparable to cell phone data or skyroam plans, making it an easy and affordable choice for your cruise! Plus unlike data or Skyroam, MedallionNet offers unlimited browsing.
Find out more about Medallion Net here.
Is Ocean Medallion Worth It
In a word?
YES!
OceanMedallion has completely spoiled me – I don't know if I can go back to cruising without it!
OceanMedallion completely changed my entire cruise experience – I lived being able to connect quickly with things I needed, friends, or work – and then get straight back to relaxing.
Being able to see what was currently happening on the ship, find friends that I was meeting, play games, or order things for our room – straight from my phone – was amazing.
And the times I didn't carry my phone around (I do use it as a camera a lot, so I often am attached to it), I could use one of the numerous portals throughout the ship to connect – even without my phone!
But the standout reason for me to book a cruise with OceanMedallion is simply just how EASY it makes cruising.
Things like lines to get back on ship, worrying about finding a room key (I am legendarily able to lose a room key in mere seconds), check-in lines – they are all a thing of the past thanks to OceanMedallion.
Being able to wear my OceanMedallion – on a necklace or lanyard, in a bracelet, on a clip, or with any of the other gorgeous accessories available on ship – made the less enjoyable parts of vacation easy and effortless.
OceanMedallion truly gave me more time to rest, relax, and focus on enjoying our vacation – giving me the space to truly #comebacknew.
How To Book a Medallion Class Cruise
If you're ready to book your own MedallionClass cruise with Princess Cruises, please visit the Princess Cruises website and browse some of the current specials!
This link is through my affiliate code, which gives me a small commission at absolutely no extra cost to you.
This link also gives you the best access to current deals!
I can't wait to see you cruising on Princess Cruises with OceanMedallion soon!
Sweet Cs + Princess Cruises
I've been lucky to work with Princess Cruises bringing you my top picks for luxury foodie cruising vacations – and I'm sharing them with you below:
Sweet C's with Princess Cruises