Banish weird fake patties for good with this delicious spicy vegan portobello mexican burger – full of rich, meaty flavor, tons of fiber, and just real, fresh foods. 
Mexican vegan burgers are a delicious, quick dinner that is filling and full of robust and spicy meaty flavor!
Low calorie, high in protein and fiber, these are a delicious swap for vegan dinners, meat free Mondays, or just upping your veggie intake!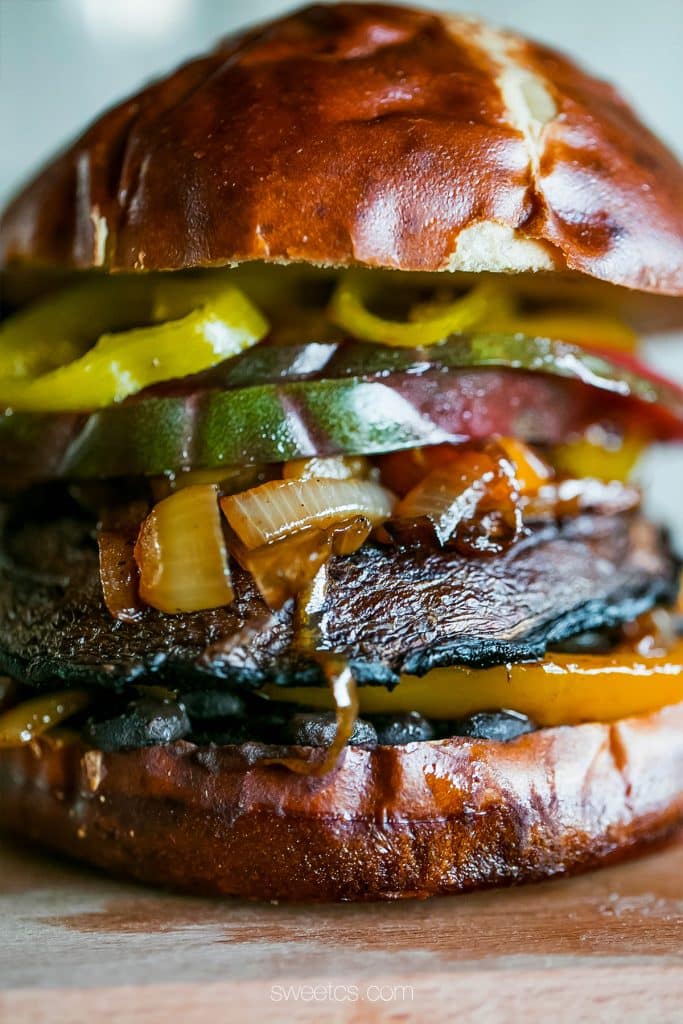 Vegan and burgers don't go together.
They just DON'T.
Don't get me wrong, I have had some delicious vegan patties, and downright lip-smacking vegan sandwiches- but when I think BURGER, I think meaty, rich, delicious— and filling!
My big complaint with vegan burgers is the massive amount of soy that usually comes with them. Look- there are some good "burger" patties, but I prefer to eat fresh, whole foods whenever I can.
This burger is a honking Portobello mushroom, loaded up with rich and buttery peppers and onions, some beans with a hint of lime, heirloom tomato slices, and some banana peppers for a bit of tangy zing.
It is a delicious, filling, and healthy meal that doesn't taste healthy. You won't even notice the lack of meat or cheese – and trust me, cheese is one thing I am obsessed with (I often let people know that cheese is literally my best friend.)
This Mexican vegan burger is also perfect for those who observe Orthodox Christian fasting periods – it is made without olive oil and is great to fill you up all day.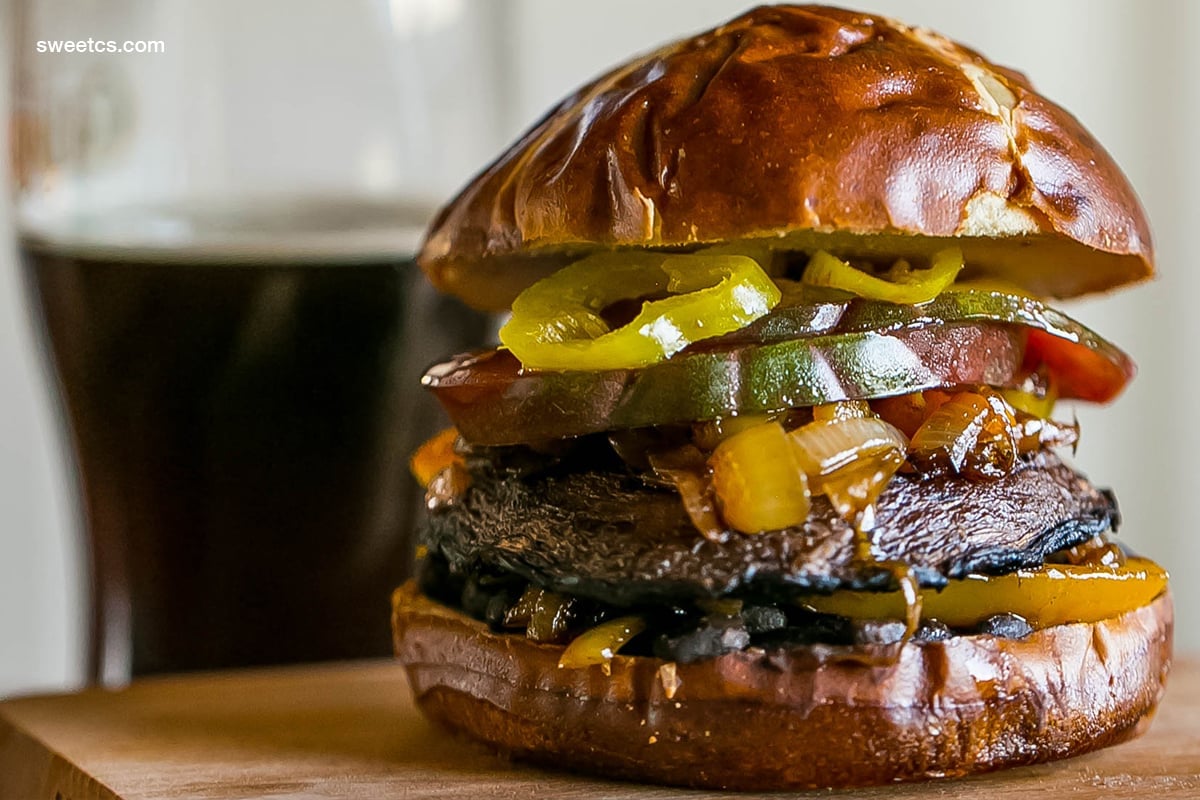 Pro Tips:
-Season your Portobello well, and cook it a bit more slowly than you would a meat patty. By cooking it a little slower and lower, you can cook out a bit of the mushroom's moisture- which will make it feel less "slimy" (which is the #1 complaint I hear from people eating mushroom-based burgers.) It will also add to the rich, meaty flavor.
-Let your mushrooms and onions cook slow and low as well. The flavor you're adding from them is going to add to the meaty and buttery flavors in the burger, and rushing them won't let them fully develop.
Spicy Vegan Portobello Mexican Burgers
Spicy Vegan Portobello Mexican Burgers
Banish weird fake patties for good with this delicious spicy vegan portobello mexican burger - full of rich, meaty flavor, tons of fiber, and just real, fresh foods.
Ingredients
2 portobello mushroom caps, stems removed
1 tbsp grape seed oil
1 large onion, cut in half and then sliced into thin slices
1 bell pepper, sliced into strips
2 tsp taco seasoning, divided
½ tsp cayenne pepper, divided
½ cup whole or refried black beans with lime, divided
2 buns of your choice (pretzel buns pictured)
1-2 tbsp salsa, hot
banana peppers, to garnish
Instructions
Heat a heavy cast iron pan on medium, while heating another large skillet on medium.
Lay the portobello mushrooms in one of the pans, and add the grape seed oil to the other.
Heat grape seed oil until shimmery.
Add onions in to pan and stir well.
Flip portobello over, and keep flipping sides every 4-5 minutes.
When portobello is dark and reduced in size by half, sprinkle with taco seasoning, salt and pepper, and cayenne pepper and cook on each side for one more minute.
Add peppers to pan with onions, stir. Let onions and peppers cook until nicely browned, about 15 minutes.
Spread beans on the bottom of bun, and then add portobello when cooked. Layer onions and peppers over mushroom, and top with a slice of an heirloom tomato, bananna peppers, and a bit of salsa and add the top bun.
Eat immediately and enjoy!
Nutrition Information
Serving size:
418g
Calories:
316
Fat:
9.9
Saturated fat:
.6
Carbohydrates:
48.6
Sugar:
9
Sodium:
542
Fiber:
7.4
Protein:
9.8