A quick photo tour of the Four Seasons Orlando at DisneyWorld- what to do, what to see and what to eat!
We were recently lucky enough to tag along with my parents at the Four Seasons Orlando at DisneyWorld where my dad was attending a conference. What a fantastic trip- if you know of anyone with a conference at Disney- jump to tag along!
Table of contents
Disney World Four Seasons
Full disclosure: This is a completely, 100% NON-SPONSORED post- I didn't work with the Four Seasons Orlando in any way- but we did get an awesome room rate thanks to the conference my dad was attending that actually made the Four Seasons the least expensive property at DisneyWorld the week before Thanksgiving for us. It was a pricey trip we had to save to go on, but so worth it.
This was an awesome early Christmas present to my kids... we've wanted to go as a family to Disney for a while, and we went to check out Mickey's Very Merry Christmas Party!
From the second you walk in to the lobby at the Four Seasons Orlando at DisneyWorld, you know you're in a really special property.
The grounds are gorgeous and lush - you actually pass through a beautiful gated neighborhood just to get to the hotel- and are greeted by friendly staff when you arrive.
The lobby is truly stunning- I could photograph this chandelier all day!
Our room was spectacular. It was large and on one of the top floors, and had a spacious bathroom and an awesome balcony overlooking Epcot. We were in a room connecting to my parent's room- whose balcony overlooked Magic Kingdom and Epcot.
We were thrilled to be able to watch the fireworks shows, in perfect detail, right from our room!
This looks far, but I didn't bring a lens that is true-to-sight, so it is a bit zoomed out. You could see the castle perfectly from my parents balcony!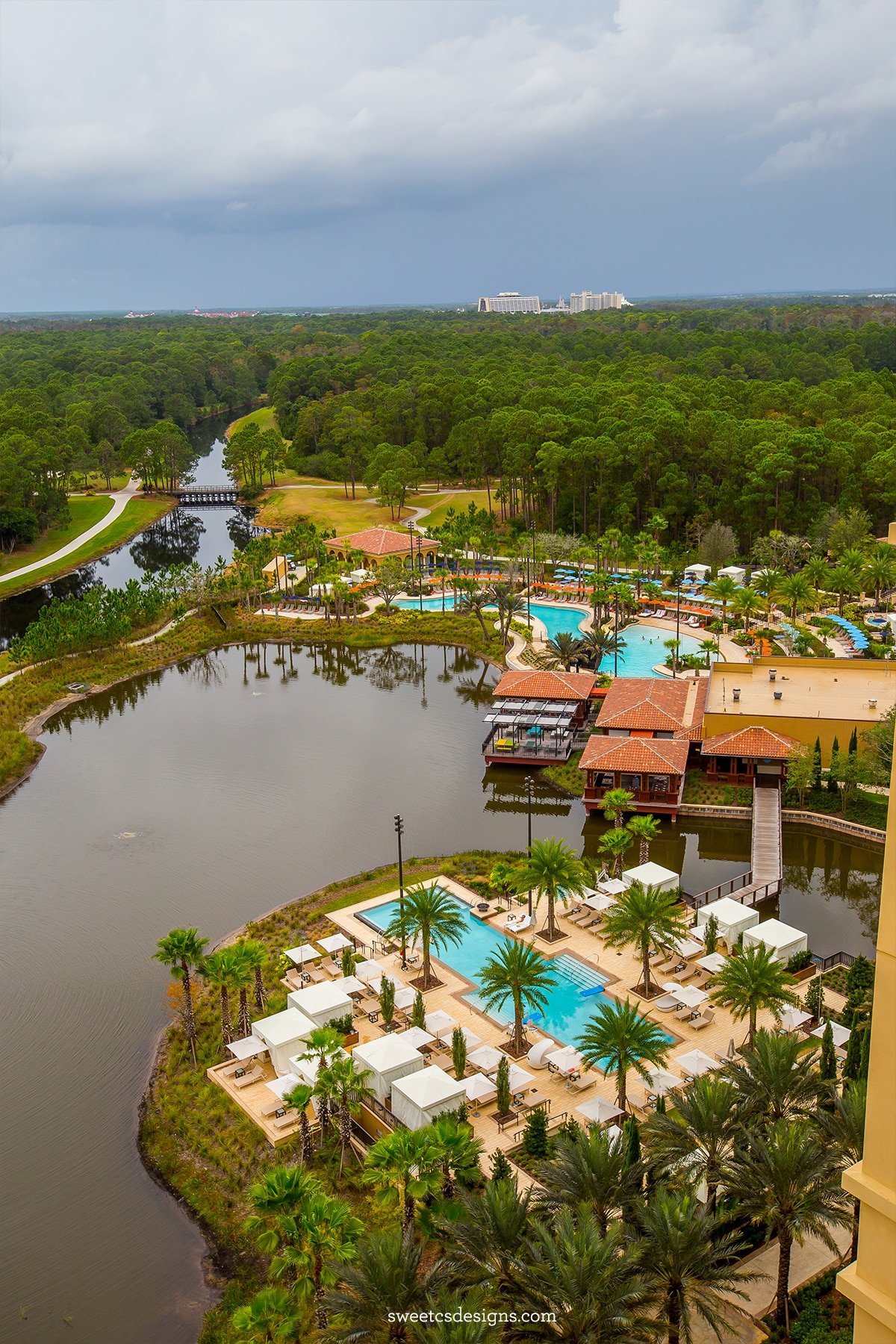 The best part of the Four Seasons Orlando were all the pools! Yes, POOLS. There are three large pools- an adult pool (in the foreground of the photo above), the large, zero-entry main pool (in the background) and then a giant splashpad/kiddie pool plus a LAZY RIVER!
The coolest part of the kids pool area was just how huge it was.
There is a main splash pad / kiddie pool that is never deeper than a foot- but we enjoyed exploring the nooks and crannies everywhere around the pool- quiet nests and pods and tents to catch a quick quiet moment in, tables for snacking (poolside service is a specialty at the Four Seasons), and lots of fun play features like a little "cove" for in-water basketball and volleyball.
Pools should all come with lazy rivers that wind through a lush, gorgeous property. Especially with waitstaff who keep your beverage topped off as you float! We rode around numerous times- and especially loved the little area with bubbles and "rapids".
The lazy river has an awesome waterfall and little cave areas- as well as water canons you can use to spray people!
We had so much fun in the kids pool area and the lazy river, we never ventured over to the large main pool. There's also a lovely (and quite swanky) adults only pool just off the hotel building for those who'd rather not be bothered by kids.
I love this- sometimes when I want to relax (and I am not with my kids) I love to be away from the loud sounds- and as a parent I feel less pressure to make sure my kids aren't crazy assholes next to a honeymooning couple or something!
The water canons were really fun- until we realized you can spin them around and shoot each other close-range. That was an interesting development!
The large splash pool area also has water slides, waterfall archways, and lush greenery all around. (And a very attentive waitstaff for mom and dad!)
Sadly, Bridget was just a hair too small to ride, so we decided to hang out in the tents and pods instead.
They also an awesome outdoor game area (the kids camp is also here - they provide free kids camps, but we were too busy to check it out!) There was a bocce ball lawn, cornhole setups, and a giant connect four set- as well as foosball tables tucked inside the big game area.
There's also an arcade onsite, but we didn't venture far enough from the pool to check out the pinball machines.
The Four Seasons might not always be seen as the most kid-friendly- but it was seriously great for kids!
Most Four Seasons have really gone above and beyond to welcome people of every age, and have activities kids will enjoy, without spoiling any of the luxury of the property.
There was also a very nice park for the kids as well.
One of the things I LOVE about Four Seasons is the kids 5 and under eat free options at restaurants. This doesn't apply to character breakfasts (we didn't book one, I'm a terrible mom), but we did make the most of our meals onsite while my dad was in his conference.
I strongly recommend the Ahi Tuna Salad at PB&G Grill!
While Four Seasons meals are a bit on the pricier side, they are fantastic, and not much more expensive than eating in DisneyWorld, especially when you factor in free kids meals (with generous portions). Plus- the food is so much better than a concession-style hot dog or hamburger in the park which would only cost about $3-$5 less than a great entree.
My kids discovered they love calamari at PG&G Grill- and I discovered how amazing their skinny dip cocktail is. If you're ever at the Four Seasons Orlando, order it immediately!
We loved everything about the Four Seasons, as always. We had a private, air conditioned motor coach that took us to the monorail (which was sadly not running two of our three days at Disney) and the ferry to disney.
My only complaint was the amount of time it took to get to the park- it seemed like such a huge production to go to the bus, then to the ferry or monorail or another bus- it would have been much more convenient with tired, fussy kids to just take the monorail or a boat directly to our hotel and not have to walk miles before even entering the park.
If I was there with other adults, it would have been perfect to be a bit further away but close enough to the action.
If we were doing it again with my kids, I'd maybe stay at the Four Seasons just for the pool days and stay at a Disney property for days we were going to the park.
The Four Seasons Orlando at DisneyWorld
Where to Eat
-PB&G Grill, alongside main pool and adult pool areas. Must try: Skinny Dip Cocktail, Calamari, Ahi Salad, kids mac 'n cheese and chicken fingers. Kids 5 and under eat free!
-Lickety Split, in main lobby. Espresso drinks, gelato, chorizo breakfast burritos, cheese plate and sandwiches to go- perfect to grab on the way to the park shuttle!
-Ravello, lower floor in main building offers a character breakfast on Tuesday and Thursdays. We didn't do this, but we did run into Goofy on his way into the breakfast and he gave our kids a huge hug! I've heard great things about the breakfast, and how much time you get to hang out with Goofy and his pals!
What to Do
-Lazy River, pool areas- need I say more?
-Walk the grounds- there are tons of gorgeous sights and quiet, romantic areas to sit quietly in.
-Head to Disney!