Korean grilled flanken ribs grill in under 10 minutes, are bursting with slightly sweet and savory flavor, and are a great budget cut that is hearty and easy to eat!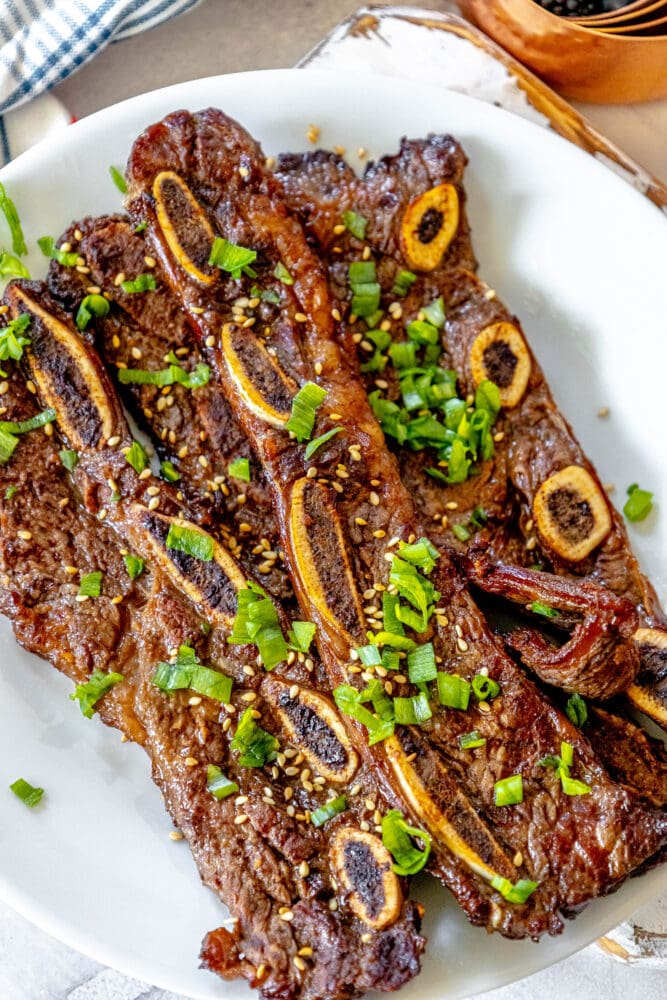 Don't want all the extras in a recipe post? We provide a skip to recipe button in the top left corner, as well as a clickable table of contents, just below, to help make this page easier to navigate.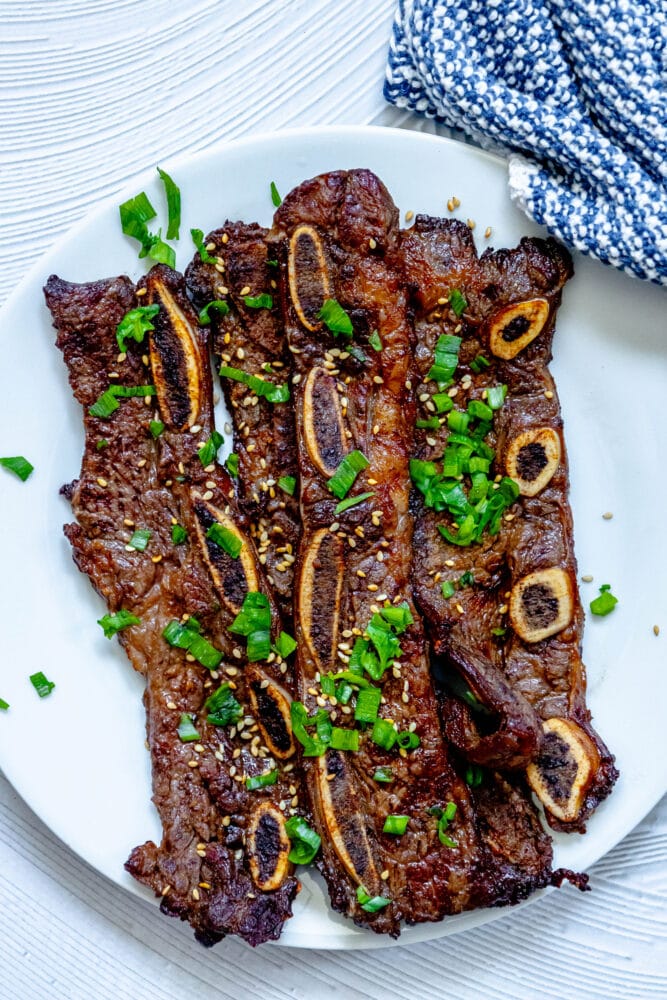 Grilled Korean Beef Flanken Short Ribs
Flanken ribs are a strip of beef cut across the bone from the chuck end of short ribs, instead of being cut with the bone in one piece (like we use in our spicy Instant Pot beef short ribs recipe), so they look a bit like long thin steaks with circle-shaped bones in them. Simply marinate, grill, and eat around the bones - the meat is tender, juicy, and so delicious! Cutting against the bone allows you to cut flanken ribs ultra-thin, making them perfect for hot and fast grilling.
Flanken ribs are common in Korean BBQ, and can often be found in Asian markets or grocery stores with a great Asian food section - but are also popular in other markets where less trendy and expensive cuts of beef are popular and are sometimes called Miami ribs.
We're using a quick homemade marinade, but if you have a Korean BBQ sauce, Teriyaki marinade, sesame ginger marinade, or even a spicy beef marinade that isn't soy or sesame based, this recipe will work beautifully with it!
What is your favorite way to make ribs? I used to be a devotee of the slow and low method... but these bad boys are seriously good- and just as easy- and will be a part of our rotation a LOT more in the future!
We hope you love this recipe as much as we do.
Check out my web story about these amazing ribs!
How to Make Korean Grilled Flanken Ribs
To make this recipe, you'll need:
Beef flanked ribs - also known as Kalbi or Miami ribs, these are cut from beef short ribs (and can be made kosher) but cut lengthwise, so they grill quickly instead of having to cook slowly over low temperature.
Olive oil - olive oil helps add fat and locks in moisture to short ribs.
Rice vinegar - vinegar helps to tenderize beef, the enzymes soften tissue as beef marinates. Rice vinegar has a lighter flavor that is crisp, lightly sweet, and cuts through the rich beef flavor without overpowering it.
Soy sauce - soy sauce has a classic savory umami flavor - it is earthy, rich, and addictive, with a salty kick that keeps you coming back for more.
Sesame oil - sesame oil has a somewhat peanut like flavor that is rich and earthy.
Oyster sauce - oyster sauce is sweet, similar to BBQ sauce, with a bit of a salty oyster kick.
Sriracha sauce or chili sauce - if you like a spicier kick, add up to two teaspoons of sriracha sauce to this recipe to pack a punch!
Sesame seeds and diced green onions - to garnish
Once we've gathered our ingredients, we will follow this method:
Mix marinade. Add all ingredients except for ribs to a small bowl and whisk vigorously to make your marinade. You can make a huge batch and store in the fridge in an airtight container for up to four months, if desired. If you'd like, you can reserve some marinade to use as a sauce (don't use any marinade that touches raw meat as a sauce - save some off to the side before adding to raw meat.)
Marinate. I like to marinate overnight, but marinate for at least 30 minutes. Marinating helps to tenderize meat, adds flavor, and locks in moisture as your ribs grill.
Heat grill. Ribs cook best on a scorching hot grill - we want them to cook as fast as possible, so heat your grill before ever adding ribs to grill.
Grill to brown. Don't overflip ribs - let them brown well on one side, about 4 minutes, then flip. Let them brown again, then they should be nice and caramelized on both sides - add an extra minute on each side if desired.
Garnish with soy seeds, extra sauce, and green onions, if desired.
Tips and Tricks to Make Perfect Grilled Flanken Ribs
Marinate for more flavor. The longer you let your beef ribs marinate, the more flavor they will soak up. I like to let these flanken ribs sit overnight, making the total marinating time close to 24 hours.
Brown as much as you like. I prefer a dark brown on my flanken ribs, with a light pink middle - similar to a medium rare. Some people prefer less crunch and a chewier steak - and can cook it for less. This is a cut that you can really cook to your own preference - I personally like flanken ribs slightly more done than a steak.
Cook hot and fast. Get your grill as hot as possible - scorching hot - and lay ribs on grates for 4 minutes per side to get a nice crisp char on each side. Flank steak is cut so thin, 4 minutes per side is all you need for a medium sear - with a tiny bit of pink and enough fat to have rendered to soften to make this cut tender and juicy!
FAQs
What are Korean short ribs? What are flanken ribs?
Flanken ribs are cut across the bone - so they are long, thin strips with small circular bones that are easy to eat around.
Do Korean short ribs have bones?
Short ribs are cut around the plate, leaving small circle bones that are easy to eat around with a fork, knife, or even your fingers!
Are Korean short ribs beef or pork?
Korean flanken ribs are cut from beef.
What to Serve With Korean Grilled Flanken Ribs
Flanken ribs are delicious with grilled bok choy, garlic Chinese green beans, and easy spicy edamame!
You can find more of our Asian food inspired favorites here.
Korean Grilled Flanken Ribs
If you love this easy recipe please click the stars below to give it a five star rating and leave a comment! Please also help me share on facebook and pinterest!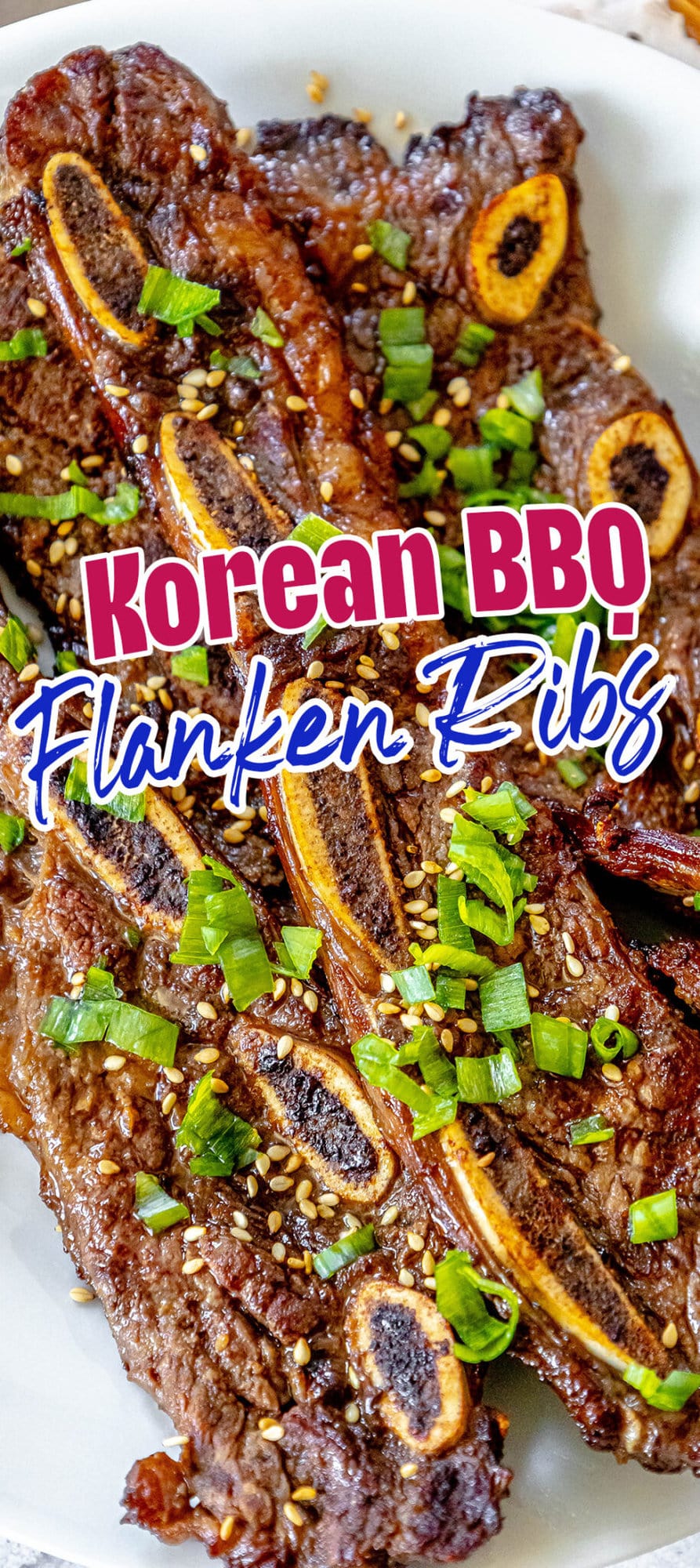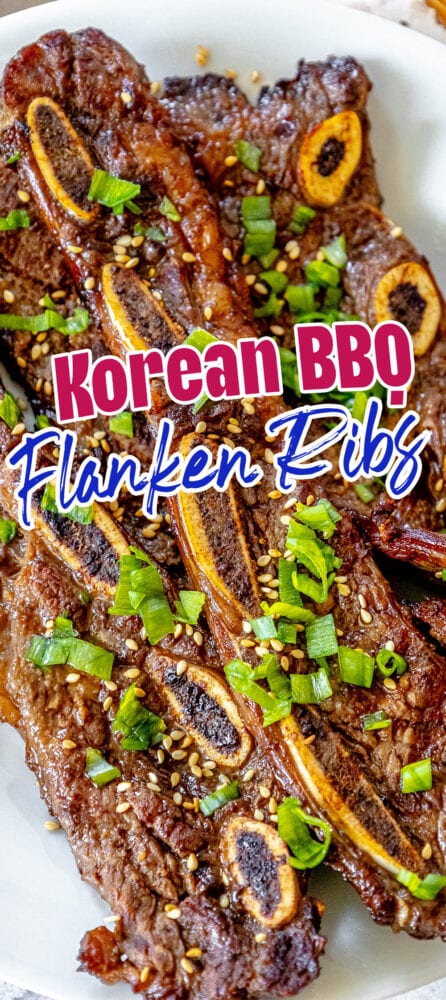 CONNECT WITH SWEET C'S!
Be sure to follow me on social media, so you never miss a post!
Facebook | Twitter | Youtube | Pinterest | Instagram
Only have 30 minutes to get dinner on the table? Sign up for my 30 minute dinner plans direct to your inbox!
Find and shop my favorite products in my Amazon storefront here!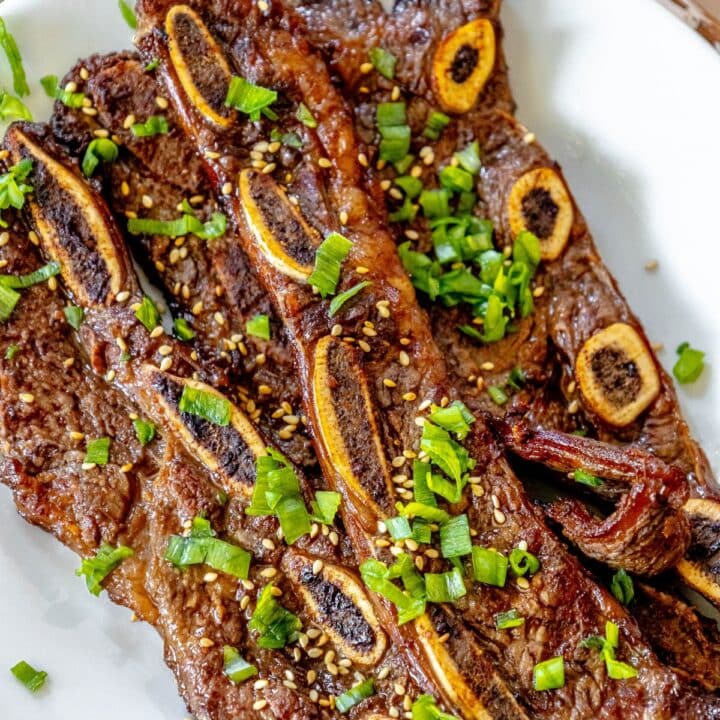 Yield:

4 servings
BBQ Korean Flanken Ribs
Delicious Korean BBQ Flanken Ribs are a great way to get a delicious rib dinner- in a fraction of the time! Total active time is under 15 minutes to KILLER ribs you will want to eat as a steak, in tacos or in a salad!
Recipe is per pound of ribs which will feed two adults. Simply multiply for additional pounds!
Ingredients
For the marinade:
¼ cup olive oil
¼ cup rice vinegar
¼ cup soy sauce
2 tablespoons sesame oil
1 tablespoon oyster sauce
1 tablespoon sriracha sauce or chili sauce (optional)
1 tablespoon brown sugar (optional)
1 teaspoon sesame seeds, to garnish
2 teaspoons diced green onions, to garnish
Instructions
Add marinate ingredients to a bag, mix very well.
Add ribs.
Marinate 6 hours or overnight.
On a hot grill (on high), cook ribs 4 minutes per side until browned.
Serve as rib-steaks with a knife and fork, shred for tacos, or cut up into pieces for a salad.
Recommended Products
As an Amazon Associate and member of other affiliate programs, I earn from qualifying purchases at no extra expense to you.
Nutrition Information
Yield
4
Serving Size
1-2 ribs, per person
Amount Per Serving
Calories

362
Total Fat

27g
Saturated Fat

12g
Trans Fat

2g
Unsaturated Fat

15g
Cholesterol

114mg
Sodium

113mg
Carbohydrates

0g
Fiber

0g
Sugar

0g
Protein

29g
Nutrition is automatically calculated by Nutritionix - please verify all nutrition information independently and consult with a doctor or nutritionist for any and all medical and diet advice.