The Tivoli Gardens are the gem of Copenhagen. Keep reading to see all the gardens have to offer.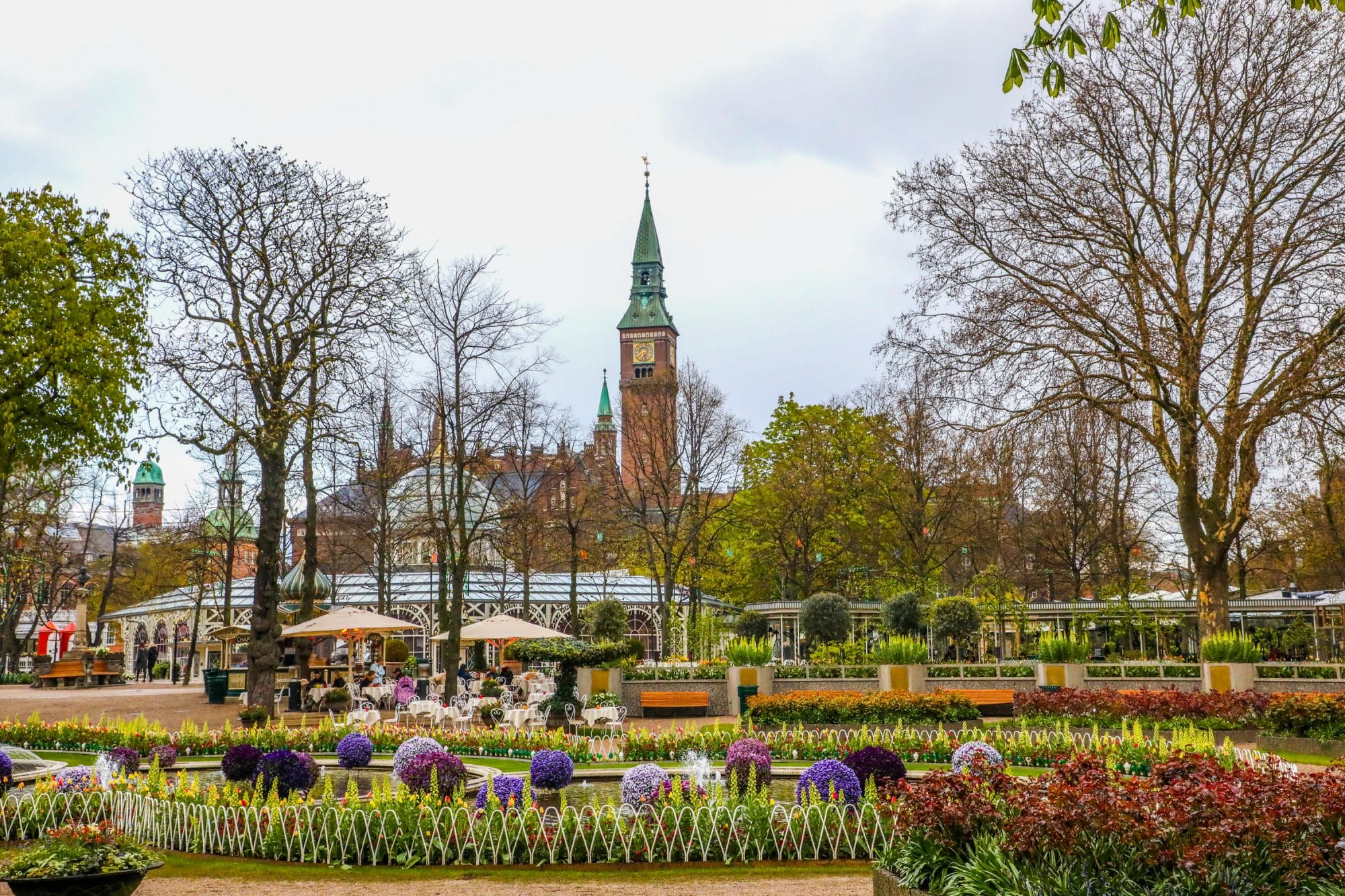 This post is sponsored by Princess Cruises. All opinions are my own.
While in Denmark before an epic 11 day cruise around the baltic with Princess, visiting an amusement park wasn't at the very top of my list - but the more I learned about Tivoli the more I just needed to go and check it out!
Not only is Tivoli a really fun and beautiful space in Copenhagen, it is steeped with rich and colorful history at every turn.
It's also an easy shore excursion stop with Princess Cruises!
Tivoli Gardens opened in 1843, with the King's permission, to awestruck visitors who loved the exotic gardens. Hans Christian Anderson even visited, and is said to have been inspired by the park when he wrote the Nightingale!
Tivoli's wooden roller coaster is one of the oldest in the world - and one of only seven in the world with a brake man on each train who operates the ride.
In 1944, during Nazi occupation, there was large-scale sabotage from firebombs that forced the gardens to shut down for a short time. The concert hall was also destroyed in WWII.
In the early 50's, before Disneyland opened, Walt Disney visited Tivoli several times, in an attempt to re-create the ambiance and feel of the beloved park in California.
Getting to Tivoli Gardens:
What to eat at Tivoli:
Mini Donuts
Hot, fresh, and totally delicious mini donuts are a fabulous treat at Tivoli - they are perfect for walking around, and can be topped with all sorts of deliciousness.

Fresh Nuts
We stumbled upon a small fresh nut shop in the park (near the plane ride), which was full of delicious almonds, peanuts, macadamia nuts, - and even jumbo puffy corn nuts!
I loved the jumbo corn nuts - they were still crunchy, but also a bit puffy and softer - and full of delicious salty flavor.
The roasted salted almonds were huge and full of flavor - and so fresh. The roasted nuts were perfect for walking around and checking out rides with!

Burgers, Fries, and Beer
There are beer gardens, restaurants with beer, beer stands - no shortage of delicious Scandinavian ales to wash down the park's plentiful food finds! We ate at the Woodhouse, a burger bar on the top floor and bakery/ice cream shop on the ground floor.
Tea and Cakes
One of my favorite indulgences in Denmark was the almond pastry we got from the small adorable tea shop in Tivoli - it was full of slivered almonds, almond paste, and a ton of flavor!
The tea shops scattered across Tivoli come with gorgeous views - and are so quaint! You head up to the counter and buy your tea, then select a cute little table in the garden. Since it was cold and raining, we chose one under a large umbrella (they also lined our chairs with fuzzy sheepskin) and sat under a space heater - it was so lovely and cozy!
We washed it down with sparkling wine and a delicious fruit-infused green tea - the perfect accompaniments to the gorgeous sunset we drank up by the fountain.
Marshmallows

There is a small shop called the Mallows selling delicious, fresh, organic marshmallows with impeccably chic and pretty branding.
The marshmallows were bursting with flavor and so delicious and super soft - I couldn't resist bringing a box of sour lemon home with me to our hotel room because they were unbelievable!
Pastries, pastries, and pastries!
One of Copenhagen's best bakeries is Andersen at the Nimb (just outside of Tivoli, across from Copenhagen's Central Station).
Andersen has a ton of delicious cakes, pastries, and treats for everyone - I could happily eat there for hours and hours. Everything was fresh, delicious, and bursting with buttery rich flavor!
What to do at Tivoli:
The Rides!


This ride had to have been an inspiration for It's a Small World - the people looked the same and the bright, beautiful colors looked like it could have been another part of the classic Disney ride.
This is one area of the park that I really felt must have influenced Walt Disney before Disney opened - and I love that he was so inspired by this magical place!
The carousel was full of bright beautiful patterns, whimsical chairs, and fun circus animals. It was so cute - my kids would have loved it!
The high flyer was insane - it is SO fast and lifts riders up high into the Copenhagen sky - and then spins all around!
We watched from down below for a while - but couldn't work up the courage to ride. It was insane!
Kiddie land - the fun kids park was sprawling and full of slides, nets, rope bridges, and brightly colored obstacles perfect for kids!

The rides at Tivoli are all so fun - and really unique!
Click here for the best Princess Cruises Offers
Explore the Gardens

The gardens have gorgeous pretty colored lights hanging from the trees all over - it gives a gorgeous hue over the walkways.
There are tons of lights dotting the gardens - the willows are all lined with lights, theres walkways lights and bright colored torches - as well as the twinkling lights from the buildings above.
It was so pretty and romantic!

Where to stay in Copenhagen:
We stayed at the most adorable AirBnb - and loved it! Right in the middle of all the best attractions and close walking distance to anything in the city - but on a nice, quiet street. I really recommend staying with Joachim if you're in Copenhagen!
Find the apartment here: https://www.airbnb.com/rooms/6566411?s=51
Of course, if you're staying with Princess before or after a cruise, they can help you book a hotel or other accommodation - so there is nothing for you to worry about!
Click here for the best Princess Cruises Offers