The Arnold Palmer drink is a refreshing, non-alcoholic beverage named after the famous American golfer. The traditional recipe combines equal parts of iced tea and lemonade, typically using sweet tea and tart lemonade to strike a balance.
To make one, you just need to mix together a half cup of iced tea and a half cup of lemonade, stir well, and serve over ice. You can adjust the ratio to suit your personal taste. Garnish with a lemon slice for an extra touch!
Don't want all the extras in a recipe post? We provide a skip to recipe button in the top left corner, as well as a clickable table of contents, just below, to help make this page easier to navigate.
Lemonade Iced Tea
Arnold Palmer (1929–2016) was one of the most iconic players in the history of golf. He was not only known for his exceptional skill on the greens, but also for his charismatic personality which significantly popularized the sport during his time. His career spanned more than six decades, during which he won numerous events on both the PGA Tour and the circuit now known as the PGA Tour Champions.
As for the Arnold Palmer drink, the story goes that Palmer himself was its creator. The golfer had a personal preference for a drink that mixed iced tea and lemonade, and he often ordered it at restaurants and country clubs. According to his official website, Palmer's eponymous beverage came about during the late 1960s. He was overheard ordering his usual drink mix at a bar, and a nearby woman, intrigued by the order, decided to have "that Palmer drink," and so the name caught on.
The exact ratio of iced tea to lemonade in an Arnold Palmer drink can vary, but Palmer himself reportedly preferred a mix that featured more iced tea than lemonade - around three parts iced tea to one part lemonade. The refreshing nature of the drink and its association with the beloved golfer helped it gain widespread popularity, and it remains a common beverage choice in many parts of the world, particularly in the United States.
How to Make Arnold Palmer Drinks
To make this recipe, we will need the following ingredients:
Iced Tea: Traditionally, this is unsweetened black tea, though you can use any kind you prefer. The tea provides a robust, slightly bitter base that helps to balance out the sweetness of the lemonade.
Lemonade: Freshly squeezed lemons, sugar, and water create a sweet and tangy lemonade. This brings a refreshing acidity and sweetness to the drink that complements the more bitter and subtle flavors of the tea.
Sliced Citrus: Slices of lemon or other citrus fruits like lime or orange can be added for garnish. They infuse a bit more citrus flavor into the drink and add a beautiful visual appeal.
Mint Leaves: Fresh mint leaves add an extra layer of refreshment and complexity to the drink. Mint has a cooling effect that pairs wonderfully with the tart lemonade and bitter tea.
Once you've gathered your ingredients, we will use this process:
Make the lemonade: Heat the sugar and 2 cups of water in a saucepan over medium heat, stirring occasionally, until sugar is dissolved. Let cool completely. Add the lemon juice and lemon zest to the cooled sugar water. Combine the sugar lemon mixture with the remaining 4 cups of water.
Make the iced tea: Bring a saucepan with the sugar and ? cup of water to a simmer. Stir to dissolve the sugar. Add the tea bags to the saucepan and and let seep for 10 minutes. Remove the tea bags and taste mixture. If you want it sweeter try adding a bit of honey. Add the remaining water to the tea and refrigerate about an hour or until mixture is completely cooled.
Mix: Combine the iced tea and lemonade to create the classic Arnold Palmer.
Enjoy! Pour Arnold Palmer mixture over ice and garnish with lemon slices and fresh mint.
Tips and Tricks for Perfect Arnold Palmers
Use Fresh Ingredients: Nothing beats the taste of fresh lemons. Use freshly squeezed lemon juice instead of the bottled variety to create your lemonade. The quality and freshness of your tea will also make a big difference in the final product.
Brew Strong Tea: Since you'll be mixing the tea with lemonade and ice, it helps to brew your tea a bit stronger than usual. This ensures the tea flavor doesn't get lost.
Sweeten to Taste: When making your lemonade, start with less sugar than you think you'll need. You can always add more, but you can't take it away once it's mixed in. Everyone's sweetness preference varies, so adjust to your liking.
Chill Your Ingredients: Ensure both your tea and lemonade are thoroughly chilled before combining. This helps maintain a cool temperature throughout and prevents the ice from melting too quickly and diluting your drink.
Ratio Adjustments: The traditional Arnold Palmer has an even 50/50 ratio of iced tea to lemonade. However, feel free to adjust this ratio to your personal preference. Some people prefer a little more tea, while others want a more pronounced lemon flavor.
Add Extras: Experiment with your Arnold Palmer by adding in extra flavors. A splash of flavored syrup (like raspberry or peach), a bit of ginger, or even some muddled berries can add an interesting twist to the classic recipe.
The Right Ice: Use large ice cubes, if possible. They melt slower, keeping your drink cold without watering it down too quickly.
Garnish: Don't underestimate the impact of a good garnish. Aside from mint leaves and lemon slices, you could also consider adding in a few fresh berries or a slice of other citrus fruits for an added touch.
FAQs
What is an Arnold Palmer drink?
An Arnold Palmer is a non-alcoholic beverage that combines iced tea and lemonade. The drink is named after the famous golfer, Arnold Palmer, who was known to request this combination at restaurants.
What is the ratio of iced tea to lemonade in an Arnold Palmer?
The traditional Arnold Palmer drink has a 50/50 ratio of iced tea to lemonade. However, some people prefer to adjust this ratio to their taste. Arnold Palmer himself preferred a ratio of ⅔ iced tea to ⅓ lemonade.
Can you use any type of iced tea in an Arnold Palmer?
The classic Arnold Palmer is made with black tea, but you can use any type you prefer. Green tea, white tea, or even herbal teas like hibiscus or chamomile can be used for a twist on the classic.
Is there alcohol in an Arnold Palmer?
A traditional Arnold Palmer drink is non-alcoholic. However, variations exist that include alcohol, such as the "John Daly" cocktail, which includes a shot of vodka.
How do you sweeten an Arnold Palmer?
Typically, the only sweetener in an Arnold Palmer comes from the sugar used to make the lemonade. However, if you like your drink sweeter, you can add sugar or a sugar substitute directly to the drink, or use sweetened iced tea.
Can I add other flavors to an Arnold Palmer?
Absolutely. You can add other fruits like peaches, raspberries, or strawberries for a fruity twist. Herbs such as mint, basil, or even lavender can also add interesting flavors.
Whats the best way to serve an Arnold Palmer?
An Arnold Palmer is best served chilled, over ice. You can garnish with a lemon wheel, a sprig of mint, or any fruit that complements the flavors in your drink.
What to Serve With Arnold Palmers
This lightly sweet summery drink pairs perfectly with lots of dishes, including:
Barbecue: The tangy, sweet nature of Arnold Palmer drinks makes them perfect for pairing with smoky barbecue meats like ribs, pulled pork, or brisket.
Sandwiches: Arnold Palmers can cleanse the palate between bites of rich, hearty sandwiches. Consider a classic club, turkey and avocado, or even a flavorful panini.
Grilled Foods: The drink's cool, refreshing quality complements the charred flavors of grilled foods, such as burgers, chicken, fish, or vegetables.
Salads: A cold Arnold Palmer can offset the fresh crispness of a garden salad or the creaminess of a Caesar salad.
Spicy Foods: The Arnold Palmer is great at tempering spicy flavors. Consider pairing it with spicy Asian or Mexican dishes.
Picnic Foods: The Arnold Palmer is perfect for outdoor dining. Consider serving it with classic picnic foods like fried chicken, potato salad, or fresh fruit.
Seafood: Its citrus notes can complement many types of seafood, such as grilled shrimp, fried fish, or a seafood boil.
Desserts: Arnold Palmers are excellent with many types of desserts, especially those with fruit, like a berry tart or lemon bars.
For more summery ideas, check out some of our grill and smoker recipes:
Arnold Palmer Drink Recipe
If you love this easy recipe please click the stars below to give it a five star rating and leave a comment! Please also help me share on facebook and pinterest!
Click here to view the web story for this recipe!
CONNECT WITH SWEET C'S!
Be sure to follow me on social media, so you never miss a post!
Facebook | Twitter | Youtube | Pinterest | Instagram
Only have 30 minutes to get dinner on the table? Sign up for my 30 minute dinner plans direct to your inbox!
Find and shop my favorite products in my Amazon storefront here!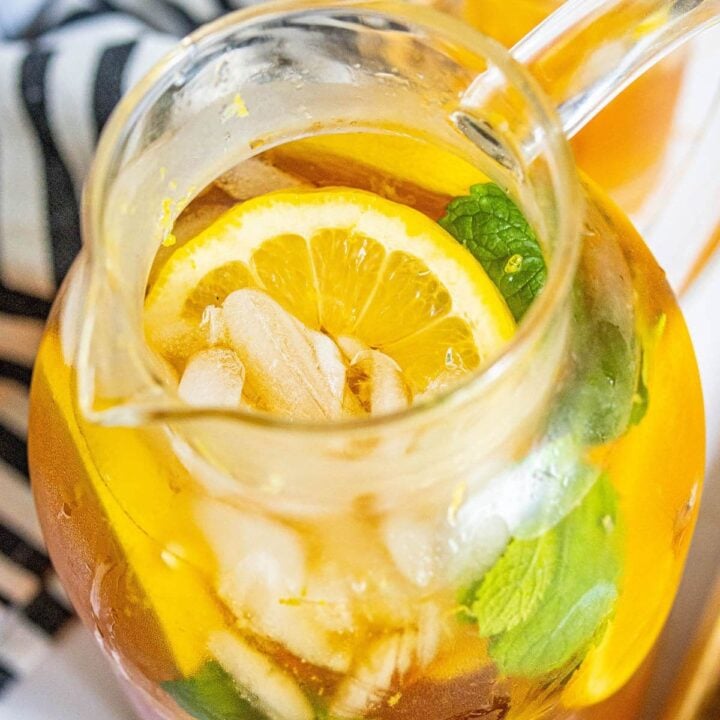 Yield:

8
Arnold Palmer Recipe
Delicious lemonade and iced tea mix that is perfect for a summer day!
Ingredients
7 cups of water
3 bags black tea
¾ cup sugar
¾ cup fresh lemon juice
3 teaspoon lemon zest
Ice
Lemon slices and fresh mint, to garnish
Instructions
In a saucepan combine the sugar with 3 cups of the water. Heat and stir until sugar is dissolved.
Bring water to a boil, add the tea bags and set it aside.
After 10 minutes remove tea bags and let sugar tea mixture cool.
Once cooled add the fresh lemon juice and zest. Add remaining water.
Pour Arnold Palmer mixture over ice and garnish with lemon slices and fresh mint.

Recommended Products
As an Amazon Associate and member of other affiliate programs, I earn from qualifying purchases at no extra expense to you.
Nutrition Information
Yield
8
Serving Size
1
Amount Per Serving
Calories

82
Total Fat

0g
Saturated Fat

0g
Trans Fat

0g
Unsaturated Fat

0g
Cholesterol

0mg
Sodium

10mg
Carbohydrates

22g
Fiber

1g
Sugar

20g
Protein

0g
Nutrition is automatically calculated by Nutritionix - please verify all nutrition information independently and consult with a doctor or nutritionist for any and all medical and diet advice.