Easy Chocolate Chinese Five Spice Cake Recipe
Dec 04, 2019, Updated Mar 01, 2023
Easy Chocolate Chinese Five Spice Cake Recipe – bring your Holiday dinner a global flare with The Spice Hunter's Chinese Five Spice blend and tons of rich chocolate!
This post is sponsored by The Spice Hunter and includes tracking links. For more information about tracking links and how to opt out, please visit All About Do Not Track prior to clicking any links found in this post.
I love to partner with brands I use and believe in to bring fresh flavors and new ideas that I love to my readers.
Your trust is of the utmost importance to Sweet Cs, and we only partner with brands we use everyday in our kitchen.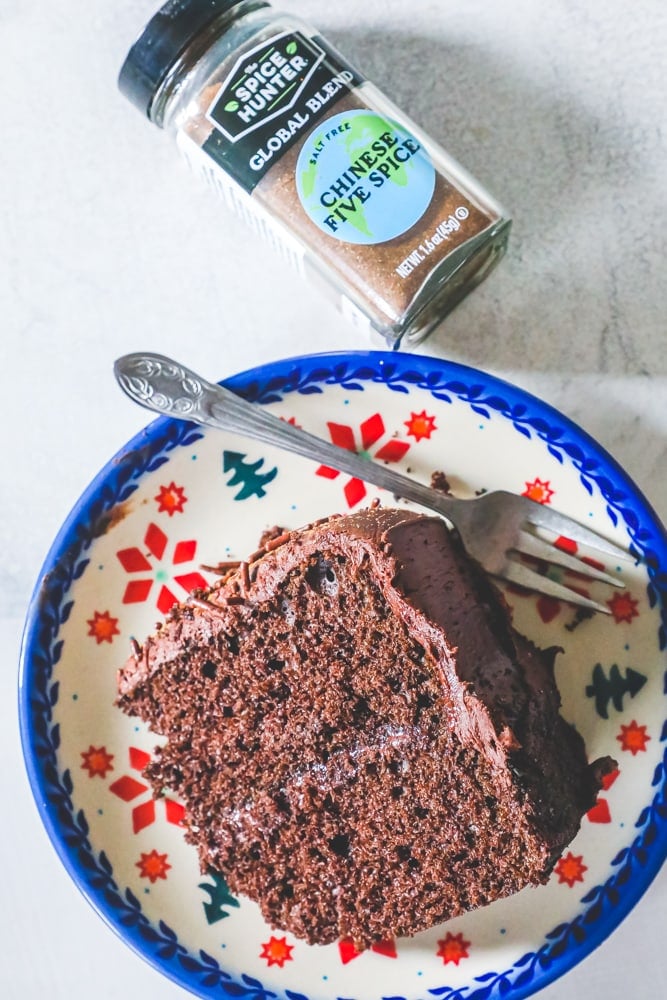 This Chinese Five Spice Chocolate Cake Recipe is loaded with rich, delicious holiday flavors like clove, fennel, star anise, and cinnamon – with a bit of zip from pepper!
Five spice is a bit earthy, a bit spicy (thanks to the clove and pepper), and has a ton of holiday flavor that pairs perfectly with a rich, decadent chocolate cake to bring a lot of layers of flavor the whole family will love!
This chocolate cake is a great addition to your holiday table – it is easy, but totally unique and sure to become the star of your dinner!
JUST TAKE ME TO THE FIVE SPICE CHOCOLATE CAKE RECIPE ALREADY!
I get a lot of questions and comments on my site, since I have readers from all levels of comfort and experience in the kitchen.
As a commitment to readers of Sweet C's, I try to put as much helpful information as possible into my posts.
If you would rather skip over this information, please scroll to the bottom where you will find the easy printable recipe.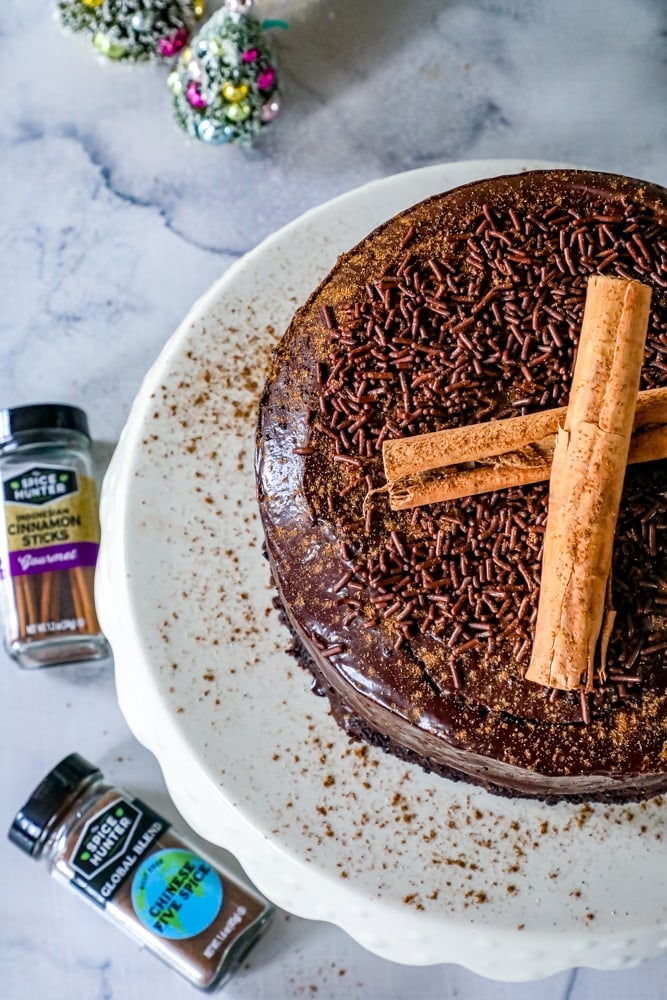 EASY WAYS TO BRING GLOBAL FLAVOR TO YOUR HOLIDAYS
The Spice Hunter's Global Blends bring you flavors from across the world in easy to use mixes of herbs and spices – simply shake and enjoy delicious world-cuisine inspired recipes in your own home.
Cooking a Holiday meal can be stressful – but it doesn't need to be!
The Spice Hunter makes bringing rich, layered, globally inspired flavors to your dinner table quick – with Global Blends for any recipe!
To save time this holiday season, I recommend preparing as many dishes ahead of time as possible.
Things like preparing rolls and chilling them until it is time to bake, pre-baking pies, assembling dishes that are ready to cook and storing, prepped, until cook-time can save yourself from hours of frustration in the kitchen.
The Spice Hunter makes bringing flavor just as easy to your recipes – with perfectly balanced Global Blends that make bringing a delicious global twist to your favorite holiday dishes as simple as a couple shakes of the bottle!
With plenty of preparation, you can save tons of time on holidays by preparing dishes ahead of time – like this Chinese Five Spice Cake that is perfect when chilled ahead of serving – using ingredients with tons of fresh flavors – like The Spice Hunter's Global Blends – to cut down on prep work without sacrificing flavor!
WHAT IS CHINESE FIVE SPICE
The Spice Hunter's Chinese Five Spice Blend consists of star anise, cloves, cinnamon, fennel, black pepper.
This cake has just the right amount of spice – it is unique and flavorful – but balanced with chocolate so picky eaters can ease themselves into trying different flavor combinations from across the globe.
While we're using this Chinese Five Spice blend in a cake – it is traditionally used to flavor duck, pork, chicken, and fish – but is delicious in desserts, too!
The clove, cinnamon, star anise, and fennel pull out a rich chocolate flavor – and the pepper gives a little unexpected zip to this cake, especially paired with notes of coffee and rich buttermilk.
To find The Spice Hunter's products please click here.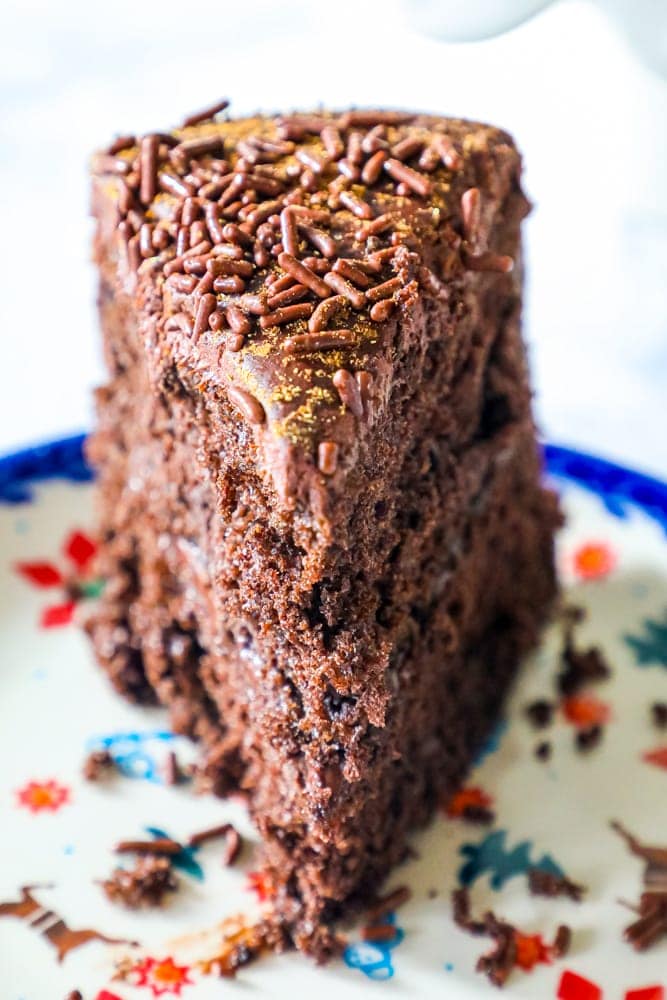 CHINESE FIVE SPICE SEASONED SALT
While we're not using this application in this cake, one of my favorite ways to incorporate Chinese Five Spice into my cooking is by preparing a simple seasoned salt – it is a great way to bring the Chinese Five Spice flavor to the rest of your Christmas dinner, before you serve the cake!
Simply toast the blend of salt and five spice listed below, and place in a shaker to add to meats, vegetables, french fries, and fish – it's even great as a popcorn topper for the holidays!
In a small pan, lightly toast a 2:1 mixture of salt to Chinese Five Spice until fragrant.
Do not let seasoned salt burn.
Let fully cool and place in a shaker, top meats, fish, side dishes, or other recipes as desired!
EASY CHOCOLATE CHINESE FIVE SPICE CAKE RECIPE
If you love this easy chocolate Chinese Five Spice cake recipe as much as I do, please give it a five star rating and help me share on facebook and pinterest!
CONNECT WITH SWEET C'S!
Be sure to follow me on social media, so you never miss a post!
Only have 30 minutes to get dinner on the table? Sign up for my 30 minute dinner plans direct to your inbox!
Find and shop my favorite products in my Amazon storefront here!
Easy Chocolate Chinese Five Spice Cake Recipe
Additional Time:
1 hour
30 minutes
Total Time:
2 hours
10 minutes
Easy Chocolate Chinese Five Spice Cake Recipe – bring your Holiday dinner a global flare with The Spice Hunter's Chinese Five Spice blend and tons of rich chocolate!
Ingredients
1 cup, all purpose flour
1/2 teaspoon baking powder
1/2 teaspoon baking soda
1/4 teaspoon celtic or kosher salt
2 tsp The Spice Hunter Chinese Five Spice Blend
2/3 cup finely chopped or grated bittersweet chocolate
1/4 cup brewed coffee or espresso, chai tea, or apple cider vinegar (if you don't have coffee on hand)
1/2 cup buttermilk
1 teaspoon vanilla extract
1 large egg
1 cup sugar
For The Ganache:
1 cup heavy cream
12 oz semi-sweet chocolate chips
Instructions
Preheat oven to 350 degrees Fahrenheit.
Whisk the flour, baking powder, salt, The Spice Hunter Chinese Five Spice Powder and baking soda in a bowl.
In a small bowl, mix the coffee (or chai tea/apple cider vinegar) and diced chocolate.
Stir vigorously until the chocolate has fully melted – don't leave any lumps of chocolate.
Add vanilla extract and buttermilk to mixture, and blend well.
Set mixture aside.
In a large bowl, beat the egg and sugar in a bowl until light and airy, about 3 minutes.
Add the chocolate mixture and mix well with a large spoon.
Add the flour mixture and stir until fully mixed with no lumps.
Pour mixture into two greased 9-inch round cake pans (I prefer to use cake spray for the easiest release – but you can also line the pan in parchment paper or use silicone cake pans.)
Place cake pans in oven and bake at 350 degrees Fahrenheit.
Bake for 30 minutes or until a skewer inserted into the center comes out clean.
Remove cake pans from oven and let cool fully to room temperature.
Remove from cake pans when pans are cool to the touch, let sit on cooling rack at least another hour. Chocolate ganache will melt if cake is still warm.
Begin to make ganache by gathering a medium sized nonstick pan and large bowl.
Heat heavy cream to boiling.
Pour over chocolate chips and let sit for 4-5 minutes – do not stir.
Whisk the mixture until it thickens and becomes a rich, dark chocolate brown.
Pour a small amount of ganache over top of one layer of cake and top with other layer. Let set as ganache cools.
Let ganache cool to room temperature, so it is thick and can be spread instead of poured over cake.
Generously coat cake in ganache, running a flat spatula along the sides and top to make a smooth cake.
Top with chocolate sprinkles and Spice Hunter Cinnamon Sticks, and a very light dusting or five spice powder or cinnamon sugar.
Chill for 2 hours, up to two days before serving.
Cut into slices and serve.
Recommended Products
As an Amazon Associate and member of other affiliate programs, I earn from qualifying purchases at no extra expense to you.
Nutrition Information
Yield

12
Serving Size

1
Amount Per Serving
Calories

389
Total Fat

22g
Saturated Fat

13g
Trans Fat

0g
Unsaturated Fat

7g
Cholesterol

39mg
Sodium

137mg
Carbohydrates

47g
Fiber

4g
Sugar

33g
Protein

5g
Nutrition is automatically calculated by Nutritionix - please verify all nutrition information independently and consult with a doctor or nutritionist for any and all medical and diet advice.