5 Simple ingredients turn this one pan tuscan pork loin into an everyday star that the whole family loves. Gluten and grain free, and suitable for paleo/whole 30 diet plans.
Don't want all the extras in a recipe post? We provide a skip to recipe button in the top left corner, as well as a clickable table of contents, just below, to help make this page easier to navigate.
Simple Quick One Pan Tuscan Pork Loin
I didn't grow up eating pork. I have always really loved pork, especially pork tenderloin- but we didn't have much of it growing up because my dad is crazy and has issues with a lot of different meats (it's a texture thing- he gets creeped out easily by basically anything that isn't ground beef!). Since I don't have a ton of recipes built up from childhood, (and I am trying to be more forceful with my kids and make them eat what I make them, thankyouverymuch) I've been stockpiling easy, fresh, and delicious preparations I love. This Tuscan Pork Loin was an instant hit with us- and it is so good, I'm going to force my dad to try some the next time he's visiting.
Not only does using one pan to cook the entire meal in fill the meat up with flavor- but the method we're using to cook the pork loin quickly at high heat keeps it juicy and from being tough and overly dry- which let's face it, turns anyone off pork, whether they are picky or not.
How to make One Pan Tuscan Pork Loin
First you want to assemble the following ingredients:
Pork Loin - pork is a great meat because it is juicy, has a great texture and is easy on your wallet.
Sea salt - I always use a fine grain high quality sea salt. The salt will season the tenderloin which will in turn season the whole dish.
Black pepper - fresh ground black pepper adds some heat and kick to this dish.
Onion - onion gives a nice, sweet background to this pork loin. Make sure you cook them long enough that they start to brown.
Garlic - garlic packs a big punch that will define this dish.
Cherry tomatoes - these tomatoes will help form a little Tuscan sauce when softened. Use red or a mixed variety.
Lemon – thinly sliced lemons give you a bright bite that compliments the tomatoes, onions, and garlic.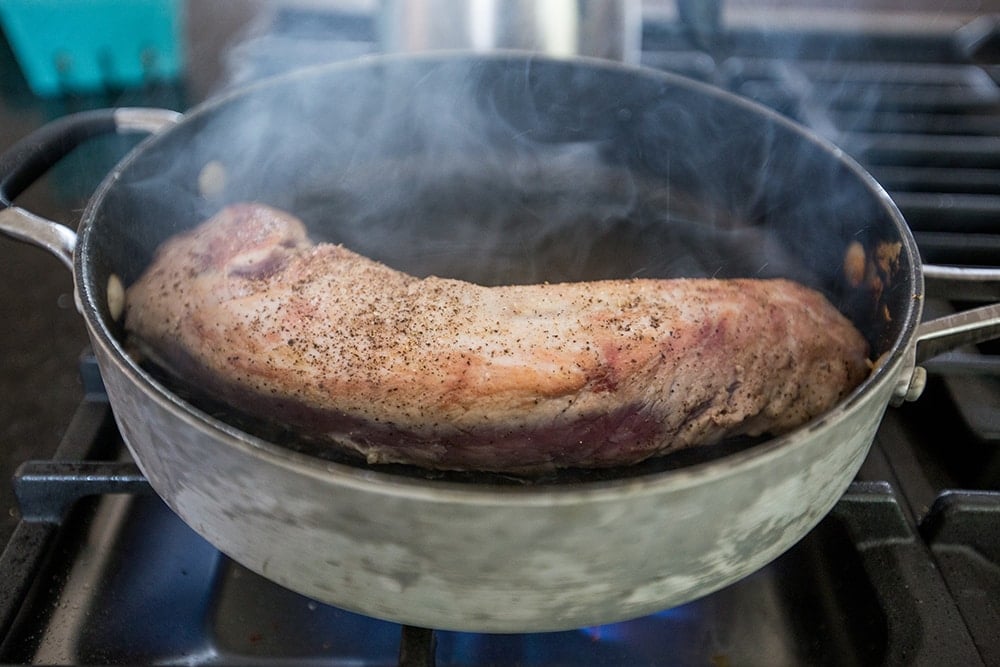 Once you have assembled the ingredients use this method
Season and brown the meat. Season the tenderloin with the salt and pepper. Heat a heavy oven proof pot on the stove and brown the pork.
Add the other ingredients. Place onions in the pot and sauté until brown. Add the tomatoes, garlic, and lemon. Heat until tomatoes pop.
Bake and rest. Put the pot in the oven and cook until the meat has an internal temperature of 140 - 155 degrees. Remove from the oven then let sit, covered, at least 8 minutes. This lets juices settle. Carve and serve.
Tips and Tricks for Perfect One Pan Tuscan Pork Loin
Use an internal thermometer. The best way to guarantee a perfectly cooked pork tenderloin is by using an internal thermometer. You can find my favorite one here.
Deglaze the pan with wine. After you have cooked the onions to browning try adding a few tablespoons of dry white wine to deglaze the pan so you can get all the good flavor from the pan.
FAQs
What do you eat this with?
This tenderloin and tomatoes is perfect over a bed of rice, cous cous, potatoes, or even just a salad!
How do you keep leftovers?
Leftovers can be kept in an airtight container in the refrigerator for 3-4 days. Reheat on the stovetop in a pan for best results or in the microwave.
Sides to Serve with your Tuscan Pork Loin
Enjoy your delicious perfectly cooked pork with any of our favorite sides.
Click here for more delicious pork recipes!
One Pan Tuscan Pork Loin Recipe
If you love this easy recipe please click the stars below to give it a five star rating and leave a comment! Please also help me share on facebook and pinterest!
CONNECT WITH SWEET C'S!
Be sure to follow me on social media, so you never miss a post!
Facebook | Twitter | Youtube | Pinterest | Instagram
Only have 30 minutes to get dinner on the table? Sign up for my 30 minute dinner plans direct to your inbox!
Find and shop my favorite products in my Amazon storefront here!
Yield:

6 servings
One Pan Tuscan Pork Loin
5 Simple ingredients turn this one pan tuscan pork loin into an everyday star that the whole family loves. Gluten and grain free, and suitable for paleo/whole 30 diet plans.
Ingredients
1 ¼ lbs Pork Loin
1 tablespoon sea salt
½ teaspoon fresh cracked black pepper
1 large onion, diced
8 cloves garlic, minced
8 oz cherry tomatoes
1 lemon sliced thin
Instructions
Preheat oven to 450 degrees.
Season the pork well with the sea salt and pepper.
Heat heavy (oven-proof) pan on stove on medium high.
Add pork loin, brown all sides and remove from the pan, se aside.
Add onions to the pan and sauté until brown.
Add tomatoes, garlic and lemon. Heat on high until tomatoes pop.
Move to oven and cook until pork's internal temperature reaches 140-155 degrees (depending on how done you like your pork). About 15-20 minutes.
Let sit, covered in pan, for at least 8 minutes. This will allow pork's internal temperature to raise another 5 degrees and let the juices set.
Carve and serve. Plate with tomatoes, onions, and garlic from pan!
Recommended Products
As an Amazon Associate and member of other affiliate programs, I earn from qualifying purchases at no extra expense to you.
Nutrition Information
Yield
6
Serving Size
1
Amount Per Serving
Calories

208
Total Fat

9g
Saturated Fat

3g
Trans Fat

0g
Unsaturated Fat

4g
Cholesterol

76mg
Sodium

1210mg
Carbohydrates

6g
Fiber

1g
Sugar

2g
Protein

26g
Nutrition is automatically calculated by Nutritionix - please verify all nutrition information independently and consult with a doctor or nutritionist for any and all medical and diet advice.