Creamy Pepperoncini Chicken Skillet
Oct 16, 2017, Updated Jan 04, 2023
Creamy Pepperoncini Chicken Skillet is a delicious, hearty, tangy, and creamy dinner that is great over rice, vegetables, pasta – or on it's own!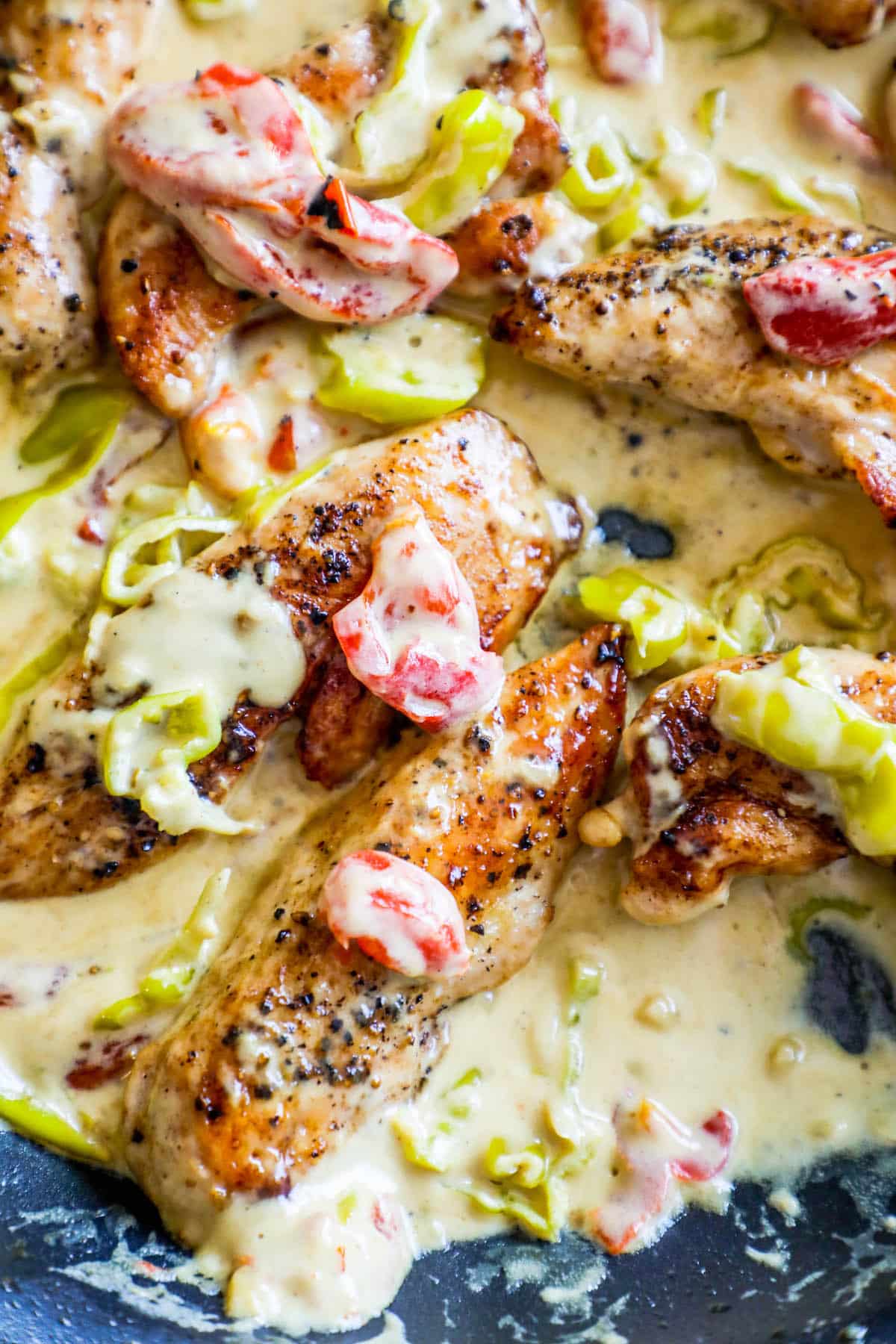 Don't want all the extras in a recipe post? We provide a skip to recipe button in the top left corner, as well as a clickable table of contents, just below, to help make this page easier to navigate.
One Pot Creamy Pepperoncini Chicken Tender Skillet
Pepperoncinis are one of my all-time favorite things to eat – I can eat a whole jar in one sitting if I really wanted to. I love the spicy, tangy zip of pepperoncini peppers – they are so delicious, and pair perfectly with so many different meals!
This skillet dinner is perfect for a low carb diet – or if you're not watching carbs, it is luxurious and decadent over pasta or rice.
How to make Creamy Pepperoncini Chicken Tender Skillet
First assemble the following ingredients:
Butter – butter is basically liquid fat and fat is flavor! Use salted butter, you can substitute with olive oil if you prefer.
Chicken – use chicken tenders since they will cook quickly in the sauce after browned. If you buy large chicken breasts, cut into thin strips
Sea salt and Pepper – salt and pepper are needed to season the chicken before it sears. Save some to season the sauce in case you need it.
Onion – white diced one adds a nice earthy flavor to this skillet.
Garlic – garlic is onions best friend, use diced or pressed.
Chicken stock – use chicken stock or chicken bone broth as the base for the sauce.
Roasted red pepper – these red peppers are sweet and will contrast the pepperoncini well. You want to drain and slice them.
Heavy cream – heavy cream gives the sauce that rich alfredo taste. Make sure you don't bring it to a boil or the sauce will split.
Parmesan cheese – parmesan has a sharp salty flavor. Use shredded or grated so it will integrate and melt evenly.
Italian seasoning – this is a mix of oregano, basil, and thyme. Feel free to mix your own.
Pepperoncini peppers – these spicy peppers are the main flavor for the sauce. You want to drain them, and you can slice, ring, or keep them whole depending on your preference.
Once you have assembled the ingredients use the following method
Season and sauté. Season the chicken with salt and pepper. Heat the butter till melted and hot and brown the chicken in it then remove from pan and set aside. Add the onion and garlic and cook till translucent and starting to brown, about 5 minutes.
Bring sauce together. Add stock and roasted red peppers then reduce to about half. Remove the pan from the heat and stir in the cream and parmesan, whisking continuously till smooth.
Combine and finish. Slowly heat sauce back to medium heat add the Italian seasoning, pepperoncini, and chicken back to the pan. Let sauce reduce till chicken is fully cooked
Serve. Remove from the heat and serve over veggie, pasta, rice, or enjoy it solo!

Tips and Tricks to Perfect Creamy Pepperoncini Chicken Tender Skillet
Control the heat. You can control how spicy your skillet ends up by adding more or less pepperoncini peppers. If you want to use less, chop them fine if you want them better distributed.
Don't let it split. If you don't want the sauce to split be careful to not bring your sauce to a boil after adding the cream.
Deglaze the pan. You can deglaze your pan after browning the onions and garlic with about 1 tbsp of white wine if you prefer for a little extra zing.
FAQs
How do you store leftovers?
Leftovers can be kept in an airtight container in the refrigerator for 3-4 days. Reheat in the microwave or oven.
What can I serve this with besides pasta?
If you want to keep this carb or gluten free you can serve this on top of/beside cauliflower rice. Get my recipe here!
What kind of pasta do you prefer serving this with?
I like to make Orzo pasta to serve this with since it soaks up the sauce really well!
Other Chicken dinners you'll love:
Winner, winner, chicken dinner! If you enjoyed this creamy pepperoncino chicken skillet you will love these other chicken favorites!
You might also enjoy some of my favorite one pot chicken recipes like Lemon Garlic Chicken Tenders, Stuffed Chicken Parmesan, Garlic Butter Chicken and Mushrooms, and Spicy Tequila Lime Chicken Fettuccine
Click here to see all our one pot recipes!

Creamy Pepperoncini Chicken Skillet Recipe
If you love this easy recipe please click the stars below to give it a five star rating and leave a comment! Pease also help me share on facebook and pinterest!
CONNECT WITH SWEET C'S!
Be sure to follow me on social media, so you never miss a post!
Only have 30 minutes to get dinner on the table? Sign up for my 30 minute dinner plans direct to your inbox!
Find and shop my favorite products in my Amazon storefront here!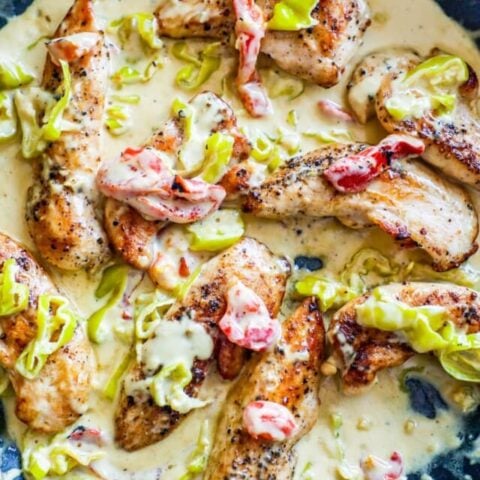 Creamy Pepperoncini Chicken Skillet
Creamy Pepperoncini Chicken Tender Skillet is a delicious, hearty, tangy, and creamy dinner that is great over rice, vegetables, pasta - or on it's own!
Ingredients
2 tbsp butter
2 lbs chicken, cut into thin strips
1 tsp sea salt
1 tsp ground pepper
1 white onion, diced
2 tbsp garlic, diced
1/2 cup chicken stock
1/2 cup roasted red pepper, drained and sliced
1 cup heavy cream
1/2 cup parmesan cheese, shredded
1 tbsp Italian seasoning
1/2 cup pepperoncini peppers, drained (sliced, ring, or whole pepper, however you like them)
Instructions
In a large, heavy pan, melt butter on medium high heat.
Season chicken with salt and pepper, add to pan.
Brown chicken on all sides, turning every couple minutes - about 8 minutes total.
Remove chicken from pan (chicken might not be fully to 165 degrees internal temperature, which is fine)
Add garlic and onion to pan, let brown, about 5 minutes.
Add stock and roasted red peppers and let reduce to half, another 5 minutes.
Turn heat off, and slowly stir in cream and parmesan, whisking vigorously as you add cream.
Slowly bring heat back to medium high, add Italian seasoning, pepperoncinis, and chicken back to pan.
Let sauce reduce to half and bring chicken fully to 165 fahrenheit internal temperature. Add more stock if needed to thin sauce as chicken cooks.
Remove from heat and serve over vegetables, pasta, rice, or on its own!
Recommended Products
As an Amazon Associate and member of other affiliate programs, I earn from qualifying purchases at no extra expense to you.
Nutrition Information
Yield

6
Serving Size

1
Amount Per Serving
Calories

565
Total Fat

41g
Saturated Fat

18g
Trans Fat

1g
Unsaturated Fat

19g
Cholesterol

203mg
Sodium

813mg
Carbohydrates

8g
Fiber

1g
Sugar

4g
Protein

41g
Nutrition is automatically calculated by Nutritionix - please verify all nutrition information independently and consult with a doctor or nutritionist for any and all medical and diet advice.
Check out my web story on this delicious and creamy pepperoncini skillet!