Instant Pot Chipotle Barbacoa Copycat
Feb 19, 2017, Updated Jan 25, 2023
Tender, juicy and delicious Instant Pot Chipotle Barbacoa Copycat – which can also be made in a slow cooker or dutch oven – tastes just like your favorite burrito shop!
Don't want all the extras in a recipe post? We provide a skip to recipe button in the top left corner, as well as a clickable table of contents, just below, to help make this page easier to navigate.
Quick Instant Pot Chipotle Barbacoa Copycat
My high school was across the street from one of the first Chipotles – growing up in suburban Denver, Chipotle was just always THE place to go for burritos.
I've long been a Chipotle addict (the Fort Collins Chipotle used to see me so much in college, I wouldn't even have to say my order- they knew exactly what I'd always get), and still am…. it is my one absolute favorite place to eat overall.
How to make Chipotle Copycat Barbacoa
First assemble the following ingredients:
Chuck roast – chuck roast is easy on your wallet and tastes delicious, see tips and tricks for other protein options.
High Heat oil – I like to use avocado oil for this recipe but you can use grapeseed or olive oil if you prefer.
Chipotles in Adobo – few things I love more than chipotles in Adobo, they are a flavor powerhouse.
Onion – onion adds a wonderful sweetness to this beef, make sure you cook them off.
Garlic – garlic has a strong aromatic flavor that compliments the beef and onion well.
Beef broth – beef broth helps enhance the flavor of the chuck roast.
Apple cider vinegar – vinegar add a nice zing and some acidity to the barbacoa sauce.
Lime juice – lime adds a wonderful acidity to this beef, you can substitute with lemon juice if you prefer.
Cumin, Oregano, Chili powder, Sea salt, Ground cloves – this mixture of spices is very common in Mexican food. The spice that makes this barbacoa is the cloves, measure carefully.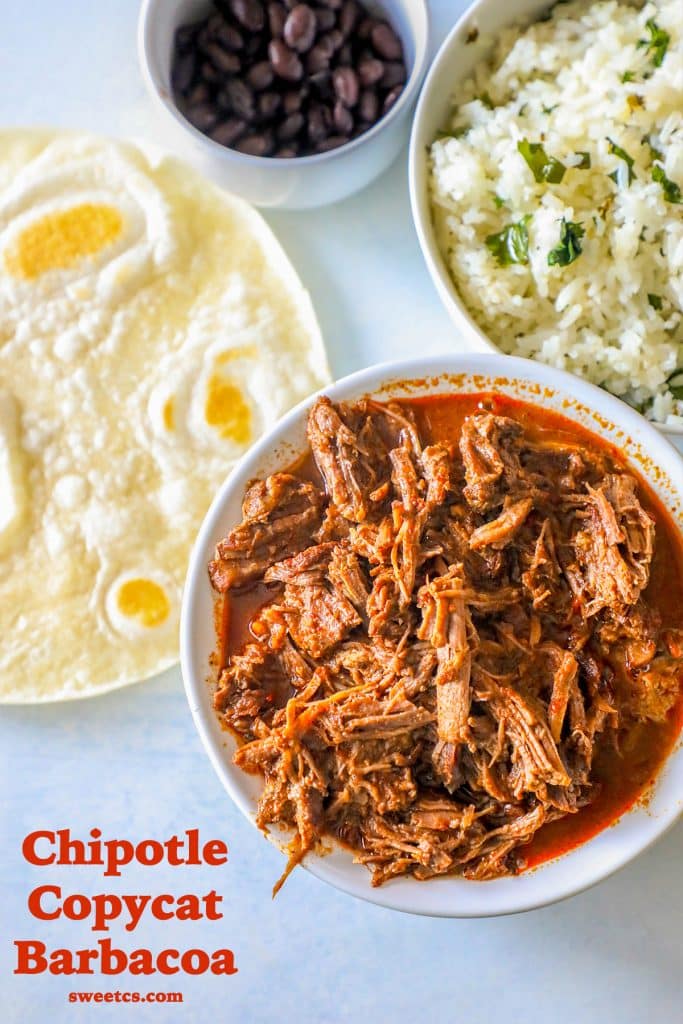 Once you have the ingredients, use the following method
Blend the sauce. In a blender combine the chipotles in adobo, onion, garlic, beef broth, vinegar, lime juice, cumin, oregano, chili powder, salt, and cloves. Blend until smooth and set aside.
In an Instant Pot. To make in an Instant pot heat the oil on "sauté" add the meat and brown it then add the sauce, set the valve to seal and cook on high pressure for 50 minutes.
In a Slow Cooker. Brown the meat in a heavy bottom pan in the oil until brown. Add to the slow cooker along with the sauce and cook on high for 6 hours until able to be shredded.
In a Dutch Oven. Heat the oil in the Dutch oven until hot then brown the meat. Add the sauce and top with the lid. Place the dutch oven on the center rack of the oven and bake at 300 degrees for 4-5 hours.
Assemble. Add the barbacoa to the tortillas and top with shredded cheese, sour cream, salsa, and any other topping you like.
Tips and Tricks for Perfect Chipotle Copycat Barbacoa
Add toppings. Don't forget to add in all your favorite toppings to make your own Chipotle Burritos at home!
Use a different protein. If you prefer chicken to beef you can substitute chicken breast or thighs in an equal amount.
FAQs
Can I freeze leftovers?
After the meat is cooked you can freeze it for 3-4 months in an airtight ziplock bags. Don't forget to mark what it is and the date you made it.
What can I use this for other than tacos?
One of my favorite ways to use this is as a topping for nachos. Set tortilla chips out on a plate or baking tray, top with some of this barbacoa meat then a heavy layer of cheese and melt in the oven or microwave. Yum!
Other amazing Instant Pot Meals
Try these other Instant Pot recipes next!
Click here to see other BBQ recipes!
Instant Pot Chipotle Barbacoa Copycat Recipe
If you love this easy recipe please click the stars below to give it a five star rating and leave a comment! Pease also help me share on facebook and pinterest!
CONNECT WITH SWEET C'S!
Be sure to follow me on social media, so you never miss a post!
Only have 30 minutes to get dinner on the table? Sign up for my 30 minute dinner plans direct to your inbox!
Find and shop my favorite products in my Amazon storefront here!
Instant Pot Chipotle Barbacoa Copycat
Ingredients
6 to 8 lbs chuck roast, boneless , trimmed of excess fat and cut into 2 inch cubes
1 tablespoon avocado or other high heat oil
6 chipotles in adobo with sauce
1 onion, peeled and roughly chopped
10 cloves garlic, peeled and roughly chopped
1 cup beef broth
2/3 cup apple cider vinegar, I use bragg's
1/2 cup lime juice
2 tablespoons cumin
2 tablespoons dried oregano
1 tablespoon chili powder
1 tablespoon sea salt
1/2 teaspoon ground cloves
6 Tortillas
Shredded cheese, sour cream, salsa (optional toppings)
Instructions
In a large blender, add adobo, onion, garlic, beef broth, vinegar, lime juice, cumin, oregano, chili powder, salt, and cloves.
Blend until smooth.
Set aside.
Pick one of the following methods:
INSTANT POT: In an instant pot, heat oil on high sauté and brown meat in small batches.
When meat is browned, add sauce from blender.
Set valve to seal and cook on high pressure for 50 minutes.
Force release, shred, and add to burritos!
SLOW COOKER: Brown meat in a heavy cast iron skillet in batches then add to slow cooker.
Add sauce to meat, cook on high for 6 hours.
When fork tender, shred and add to burritos.
DUTCH OVEN: Preheat oven to 300 degrees.
Add meat and brown, add the sauce and top with lid.
Bake for 4-5 hours, until beef is pull-apart tender.
Shred and add to burritos.
Recommended Products
As an Amazon Associate and member of other affiliate programs, I earn from qualifying purchases at no extra expense to you.
Nutrition Information
Yield

6
Serving Size

1
Amount Per Serving
Calories

752
Total Fat

15g
Saturated Fat

9g
Trans Fat

10g
Unsaturated Fat

21g
Cholesterol

30mg
Sodium

8mg
Carbohydrates

5g
Fiber

1g
Sugar

3g
Protein

50g
Nutrition is automatically calculated by Nutritionix - please verify all nutrition information independently and consult with a doctor or nutritionist for any and all medical and diet advice.