Tender, juicy and delicious Instant Pot Chipotle Barbacoa Copycat – which can also be made in a slow cooker or dutch oven – tastes just like your favorite burrito shop! 
My high school was across the street from one of the first Chipotles – growing up in suburban Denver, Chipotle was just always THE place to go for burritos.
I've long been a Chipotle addict (the Fort Collins Chipotle used to see me so much in college, I wouldn't even have to say my order- they knew exactly what I'd always get), and still am…. it is my one absolute favorite place to eat overall.
I've never been really into restaurant copycat recipes – but when I saw a Chipotle barbacoa copy, I had to try it out.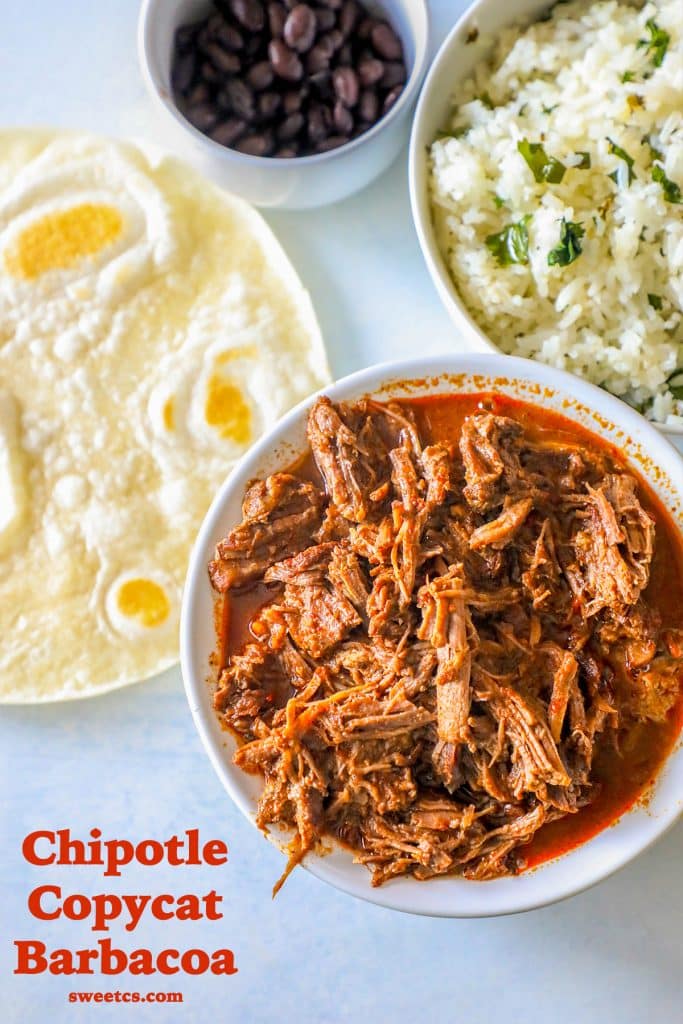 A bit of tweaking, and I found a winner!
The best part? You can make this in an Instant Pot , in a Slow Cooker, or even in a dutch oven.
It's totally flexible and SO delicious – I hope you love it as much as we do!
Don't forget to add in all your favorite toppings to make your own Chipotle Burritos at home!
If you haven't tried an instant pot yet, what are you waiting for? It is amazing to prep meals in, since it is a cross between a pressure cooker, a slow cooker, and a stovetop – you can sautee in it, use it for a slow cooker, or use it to make traditional slow-cooked meals in no time with the pressure cooker settings!
 
I broke out my brand new Vitamix Ascent (which I was generously given to try out) to make the sauce – I am always hesitant at making sauces in blenders when they are really thick (since this one doesnt have a ton of liquid and the chilies can be tough work for a packed blender blade…) but the Ascent powered through this sauce like it was nothing, and made it smooth and lump-free in seconds. I loved how the blender itself was a little more compact than the previous model Vitamix I had – it fits better in our cabinets when we aren't using it for a truly professional grade blender we love using at home!
Instant Pot Chipotle Barbacoa Copycat
Instant Pot Chipotle Barbacoa Copycat
Ingredients
6 to 8 lbs chuck roast, boneless , trimmed of excess fat and cut into 2 inch cubes
1 tablespoon avocado or other high heat oil
6 chipotles in adobo with sauce
1 onion, peeled and roughly chopped
10 cloves garlic, peeled and roughly chopped
1 cup beef broth
2/3 cup apple cider vinegar, I use bragg's
1/2 cup lime juice
2 tablespoons cumin
2 tablespoons dried oregano
1 tablespoon chili powder
1 tablespoon celtic sea salt
1/2 teaspoon ground cloves
Instructions
In a large blender, add adobo, onion, garlic, vinegar, lime juice, cumin, oreganoo, chili powder, salt, and cloves.
Blend until smooth.
Set aside.
Pick one of the following methods:
-In an instant pot, heat oil on high sautee, and brown meat in small batches.
-When meat is browned, add sauce from blender.
-Add stock, set valve to seal, and cook on high pressure for 50 minutes.
-Force release, shred, and add to burritos!
-
In a slow cooker:
-Brown meat in a heavy cast iron skillet in batches.
-Add to slow cooker.
-Add sauce to meat, cook on high for 6 hours.
-When fork tender, shred and add to burritos.
In a dutch oven:
-Preheat oven to 300 degrees.
-Add meat, and sauce, to a large dutch oven. Add stock.
-Bake at 300 for 4-5 hours, until beef is pull-apart tender.
-Shred and add to burritos.
Nutrition Information
Amount Per Serving
Calories

239
Sodium

1066mg
Carbohydrates

41g
Fiber

7g
Sugar

8g
Protein

9g