Lake Sevan, Armenia, and Sevanavank Monastery Ruins
Jul 05, 2015, Updated Sep 24, 2019
One of the largest freshwater lakes in the world, Lake Sevan and the Sevanavank Monastery Ruins overlooking it in Northern Armenia are beautiful and historically significant destinations just a few hours north of Armenia's Capitol, Yerevan. 
After our trip through Tbilisi and the Georgian countryside, we headed south to Armenia for a short but beautiful two and a half days through the wonderfully beautiful country. We didn't have nearly enough time to tour everything we wanted to in Armenia, but I am so glad we got to see a few popular destinations, including Lake Sevan. The area around Lake Sevan and Dilijan is a very popular recreational area- boasting ski areas, water sports, and fabulous mountains to explore- but we got to briefly tour around Lake Sevan and the Sevanavank Monastery ruins.
Towering above the lake are the ruins of Sevanavank Monastery- once a very strict and pious monastery meant for monks from Etchmiadzin who had sinned. Sevanavank was disassembled during soviet rule under Stalin, and the monks disbanded. There is a new monastery and seminary just down the hill from the ruins.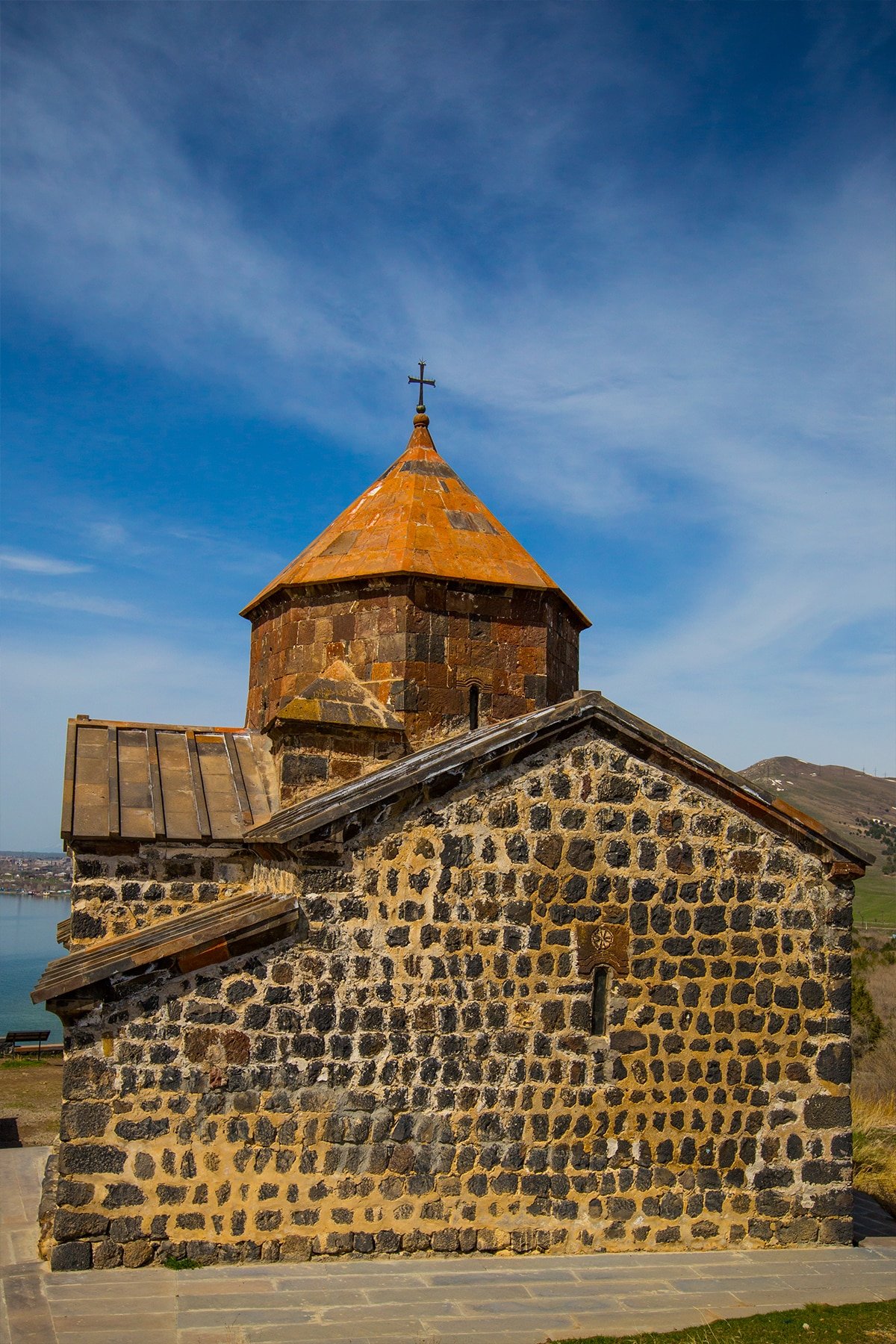 Along the peninsula with Sevanavank sits an amazingly gorgeous large home which serves as the Armenian summer presidential residence. It is secured and you can't get very close to it (nor would I want to- the Armenian military and police don't seem to mess around)- but you can get a good glimpse at the grounds from the trail behind Sevanavank.
Just to the back of the monastery ruins sit large stones with crosses and small sanctuaries. As many of the
Back down in the parking lot, there are numerous stalls of vendors selling icons, religious items, traditional Armenian goods, copper pots and cups, and other touristy knicknacks. The area is fairly poor compared to Tbilisi, rural Georgia, and Yerevan, and we did encounter many beggars- but I never felt unsafe or threatened.
A few of the people around Sevanavank tried speaking to us in Russian (Sevan is a popular destination for many Russians, and being tall and blonde, most people assumed my husband and I were Russian. In Yerevan, most people pegged us as American or British, but that is a more popular tourist destination.) Since we were traveling with a tour guide, we had it a bit easy as she translated for us whenever we needed.
How to Travel
While it is relatively inexpensive and easy to rent a car and drive in Yerevan- some people in our group did through Yerevan but they did lament that it was quite a pain- the roads around Lake Sevan (especially from the border with Georgia to the North) are in very, very rough shape. They are also very winding and steep. We toured in a motor coach with a driver, and were extremely thankful we didn't drive ourselves. I cannot express how helpful a driver is in Armenia- and quite affordable.
We used Silk Road Armenia for our tour, and were lucky to have Anahit Avagyan as our guide. Anahit was well organized, super knowledgeable, and so sweet. I'd definitely recommend traveling with her!
What to See
Sevanavank Monastery- take about an hour to tour the grounds, explore the former churches, and hike the trail behind the monastery.
Browse local goods and incredibly affordable copper items produced with local Armenian copper.