The Best Broiled Tri Tip Steak Recipe - the secret to tender, juicy low carb and keto compatible tri tip steak in a Ninja Foodi or your oven!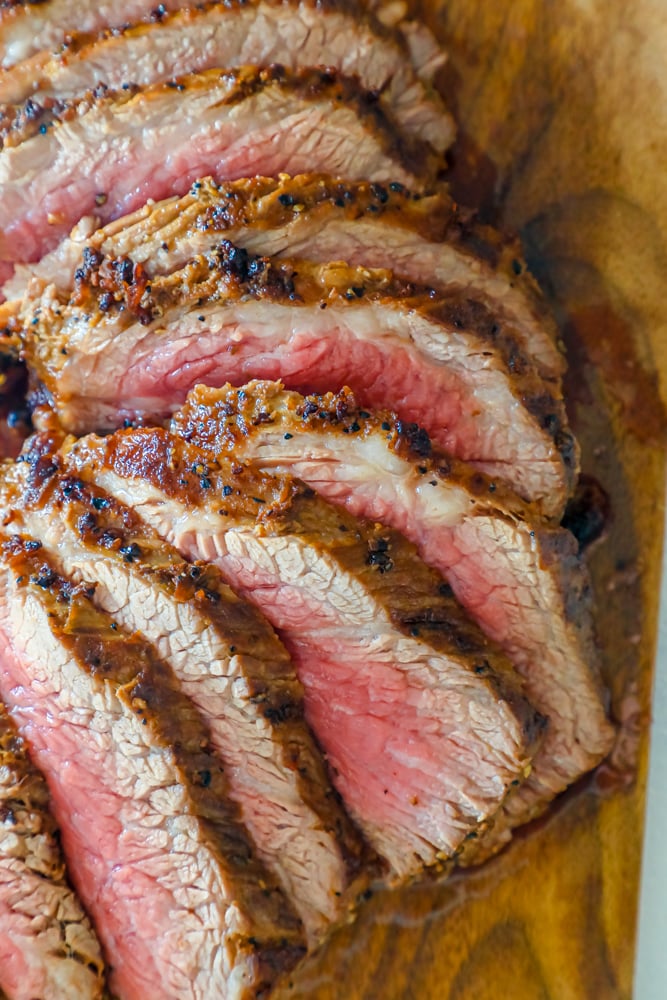 I love delicious, juicy, and tender steak - its hearty, filling, and great for meal prep for sandwiches, salads, wraps, or a low carb lunch that will power you through the week.
Ninja Foodi Broiled tri tip steak is one of my favorites for easy dinners and meal prep - it's less expensive, it is easy to cook, and you can buy it in bulk for much less from warehouse stores.
I'm showing you how I make this steak in my Ninja Foodi - but also how to make a knockout broiled tri tip in the oven if you don't have a Ninja Foodi.
(Ps - you can order a ninja foodi here with my affiliate link - it is like a pressure cooker, broiler, air fryer, slow cooker, and extra stove all in one!)
This easy broiled tri tip steak recipe is perfect for people who don't have a grill, but want a perfect crunchy crust on their steaks - using a Ninja Foodi or your oven's broiler, for perfect steak that you'll want to eat every night of the week - but is great to serve at parties, coookouts, and more!
We will be making this for the big game - I hope you love it as much as we do!
Just Take Me To The Broiled Tri Tip Steak Recipe Already!
I have readers of all level comfort and skill in the kitchen on Sweet C's - and as a commitment to my loyal readers, I put a lot of information in my posts so they can make these recipes perfectly, everytime.
If you would rather skip, please click "skip to recipe" in the top left corner above, or simply scroll to the bottom of the page.
Ninja Foodi Broiled Tri Tip Steak
Since getting a Ninja Foodi, we've been cooking up tons of meat we usually save for grilling season.
The Ninja Foodi makes broiling meat SO easy and quick - with almost no prep or cleanup work, unlike oven broiling or grilling.
If you don't have a Ninja Foodi, I strongly reccomend one! It's like an air fryer, spare broiler, pressure cooker, extra burner, and slow cooker all in one.
You can buy a Ninja Foodi with my affiliate link here.
How to Broil Steaks in Ninja Foodi
-Use the Broiler Lid.
The Ninja Foodi uses two lids - a pressure cooker lid, and a lid with broiler coils built in. To broil steaks that come out crunchy outside and tender in the middle - like a grill would - in a ninja foodi, use the broiler lid and not the pressure cooker lid.
-Use the Broil Setting.
Since we're looking to broil and crisp, not pressure cook or air fry this steak, please use the broil setting at the highest temperature your Ninja Foodi goes to.
-Preheat the Ninja Foodi
Preheat your Ninja Foodi for 5-10 minutes using the broil function before placing your steaks in the basket. Steaks should sizzle when placed in basket. We want to cook the steaks as hot and fast as possible - and preheating is essential.
-Use broiler basket.
The broiler basket helps circulate airflow to your steaks, so it crisps on the bottom and sides, as well as the top of the steak underneath the broiler lid.
-Flip steak as it cooks.
I like to flip my steaks halfway through cooking, to get an even crust built up all around the steaks.
If your steak is particularly fat on the sides, you can also rotate while it's cooking to crisp those too.
Unlike a pressure cooker, you can adjust the food inside the Ninja Foodi when using the broil function with the broiler lid.
Oven Broiled Tri Tip Steak
Since this recipe uses the broil function of the Ninja Foodi, it also can be easily made in your oven if you don't have a Ninja.
These tips will help you get a delicious, juicy, and tender tri tip steak from your oven's broiler - no grill needed.
-Preheat your oven.
We're trying to cook this steak hot and fast - making preheating your oven essential. I personally place the baking sheet and metal rack or grill pan in the oven while preheating, and placing the steak on top after preheating so it sizzles as it goes into the oven.
-Let steaks come to room temperature.
Getting the perfect crispy crust on your steaks - like you'd get from a grill - is much easier with room temperature steaks. Let them rest from the refrigerator and come to room temperature as long as you can. This step isn't necessarily mandatory, but it will get you better results.
-Flip steaks.
For even cooking, especially in your oven where you don't have circulating air flow like the Ninja Foodi, you need to flip your steak once or twice while cooking so it can form a crunchy crust on both sides.
-Cook on metal rack over baking sheet OR in a grilling pan.
Placing steak directly on a baking sheet can encourage the steak to sort of "boil" on the side that is on the baking sheet by cooking in fat that renders. If we were cooking these steaks in a pan on the stove that would be ideal - but in the oven with the broiler.
You can also use a cast iron grilling pan - the kind with raised ridges similar to a grill, where the fat will drop down so the steaks don't sit in it - which will also give you grill marks similar to a bbq grill.
-Set broiler as high as possible.
Tri tip steak is most tender and delicious when cooked very hot and fast - so set your broiler to the maximum temperature it will go to. 500 degrees isn't possible on all ovens to broil at, but if yours will broil at 500, set it to that. If not, your broiler should at least be set to 450 degrees.
-Adjust oven racks.
Since steak can give off a lot of sputtering grease under a broiler, I reccomend placing the oven rack a bit lower underneath the broiler - give yourself about 6" of space at the least, especially with an electric broiler coil. This will help cut down on excess smoke or the (somewhat remote) possibility of a grease fire.
What To Serve With Tri Tip Steak
Tri tip steak is a delicious keto dinner or great for meal prep - I am rounding up my favorite sides to serve alongside trip tip:
Other Easy Steak Dinners You'll Love
If you love this easy delicious tri tip steak please check out my other steak dinner recipes! From skillet favorites like cajun steak bites with shrimp, to broiled ribeyes - theres a ton of hearty, meaty steak dinners!
Easy Steak Rub Recipe
If you don't have a favorite steak rub (I personally love to use Goya Adobo as my steak rub, or sometimes a Cajun rub/blackened spices mix), you can whip up an easy steak rub that is perfect over this tri tip steak recipe.
Simply mix the spices below in a small bowl and transfer to a glass container with a lid, or a plastic bag, for future use.
When using to season steaks, plan for about 2 tablespoon rub for a tri tip steak - add a little more for even more flavor.
The Best Ninja Foodi Broiled Tri Tip Steak Recipe
If you love this easy broiled tri tip steak recipe as much as I do, please give it a five star review and help me share on Facebook and Pinterest.
CONNECT WITH SWEET C'S!
Be sure to follow me on social media, so you never miss a post!
Facebook | Twitter | Youtube | Pinterest | Instagram
Only have 30 minutes to get dinner on the table? Sign up for my 30 minute dinner plans direct to your inbox!
Find and shop my favorite products in my Amazon storefront here!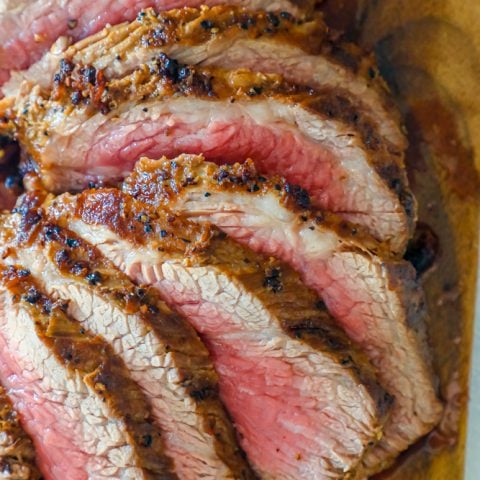 Yield:

6
Best Broiled Tri Tip Steak
Delicious tri tip steak is a wonderful dinner and keto friendly!
Ingredients
2 lbs whole tri-tip steak with silver skin removed
2 tablespoon steak rub, Goya Adobo is my favorite
Instructions
To cook in a Ninja Foodi:
Season steaks and let sit on kitchen counter for 30 minutes to bring closer to room temperature.
Preheat Ninja Foodi - set on broil with broiling rack for 5-10 minutes.
Carefully place steaks on the racks (they should sizzle) and broil for 5-8 minutes per side (for medium rare, cook for 5 minutes per side. Cook 8 minutes for medium well. Adjust as needed for your preferred doneness.)
Flip steaks and broil for another 5-8 minutes.
Remove steaks from the Ninja Foodi and allow to rest on a cutting board, tented with foil, for at least 10 minutes before cutting into the steak.\
To Broil In Oven:
Season steaks and let sit on kitchen counter for 30 minutes to bring closer to room temperature.
Preheat oven broiler - set on broil with baking sheet and metal rack OR cast iron grill pan in oven to preheat.
Carefully transfer room temperature steaks to pans that have been preheating under broiler, and broil for 7 minutes (for medium rare, cook for 7 minutes. Cook 10 minutes for medium, and up to 12 minutes per side for well done. Adjust as needed for your preferred doneness.)
Flip steaks and broil for another 7-10 minutes.
Remove steak from the oven and let rest, tented with foil, for at least 10 minutes before slicing to serve.
Cut steaks against the grain and slice thin for best results.
Serve immediately or refrigerate for meal prep.
Recommended Products
As an Amazon Associate and member of other affiliate programs, I earn from qualifying purchases at no extra expense to you.
Nutrition Information
Yield
6
Serving Size
1
Amount Per Serving
Calories

335
Total Fat

18g
Saturated Fat

0g
Trans Fat

0g
Unsaturated Fat

1g
Cholesterol

130mg
Sodium

95mg
Carbohydrates

0g
Fiber

0g
Sugar

0g
Protein

41g
Nutrition is automatically calculated by Nutritionix - please verify all nutrition information independently and consult with a doctor or nutritionist for any and all medical and diet advice.
Other Sweet C's Favorite Recipes
If you love this easys keto tri tip steak recipe please check out some of my other favorite recipes here on Sweet C's!
These recipes are fan favorites and have been raved about hundreds of times - most are low carb, and all are easy and delicious!
Sweet C's Favorite Recipes
Favorite recipes from Sweet Cs Designs