The Best Easy Pina Colada Recipe - frozen pineapple and coconut cocktail with rum - this fresh fruit recipe tastes a million times better than pina colada mix!
This post is sponsored by Princess Cruises, and contains affiliate links. All opinions are 100% my own.
Click to find the best Princess Cruises Offers
to book your own cruise!
I was invited to come along with the Caribbean Princess on a cruise through the eastern Caribbean - a 7 day trip from Fort Lauterdale, stopping in Princess Cays Bahamas, San Juan Puerto Rico, Amber Cove Dominican Republic, and Turks and Caicos.
The trip was a complete dream - a week away with my best friend from high school for tons of laughter, relaxing, and tons of fresh, delicious island drinks!
While in Puerto Rico, we even got to stop at the home of Pina Coladas, where they were first made.
Where Were Pina Coladas Invented
While touring through San Juan with friends, we were walking back from the gorgeous Fortaleza street looking for a great spot to stop for lunch, and stumbled upon a sign for the place the Pina Colada was first made – and decided to duck in to Barrachina for some drinks and mofongo!
Click here to get my easy mofongo recipe inspired by our lunch at Barrachina!
Barrachina is where Pina Coladas were first made in 1963 by Don Ramon Portas Mingot.
Barrachina is on Fortelaza street - just up from the ever Insta-popular umbrella street installation.
When we visited, Fortelaza Street was covered by bright pink umbrellas in honor of International Womens Day - it made for a bright and colorful spot for photos!
and I think it's perfectly fitting that the gorgeous umbrellas over Fortaleza street are so close to a restaurant known for inventing the frosty fruit cocktail that is often topped with a paper umbrella!
What Rum To Use in Pina Colada
What rum you use in your pina colada will vary a lot based on your own personal tastes - but for me, I like a light rum with a slightly sweet flavor that compliments the sweetness of pineapple in a pina colada without overpowering it.
Some people like a smoky kick, some people a super-sugary dark rum - but I prefer to use Bacardi Silver, since the flavor is the most balanced for an authentic Puerto Rican Pina Colada.
The Best Princess Cruise Cocktails
Princess Cruises is known for their delicious food - but my favorite (no big surprise) - is their robust wine and cocktail program on ship.
Not only do all of the bars around ship feature amazing drinks... but they have fun menus for each bar across the ship, including a wine bar with a special curated list of wines from across the world, and Good Spirits - a craft cocktail bar serving up delicious twists on classic favorites from around the world.
The Sandia en Fuego from the Good Spirits Bar, pictured below, might just be my favorite cocktail on ship, EVER.
The bars around the pools have the BEST citrus margaritas (click here for my own take on their Citrus Margs - I prefer them on the rocks with salt) - and the BEST Pina Coladas and Virgin Pina Coladas!
Plus... you can't beat that view!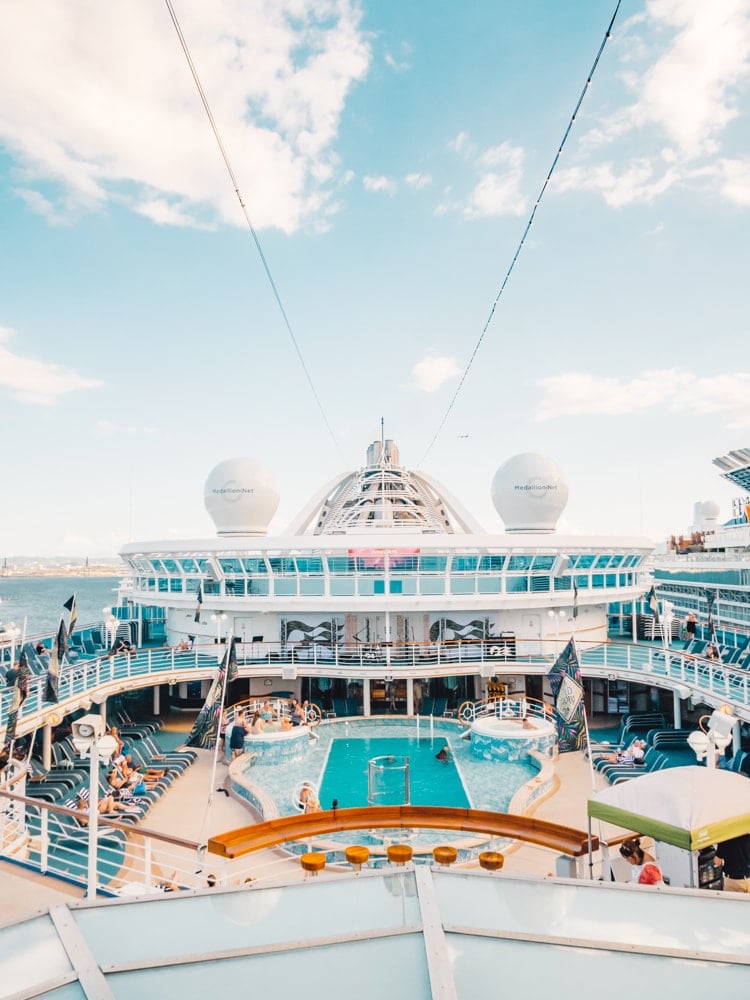 The fact you can now order drinks from your chair by the pool is amazing - Princess' Ocean Medallion program really helps you RELAX to the fullest!
Cruising with Ocean Medallion
Ocean Medallion is Princess Cruises' new program that completely revolutionizes cruising - making it easier than ever to check in to your cruise, find food and even friends on board, play games across the ship, and even order food or service items in an instant!
And now getting back on ship from port can't be easier – since Princess Cruises uses the new Ocean Medallion, all we had to do to get back on board was scan our medallions (which make a great accessory, no?) as we headed back to the ship.
No worrying about room keys or cruise cards - these medallions come with easy and stylish accessories you can wear nonstop!
Ocean Medallion made checking in the first day of the cruise a breeze – and was our ticket to internet that was blazing fast at sea (my upload/download times significantly beat our satellite internet at home).
As we planned our treks the night before we docked in each port, it was so helpful to have great internet so we could plan our journey ahead of time!
Those medallions come in handy on ship too – it works as your cruise card and key – just scan to buy items or drinks, and connect with the Ocean Now app to even be able to use your medallion to order food and drinks from anywhere on ship if you don't get your fill of tasty new foods and drinks in port!
We used the Ocean Now App to order drinks and pizza right from a lounge chair, ordered aloe sent to us at dinner when I was sunburned, and ordered fresh towels when we ran out in our room- no call needed!
Book Your Own Medallion Class Cruise
To find your own Princess Medallion Class Cruise, please use my affiliate link below for the best deals - I am given a small fee at no cost to you!
Get up to $500 to spend at sea and save up to 30% on select cruises for the May Sale! Valid 5/1-6/4.
Find out more about Ocean Medallion, the apps, and it's capabilities through the link below:
Princess Cruises Inspired Cocktails
If you want to recreate some of your favorite drinks on board at home, I'm linking some favorites from other bloggers I've been lucky enough to cruise with in the past!
These cocktails make me ready to book a cruise back to the Caribbean!
Come Back New with Princess Cruises! You'll receive up to $600 to spend onboard and a FREE room upgrade. Plus, with fares from $99 per extra guest, your entire party can be "doing this" together! Valid 3/1-4/30.
The Best Princess Cruise Inspired Cocktails
Drinks, cocktails, and mocktails inspired by drinks on board Princess Cruises and in port.
The Best Easy Pina Colada Recipe Ever
If you love the best easy pina colada recipe ever, please give this recipe five stars (just click the stars in the recipe below), and help me share on facebook and pinterest.
CONNECT WITH SWEET C'S!
Be sure to follow me on social media, so you never miss a post!
Facebook | Twitter | Youtube | Pinterest | Instagram
Only have 30 minutes to get dinner on the table? Sign up for my 30 minute dinner plans direct to your inbox!
Find and shop my favorite products in my Amazon storefront here!
Yield:

1
The Best Pina Colada Recipe
The Best Easy Pina Colada Recipe - frozen pineapple and coconut cocktail with rum - this fresh fruit recipe tastes a million times better than pina colada mix!
Ingredients
1-2 cups Ice cubes
½ cup rum (I use Bacardi Silver)
½ cup coconut cream
¼ cup coconut milk
¼ cup pineapple chunks
Instructions
Add ingredients to blender with half of the ice.
Blend on high until ice is completely crushed.
If Pina Coladas are too thin, add more ice, about a handful at a time, until desired consistency when blended.
Pour into chilled glass and enjoy!
Nutrition Information
Yield
4
Serving Size
1
Amount Per Serving
Calories

220
Total Fat

9g
Saturated Fat

8g
Trans Fat

0g
Unsaturated Fat

0g
Cholesterol

0mg
Sodium

16mg
Carbohydrates

23g
Fiber

0g
Sugar

21g
Protein

1g
Nutrition is automatically calculated by Nutritionix - please verify all nutrition information independently and consult with a doctor or nutritionist for any and all medical and diet advice.