Vegan Paleo BBQ Meatballs
Dec 09, 2015, Updated Apr 10, 2023
Delicious paleo vegan bbq meatballs are an easy comfort food that is perfect as an appetizer or a main dish! No tofu, soy, or grains- just lots of veggies and whole foods!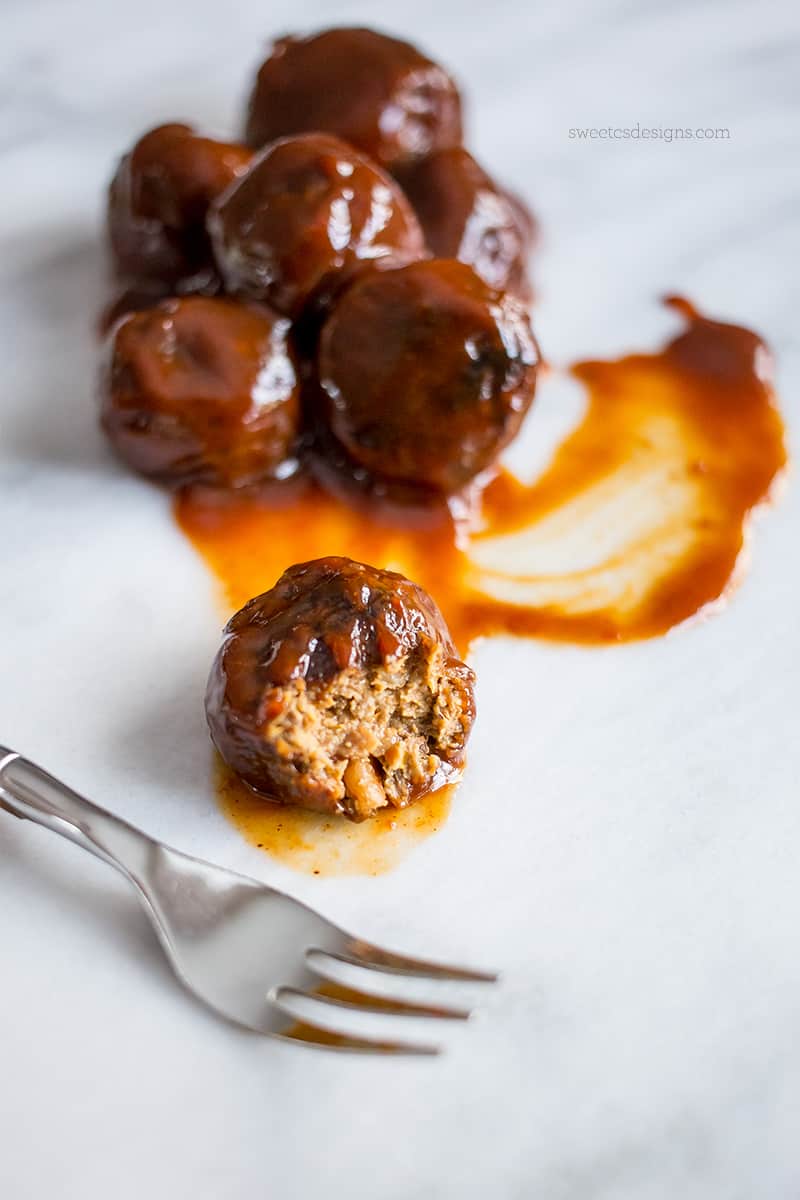 Don't want all the extras in a recipe post? We provide a skip to recipe button in the top left corner, as well as a clickable table of contents, just below, to help make this page easier to navigate.
Delicious Vegan Paleo BBQ Meatballs
I love finding fresh, delicious ways to re-make some of my favorite foods – reducing calories, fat, and even making them gluten/grain free, or vegan!
It's not always easy to come up with a way to create a meaty flavor or a good texture from vegetables – and I really didn't think I'd be able to without using grains to bind the meatballs– but I am so pleased with how great these turned out!
And- to make this recipe even tastier– I am teaming up with Vitamix to give YOU a 5200 blender so you can make your own!
This blender is awesome- and what I used to get the perfect texture for these "meat"balls! (as well as perfect drinks, smoothies, soups, etc!!)
Eating fresh, healthy food is a lot easier with the right tools- and my Vitamix makes eating healthy foods super simple! It can be used as a blender for smoothies or soups, as a food processor, or even as a grain mill!
It is also awesome for making homemade nut butters!
And I am so excited to give a brand new Vitamix 5200 to a lucky reader! Be sure to scroll down to enter and win- after this delicious meat-free, grain-free, totally fresh and delicious Paleo Vegan BBQ Meatball recipe!
Freezing these Meatballs
These are such an easy, delicious comfort food that you don't have to feel bad about!
You can also pre-cook them and freeze these meatballs ahead of time- and make them in big batches!
This way, you can pull a few out at a time to have a perfectly portioned appetizer or dinner, so you can reach for a great whole-food instead of quick go-to processed foods!
I'm sharing another great take with these meatballs soon- so stay tuned!
How to Make these BBQ Meatballs
The trick to this recipe is the perfect texture- and a good method.
For our meatball texture, we want a finely ground base- but not overly ground (or it will turn to soup!!).
In many blenders, this would be tough- but the Vitamix allows you to use a tamper to stir your ingredients right there in the blender for the right texture!
Pulse on a low setting and stir well while blending to keep the food moving and prevent it from liquifying.
Also, after testing a few ways to make these meatballs- I can say NOT to cook these on foil (as pictured). Use parchment paper instead- the soft texture of these meatballs will stick to foil.
The meatball itself is a little fragile until sautéed (or frozen for future use) – so don't manhandle them when sautéing!
Other Delicious Paleo Recipes
Click here to view all my paleo recipes!
Paleo Vegan BBQ Meatballs Recipe
If you love this easy recipe please click the stars below to give it a five star rating and leave a comment! Pease also help me share on facebook and pinterest!
CONNECT WITH SWEET C'S!
Be sure to follow me on social media, so you never miss a post!
Only have 30 minutes to get dinner on the table? Sign up for my 30 minute dinner plans direct to your inbox!
Find and shop my favorite products in my Amazon storefront here!
Vegan Paleo BBQ Meatballs
Delicious paleo vegan bbq meatballs are an easy comfort food that is perfect as an appetizer or a main dish! No tofu, soy, or grains- just lots of veggies and whole foods!
Ingredients
2 tbsp grapeseed oil
1 bell pepper, any color, diced
1 eggplant, skin on, diced
1 zucchini, diced
½ cup walnuts, diced very fine
1/2 cup paleo BBQ sauce
Instructions
Set a baking sheet out with parchment paper and preheat oven to 350 degrees.
In a large pan, heat grapeseed oil until shimmery.
Add in diced bell pepper, eggplant, walnuts, and zucchini.
Sautee until browned, about 15 minutes - stirring regularly to prevent burning.
Remove from heat and let cool about 5 minutes.
Add to vitamix blender with tamper and grind until soft- making sure to use tamper to stir mixture. It should be a small, soft texture but not liquified.
Remove mixture from blender and put into a large bowl.
Take 1/4 cup mixture and roll into a tightly packed ball.
Place on parchment paper lined baking sheet.
Continue rolling balls until you've made them all.
Bake at 350 degrees for 20 minutes, until a deep brown. This step helps the meatballs "set", so don't skip it!
At this point, you can remove your meatballs and freeze them for another use.
If eating immediately, place meatballs in a pan with a drizzle of grapeseed oil over medium heat.
Brown on all sides, about 8 minutes.
Add bbq sauce, stir well.
Let sauce heat up- about 2 minutes.
Remove from heat and serve immediately!
Recommended Products
As an Amazon Associate and member of other affiliate programs, I earn from qualifying purchases at no extra expense to you.
Nutrition Information
Yield

6
Serving Size

1
Amount Per Serving
Calories

181
Total Fat

11g
Saturated Fat

1g
Trans Fat

0g
Unsaturated Fat

9g
Cholesterol

0mg
Sodium

244mg
Carbohydrates

21g
Fiber

4g
Sugar

12g
Protein

3g
Nutrition is automatically calculated by Nutritionix - please verify all nutrition information independently and consult with a doctor or nutritionist for any and all medical and diet advice.