Cozy Coupe Fire Truck
Sep 24, 2013, Updated Aug 29, 2020
Pottery Barn Kids sponsored this post, but all opinions and content are 100% my own.
Last Halloween, my little man went as Batman, and he rode around in the super awesome and amazing Batmobile I had made him a year earlier. This year, he's into all things Fireman Sam, so I decided to make him a Cozy Coupe Fire Truck to head out trick or treating in!
For more Halloween Ideas, head here! 
Want to make your own awesome firetruck? All it takes is a cozy coupe, white and red plastic spray paint, some yellow scotch tape, and some painters tape. We'll also make a quick styrofoam ladder, and grab any kind of tubing you might have (we used some of daddy's homebrew tubing) to make a hose.
First, the cozy coupe. You'll want to tape off the areas you'll be painting white and red to save time and prevent drip disasters. I used thick painters tape so I didn't have to mess with anything down the road. I kept the top white part pretty small- but that's up to you.
Spray both the red and white layers, and let fully dry- overnight is best.
Next, remove the painters tape you used to section off the top and bottom, and tape that area off with bright yellow tape (if you are trick or treating in the dark, you could paint over this with some glow in the dark or reflective paint for safety!!). I just taped around the poles of the car in a circle.
Tape off some stripes in the back (I taped under the car into the trunk). I also taped off a stripe in the front. It kind of makes the car look like its smiling, don't you think?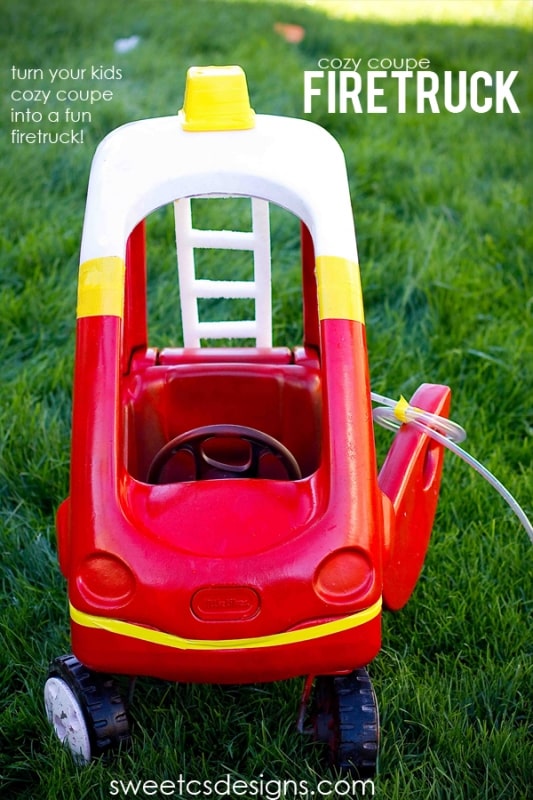 You could also add numbers, decals, or any other decoration you think your favorite fire fighter would like. I taped up an old tupperware container that had no lid to be the siren light- but you could spray paint or make a set of red, yellow and blue.
Next, I just took a sheet of styrofoam that I grabbed in the floral section of my craft store, and cut it into long strips and short strips to form a ladder (cutting them was the hardest part of the whole project- use a long, sharp knife and dont worry too much about perfection). If your child is older, you could make the ladder our of wood much more easily- but my 3 year old sometimes hits, and I wanted something that he wouldn't hurt himself or anyone else with.
To glue the ladder together, use a cold hot glue gun. High heat glue guns melt styrofoam! I then hot glued it onto the back so you can see it through the back window. I LOVE the look the ladder gives it!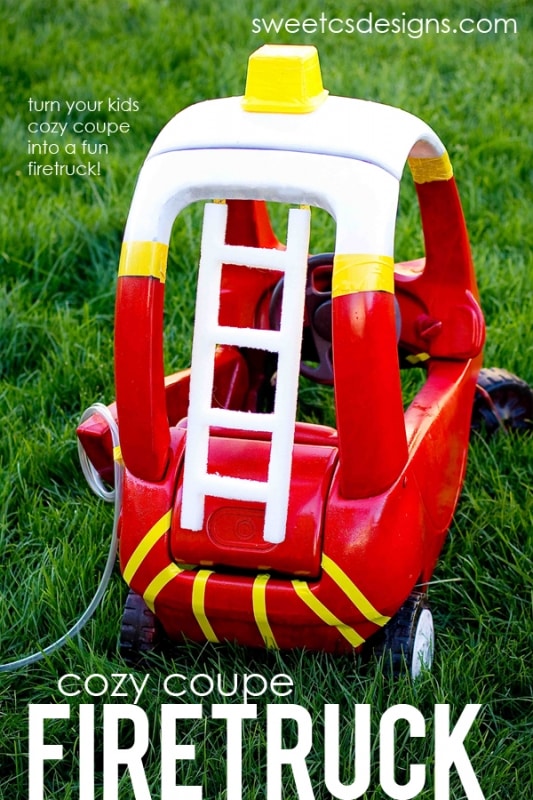 Now all I need is a spiffy new fireman costume… I'm dying over this adorable one from Pottery Barn Kids!
And How cute is this fire truck treat bag?? Little man definitely needs one, asap.
If you're looking for a great deal, click here to get 40% off select treat bags, and 20% off select costumes ! I think I might buy up one size so he can wear his costume all year for dress up…. maybe we'll take his truck for a spin over at the fire station to see some bigger ones!
Do you have a handmade Halloween costume? I'm going to be sharing some additional fun ideas soon and would love to see yours!

And if you're looking for some other fun Halloween ideas, please check out some of my other posts!