Epic Christmas Market Trip - Paris, Reims, Budapest, Bratislava, Vienna, Prague, Heidelberg, Michaelstadt
Over 3,000 miles across Western and Eastern Europe finding amazing Christmas Markets sure to get you in the Christmas spirit - this Epic Christmas Market Trip starts and ends in Paris; and passes through Reims, Budapest, Bratislava, Vienna, Prague, Heidelberg, and Michaelstadt for a wassail filled trek you will never soon forget!
This post contains affiliate links to products I love and places I love to stay - for no extra money to you, I receive a small fee for every purchase or booking you make through my links. This helps me offset costs of running Sweet C's and finding the best ideas to make your everyday extraordinary!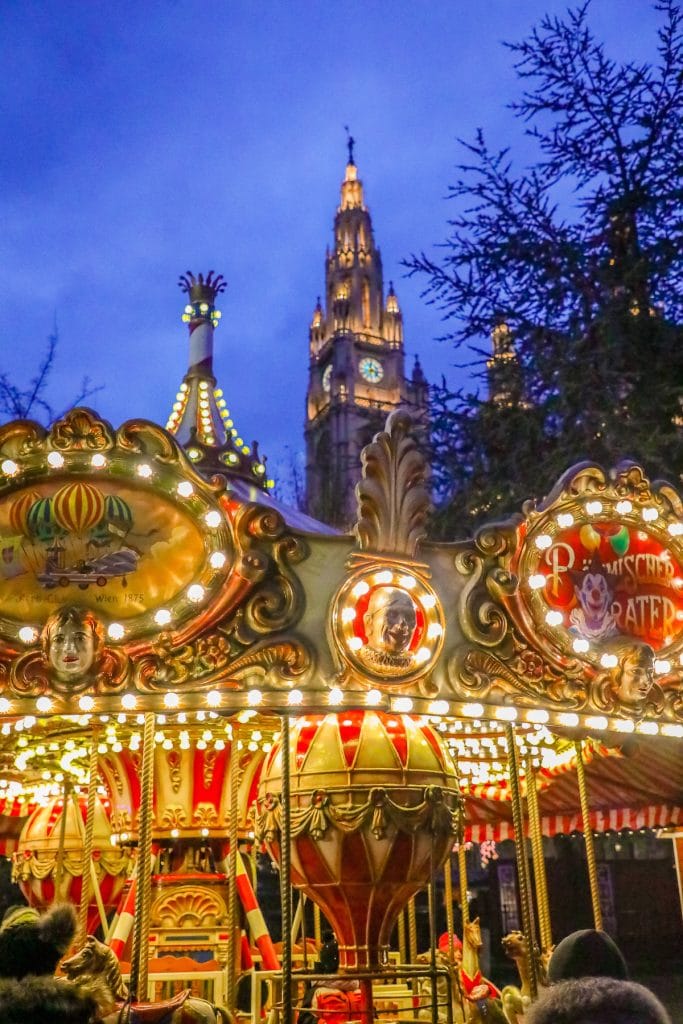 To watch a short video of some of my favorite moments from our trip, click to watch this video:

To see some of our favorite foods from the markets we visited, please click to watch this video made possible with a collaboration from Mediavine - my personal ad network, who I absolutely love and trust! If you're a blogger and looking for a reliable full service ad network to monetize your site, please check out mediavine or feel free to ask me with any questions!

Reims, France
The main Reims Christmas market at the base of the Notre Dame Cathedral is one you need to experience to believe - set under the jaw-dropping cathedral, it is a mix of old and new - and features German Christkindl market favorites (thanks in part to a nod to the Alsace region, one of my favorite places to visit)- as well as plenty of nods to the setting in the unofficial capital of France's Champagne region!

Can't Miss Reims Christmas Market Favorites:
Cheesemonger Stands-If you're a fan of French cheeses, the Reims market is a wonderland for you! There are multiple cheesemongers selling top-notch, well known cheeses from across the Champagne region and other famous French fromage regions - making snacking at the Reims market truly amazing if you love cheese!

Champagne tents - While the Reims market of course was serving up warm wassail and other mulled ciders and wines, the star of the Champagne region is most definetely not overlooked - the Reims market boasted numerous Champagne tasting stands, stores, and even a Champagne bar inside a large tent perfect for sipping your favorite suds!
Foie Gras - Can you visit France without sampling foie gras? I tend to think not - and if you're stopping through the Reims Christmas market, you're in luck! You can buy foie to sample while you stroll, or to take home and cook for a deliciously French dish - grab some wine and cheese from the market, and you have a fabulous meal!
Know Before You Go - Stay Safe
While the entire country of France deals with heightened security and threats against Christmas Markets specifically, I did feel safe with the setup in Reims. There were rows of concrete barriers surrounding the Christmas market, fences to keep visitors in a secure area, lots of security guards and armed military strolling the market grounds, and the lines to get in involved bag checks and pat-downs just to walk into the market area near the cathedral.
While you should always remain vigilant at large group gatherings especially in France where there is a significant threat of terrorism at group gatherings around Christmas, I was impressed with the security measures takes in Reims and felt a lot more safe and secure than at many other European markets.

Budapest, Hungary
Buda and Pest, the cities straddling the Danube, are home to an immense amount of history (sometimes turbulent, sometimes opulent and peaceful), and an unmistakeable hipster vibe that is bursting through some insanely great coffee and delicious instagram-worthy food - from trendy to traditional!
Budapest is a large city with several Christmas markets - but the two main markets are at the Basilica and in the main city square around the bustling pedestrian mall.
Budapest was my favorite city we visited and one I've always wanted to go to - two days was about two weeks too short a time to explore!

Must Eats
Chimney Cakes (Kurtos Kalacs) - While many European Christmas markets offer chimney cakes, they are originally Hungarian. Make sure you try some while there - the slightly sweet dough is roasted on a spit and covered in crunchy caramelized sugar.
They are one of my all-time favorite Christmas market treats!
If you want to make them at home, check out my easy Chimney Cake recipe!

Where to Stay in Budapest
We found a charming, relaxing apartment just off the main Christmas market in Budapest's buzzing pedestrian mall area, which made our stay incredibly easy and convenient.
Bratislava, Slovakia
We were in Bratislava for far, far too short a time - just an afternoon and evening. I could have spent an entire two weeks just there, exploring the winding cobblestone alleys and gorgeous archways connecting crumbling pastel buildings and intricately ornate carved wooden doors leading to pretty courtyards under stately windows.
It is pure magic - and the Christmas market was full of some of the best foods we ate the whole trip!
Bratislava has its fair share of tourists in winter, especially thanks to Christmas Market river cruises, but is still far less accomodating to English speakers. I found I could pretty much order something or ask a simple question and get at the very least a hand signal response, but many people would not speak english with me. I did get to break out my spanglish and a bit of beyond-basic German to get directions to an ATM, but could not communicate easily with the tower museum staff whatsoever. Make sure you have euros on hand, and a couple coins for the restroom!
What to Eat in Bratislava
Be sure to try one of the deep fried potatoes on a stick - they are lightly fried and more like fries than a chip (not crunchy) and bursting with potato flavor!
Where to Stay in Bratislava

Vienna, Austria
Vienna has three big markets - one in between the museums, one in the palace, and one in the big market square in front of the Rathaus City Hall building.
I stuck to the Rathaus market since I was a bit sick our day in Vienna - but it was bursting with colors, lights, rides, and tons of delicious foods. The Vienna market also has an ice skating rink that winds THROUGH the market - a totally awesome and unique feature you'll only find there!

What to Eat
Chestnut soup - the traditional soup is a must-try in Austria, and a lovely traditional soup that is rich and earthy like a mushroom soup, but a little sweet like a pumpkin soup. It was incredibly delicious!
Sausages and potato cakes - like many European countries, potato dishes are all over Austria - and the deep fried potato cakes are to die for. Don't be afraid of the one smeared with garlic and lard on top - they are absolutely to die for delicious! Just like Germany, Austria's sausages are top notch, and must be tried!
Where to Stay
We stayed at an awesome Airbnb right off the main Radhaus building square, with soaring ceilings, a well equipped kitchen, washing machine, and gigantic bathroom.
Hot Tips to Staying in Austria
Getting around - Uber is relatively inexpensive in Vienna, and the tram line is easy to navigate and cheap to use. Getting around Vienna takes a long time around the Christmas market and at rush hour thanks to very heavy traffic, so hop on the tram to save a lot of time and frustration!
Parking in the city (around the Radhaus) is free on weekends - if you can find a spot. There are ample parking lots, but can get pricey quickly. Ask your airbnb host or hotel for where to park!

Prague, Czechia
Where to Stay
I love, love, love the buzzing activity and cafes all around Prague's old town area of Prague 1- it is right in the action and home to the best shops, cafes, and historic buildings - but still has a cozy, quaint feel and is very safe and quiet to stay in overnight.
I stayed at the most adorable Airbnb right next to Gucci, Tiffany, Bvulgari, the Astronomical clock and Town Center, and the Danube (just a block's walk to view the castle high up on the hill) which is also easily accessed by the Intercontinental's parking lot. It was setup to be child-friendly, with a crib in the space, and plenty of room for a family to spread out and enjoy the home.
What to Eat
The Prague Christmas market featured tons of foods - many specialty high end fares from all over Europe. There were champagne tents, carts with smoked cheese from Poland and Slovakia, Escargot, Caviar - and of course chimney cakes, langos, and other potato and stew dishes well known in Czechia.
While not a Christmas market treat, don't miss a famous bubble waffle while in Prague - you can get one with ice cream if it's warm - or if it's cold, opt for whipped cream!
Heidelberg Germany
I absolutely love Heidelberg - it is one of my favorite towns to visit. There are gorgeous buildings everywhere that combine a typical German tudor style with a very French feel, reminiscent of nearby cities in the Alsace region.
I'm incredibly lucky to have family near Heidelberg (my sister in law goes to Heidelberg University and lives in a town nearby).
To see all of my musts when visiting Heidelberg, visit here and here.
Where to Stay
I love to stay in the calm and quaint nearby town of Weinheim when visiting Heidelberg - it is absolutely adorable, and so beautiful!
I have stayed in the Ulner Kapelle twice (it used to be a church and monastery, and is now home to GORGEOUS boutique rooms), and highly recommend it.

What to Eat
Bratwurst and Frankfurters - is there any doubt sausages are on my must-eat German market list? Germans know their sausages, and there is no better place than a Christmas market to grab a bratwurst and dig in!
Gluhwein - While every market serves some kind of hot wine or cider, German gluhwein (and the non alcoholic kinder punsch) is my absolute favorite!
Gingerbread, spiced cookies, and cakes - German bakeries are world renowned for their amazing treats, for a reason! From bretzels to cookies to cakes - you have to dig in and try some fresh baked goods in Germany!
Michaelstadt, Germany
Deep in Western Germany's Odenwald Forest sits the bucolic town of Michaelstadt - a gorgeous winding town filled with cobblestone streets, wood tudor buildings, and charming shops everywhere.
The town really comes alive with their Christmas market - which sprawls the entire city's old town area!

Where to Stay

What to Eat
-Deep fried spiral potatoes - while these were all over the markets we visited, the potatoes we ate in Michelstadt were dipped in batter first, making them light, airy, and crunchy. They were topped with garlic and parmesan, paprika, mustard, or other toppings for a super delicious treat!
Paris, France
Paris is home to multiple Christmas Markets (our favorite was the cozy market tucked into the vibrant cafe lined streets of the Saint Germain area), but Paris just oozes whimsy and wonder at Christmas, and markets aren't the only must sees to get in a festive mood!
From the twinkling lights and impeccably designed storefront windows on Haussmann Street, to the sparkly tree and glittery lights inside Notre Dame, and rows and rows of tree-shaped macaron displays, there is SO much to do in Paris during the holiday season!
Must Eat:
Le Petit Chalet - right next to Shakespeare and Company bookstore (the former location is known to have been a shop the bard himself visited, though it has since moved but is an institution in Paris.)
Macarons! Laudree is one of the most well known macaron purveyors (if you're dying to pop in without a reservation and it is a long wait, ask to head to the back bar, where you can enjoy tea, cocktails, and all the macarons and desserts or appetizers and lighter fare you can dream of! You can also skip the long line and order macarons in pretty packages to go right there at the bar while you enjoy a glass of tea or fabulous french rose!), but maracons are all over Paris, begging you to take a bite of the sugary sweet and candy colored treats you can't get enough of! Be sure to have your best Instagram game ready :).
Maille Mustard Store - if you love mustard, you need to stop by Maille! While you're not eating there, you can purchase tons of artisan foods and mustards - and even buy mustard poured straight from the tap!
Must Drink:
- Saint-Nicolas-de-Bourgueil. This right-bank wine is a cab-franc blend that is sweet and served slightly chilled - and the name is perfect for enjoying the season!
-Hot Cocoa. French hot cocoa is rich, thick, and truly indulgent - and one I MUST share with a friend. Cozy up with someone you love and sip the decadent chocolate while taking in the city of light!
Where to Stay:
We stayed at the Hotel Wilson Opera, a short walk from the Paris Opera. It was an easy walk to the Louvre, Notre Dame, Arc de Triomphe, and Haussmann Street - making it a great base for touring. While the rooms are smaller (which is pretty much unavoidable in Paris), the Eiffel View suite was reasonably priced, and offered a private rooftop terrace that was insanely romantic and a large bathroom, plus a small sitting area for under $300 a night with breakfast for two. I really wanted a view of the Eiffel Tower for my first visit to Paris, and the WO was perfection!
If you're looking for something much closer to the action, I would look in the Saint Germain neighborhood or right around Notre Dame or the Latin Quarter for the best food, nightlife, and lively feel!