How To Make A Cheese Plate – these tips will help you make the best, most delicious cheese plate ever! 
I love cheese plates.
To me, they are the perfect easy meal – you can get salty, crunchy, tart, spicy, creamy, and fresh in just one platter.
They are great for groups, perfect for parties, and easy to make when your time is running low.
And while cheese plates can be decadently indulgent – they can also work well within a budget, too!
Be sure to visit my two friends sites – both Mary of Barefeet in the Kitchen and Sandy from The Reluctant Entertainer make jaw-droppingly beautiful cheese boards that are great for a party, a meal, or anytime you're looking for something delicious to snack on!
Nuts To Pick For a Cheese Plate
I like to add nuts and other salty snacks for a cheese plate – they help round out the snacking experience!
I try to get nuts that are salty, some that are sweet and crunchy, and some that are spicy or have a rich herb flavor.
While you can add any nuts to a cheese plate, I am going to go through my favorites:
-Marcona Almonds
-Roasted Almonds
-Roasted and salted or honey roasted peanuts
-Pistachios
-Walnuts
-Spicy candied nuts.
Fruits and Vegetables To Pick For a Cheese Plate
Fruits and vegetables don't just make a cheese plate a bit lighter – they help to cut some of the fat from all of the cheese and meats to make the flavors come alive.
I like to focus on a wide variety of fruits and vegetables – and sometimes, I will put them on the side of the cheese plate as a Crudité platter.
Some of my favorite things to serve alongside an epic cheese plate are:
-Celery
-Carrots
-Dried Apricots
-Dried Cranberries
-Grapes
-Banana Peppers
-Piquillo Peppers
-Pepperoncini Peppers

Meats To Pick For a Cheese Plate
Cheese is obviously the star of any cheese plate – but meats can help to kick up the flavor and add lots of spicy and interesting flavors to a cheese board.
I like to pick meats with different flavors, spiciness, and fat content – some funky, some spicy, and some mellow.
-Proscuitto
-Speck
-Pepperoni
-Salami
-Iberico ham
Crackers and Bread To Pick For a Cheese Plate
Crackers, bread slices, and cheese crackers are an integral part of any cheese plate – they work to cleanse your palate in between different cheeses, help scoop soft cheeses, preserves, and jams – and are great for serving cheese over.
I tr to balance flavors here too – if you can't tell, I love a lot of variety in a cheese board with soft breads and crackers, crunchy breads and crackers, some salty, some herbed, and some smooth and buttery.
My favorites include:
-Crostini
-Mini Toasts
-Cheese Crackers (the kind made just from parmesan)
-Moon Cheese
-Salted Crackers
-Herb Crackers
-Sesame crackers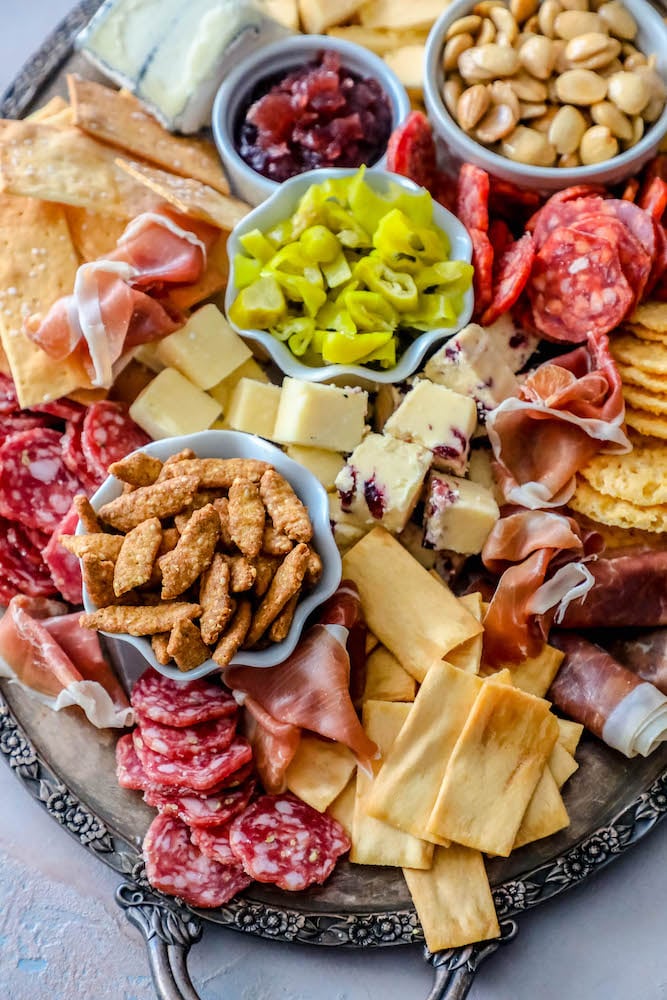 Confits and Jams To Pick For A Cheese Plate
I love adding honey, confits, jams, and preserves to a cheese plate to help mix up the flavors, cut through some of the fat in the cheese.
I look for sweet, tangy, savory, and rich jams and preserves and honeys, including:
-Tupelo honey
-Raw honeycomb
-Onion confit
-Apricot preserves
-Tart cherries in syrup
-Strawberry jalapeno preserves
-Jalapeno jelly.
Cheeses To Pick For a Cheese Plate
It's very important to pick great, delicious cheeses for a cheese plate – but it can be easy when you go for certain types of cheese, and then work with what you can find from each category.
I like to be sure to have different textures (creamy cheeses, soft cheeses, hard cheeses, aged cheeses), different colors (yellow, white, off-white), and smell differently.
I try to pick at least one from each group below (and I'll often search the $5 and under cheese bin at my local King Soopers Murray Cheese shop to save more money):
-Brie, Camembert, Morbier
-Aged cheddar, smoked gouda, pepper jack
-Aged gouda, piave, parmesan, Ewephoria
-Chevre, soft cheddar with fruit, spreadable cheese blends

How To Make a Cheese Plate
If you love this easy cheese plate recipe, please give it five stars and help me share on facebook and pinterest!

CONNECT WITH SWEET C'S!
Be sure to follow me on social media, so you never miss a post!
Facebook | Twitter | Youtube | Pinterest | Instagram
Only have 30 minutes to get dinner on the table? Sign up for my 30 minute dinner plans direct to your inbox!
Find and shop my favorite products in my Amazon storefront here!
Yield:

1 cheese board
How to Make a Cheese Plate
 How To Make A Cheese Plate - these tips will help you make the best, most delicious cheese plate ever! 
Ingredients
6 oz aged cheddar, diced into cubes
5 oz Humboldt Fog
6 oz aged gouda, cubed
6 oz red wax gouda, cubed
6 oz cheddar with cranberries
6-12 parmesan cheese crisps
1 cup+ pita thins chips
1 cup + crackers with celtic sea salt
1 cup marcona almonds
1/4 cup onion confiture
1/2 cup sesame sticks
4 oz prosciutto
4 oz genoa salami, sliced thin
4 oz calabrese salami, sliced thin
4 oz pepperoni, sliced thin
Instructions
Slice cheese and arrange on plate with crackers, nuts, jams, and meats.
Enjoy.
Recommended Products
As an Amazon Associate and member of other affiliate programs, I earn from qualifying purchases at no extra expense to you.
Nutrition Information
Yield
12
Serving Size
1
Amount Per Serving
Calories

523
Total Fat

40g
Saturated Fat

16g
Trans Fat

1g
Unsaturated Fat

21g
Cholesterol

98mg
Sodium

1468mg
Carbohydrates

15g
Fiber

2g
Sugar

3g
Protein

27g
Nutrition is automatically calculated by Nutritionix - please verify all nutrition information independently and consult with a doctor or nutritionist for any and all medical and diet advice.